Mix mojos, salsas, or spices with ease from any angle.
We designed our 100% bamboo mortar & pestle with a separate silicone donut base so we can comfortably mix mojos, spices, y más from any position with ease.

· Made from responsibly sourced bamboo with a 100% platinum-grade silicone base
· Protected with non-toxic, plant-based oil for safety during shipment and use
· Hand wash only and dry after use. Not dishwasher safe.
· Mortar: 5.25"W x 3"H & Pestle: 5.5"L x 1.5"W
Combine with Sets!
Add The Plantain Set with our Tostonera, Masher & Skimmer!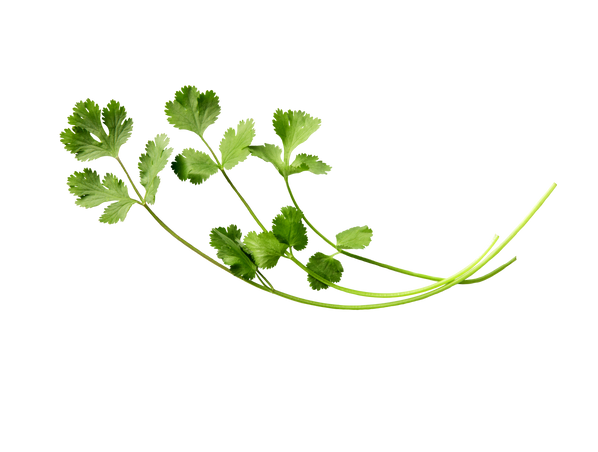 Made con cariño
Designed with intentionality for a feel-good experience

Better for all
Safe, durable, sustainable and 100% non-toxic
30-Day Trial & Free Returns
Take it for a few smashes, no worries, with free & easy returns
Made to mix with comfort.
Our mortar y pestle set is designed with a bowl that's separate from its base for easy repositioning.
Crafted safely and responsibly.
Combining strength and sustainability, our mortar y pestle set is made of 100% bamboo and sealed with an easy-to-clean, non-toxic, plant-based oil.
Includes a spout for easy pouring.
We added a spout to save flavor by avoiding spills. Because every drop es importante!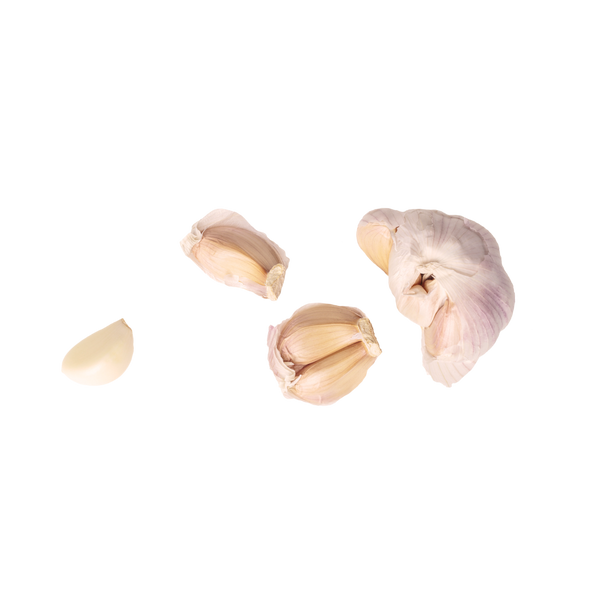 Word on

la calle.
Functional and it looks good in my kitchen? Yes, please!
Allegra P.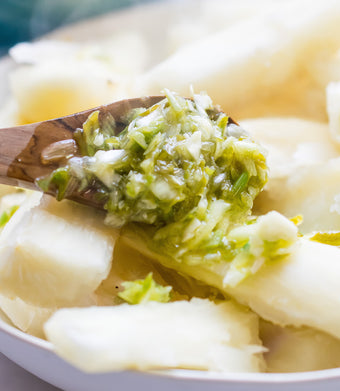 So much room in this bowl! So perfect for making my mojo.
Janilda A.
I love that I can move the bowl so I can sit or stand when I'm using it.
Edwin D.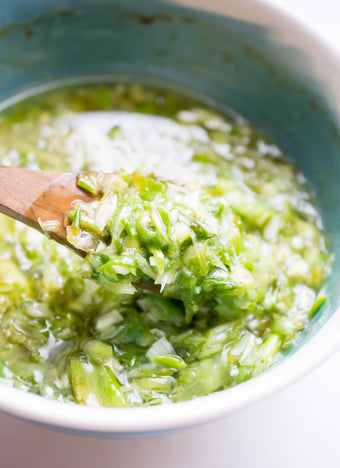 I like to freshly grind my spices when I cook, this is the perfect mortar & pestle for the job!
Evelyn P.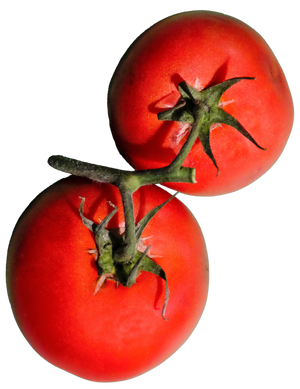 How to cook it up
Meet us in

la cocina.
Yuca con Mojo
Growing up, yuca con mojo was a staple at Cristina Curp's table, with memories of crushing the garlic, slicing the onions, and all the aromas of the kitchen. Scallion has its unique flavor and it really shines in this simple mojo rendition.
What You'll Need: