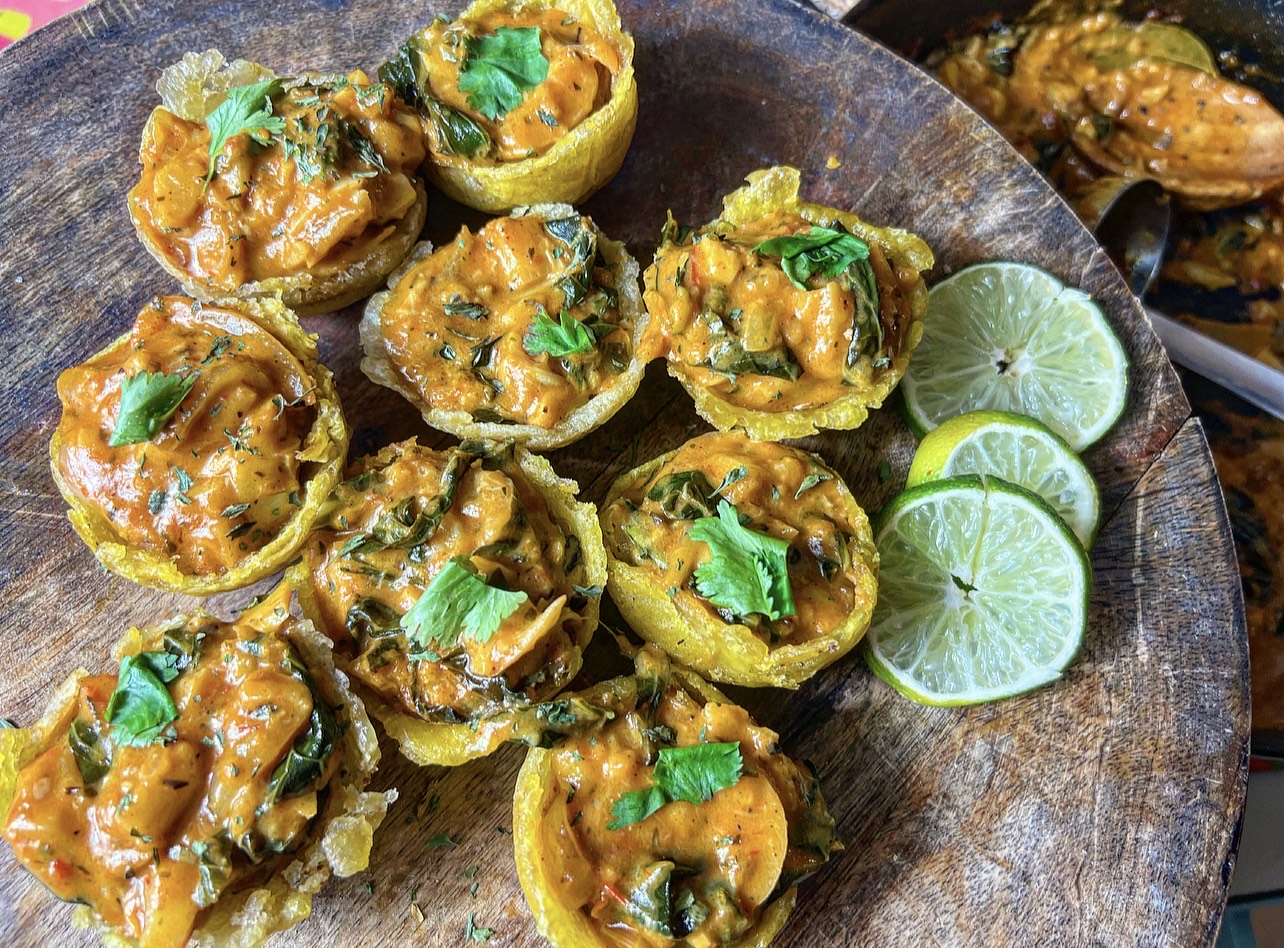 Vegan 'Crab' & Collards Tostones Rellenos
This recipe balances sweet and savory with a twist on classic Caribbean and Soul Food flavors.
By Lyana Blount | @blackricanvegan
In honor of Black History Month, I created this recipe inspired by classic flavors and foods popular in both Caribbean and African American culture. When I think about cultural foods, plantains immediately come to mind. Plantains have a strong history across Latin and African cuisine– history suggests they originated in Southeast Asia and were then brought to the Caribbean Islands by slave traders on slave ships. They were cheap and fulfilling provisions for enslaved men and women. Today they are still affordable and made by many different cultures in all sorts of ways. In this recipe, I'm doing a twist on the classic Caribbean Latin tostones rellenos– small plantain cups that are usually filled with shrimp or beef, typically made in Puerto Rican and Latin Caribbean households.  
I wanted to play on the classic Tostones Rellenos de Camarones with a vegan seafood filling. I chose heart of palm to create my plant-based 'crab' and seasoned it with Old Bay and nori furikake to bring out a seafood flavor. I added collard greens for the nutritional aspect since the greens are packed with vitamins and minerals. Collard greens originated near Greece. It wasn't until the 1600s that Africans arrived in Jamestown, Virginia, and were introduced to collard greens. Collard greens were one of the selected vegetables African Americans were allowed to grow and harvest for themselves and their families throughout times of enslavement. Over the years, it became a traditional food passed down from generation to generation, and to this day, it is complemented in many soul food plates. 
To bring everything together for the filling of the tostones, I made a stew with a base of Sofrito, onion, garlic, and coconut milk and added in my heart of palm 'crab' and collard greens. This dish is an immersion of different flavors that create a nice Caribbean feel on your tastebuds – I hope you enjoy it!
About Lyana
Lyana's goal is to offer more vegan options and an alternative way of eating in food desert areas. With the demand for vegan eats across the country, her business, Black Rican Vegan, has taken the road and hosted Pop-Up events in NYC, Miami, and most recently, Los Angeles. 
Black Rican Vegan is a pop-up that puts a vegan twist on soul food and Puerto Rican cuisine in vegan desert areas. Black Rican Vegan offers delivery and pick-up service and pop-ups through NYC and other states. 

The Black Rican Vegan concept was born during the Covid-19 pandemic; something that started as a hobby and evolved into a full-blown business showcasing her passion for creating many traditional dishes but with a vegan twist. 

Lyana's social media has a following of 100 K hungry vegans and meat eaters from all across the U.S. and parts of the Caribbean. Black Rican Vegan hopes to pass the vegan plate from Coast to Coast and beyond and is doing so by putting out her cookbook in 2023, Black Rican Vegan: Fire Plant-Based Recipes from a Bronx Kitchen. Which is available for pre-order here!