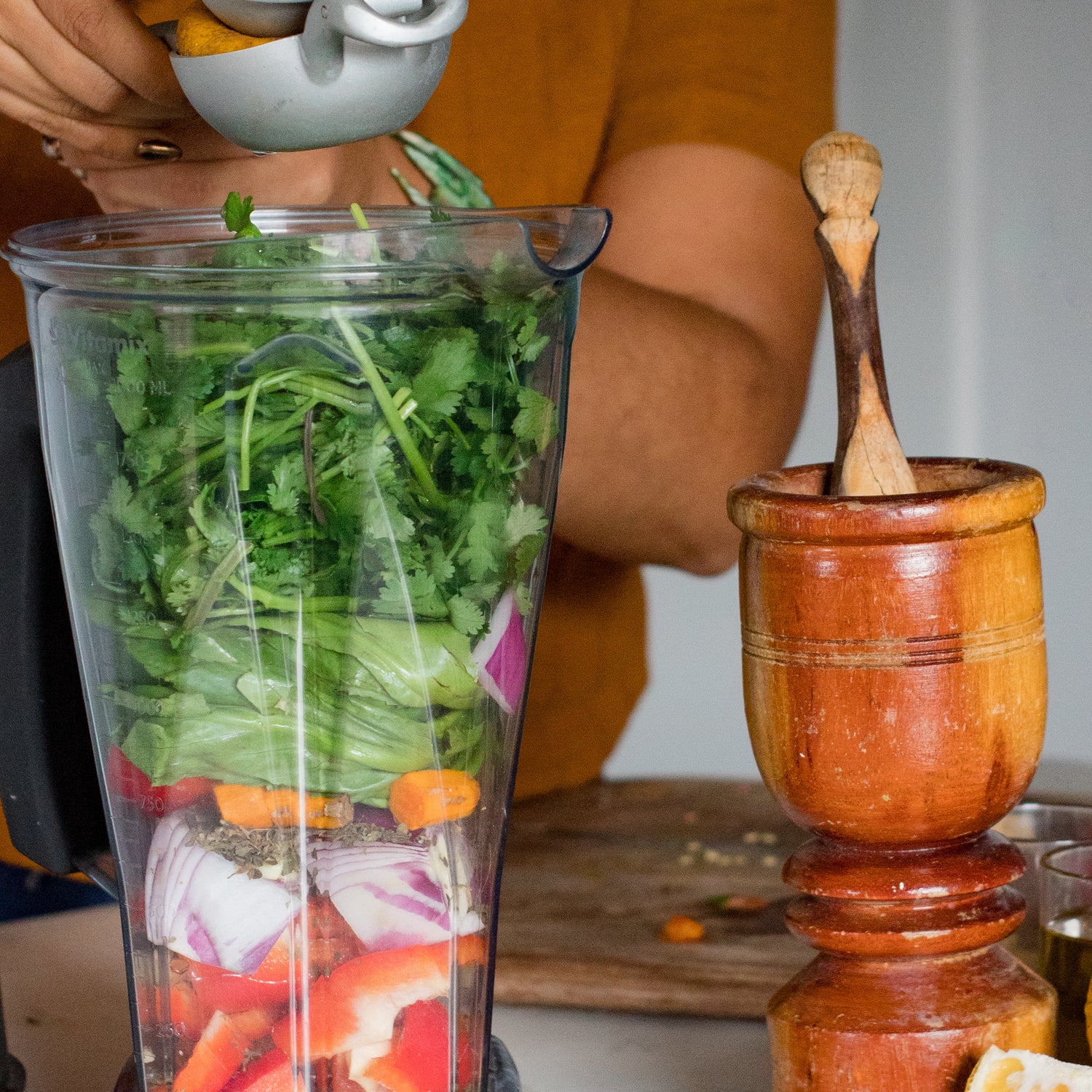 Sofrito: The Evolution of Latin Flavor
Chef Yadira Garcia takes us on a knowledge tour on all things Sofrito-- from past to present.
By: Johanna Ferreira | @cup_of_johanna
If you are Dominican or Puerto Rican, chances are you grew up seeing your mother or your abuelita make up batches of sofrito to store in the freezer. But check this, Sofrito is by no means exclusive to Dominican and Puerto Rican cuisine. In fact, it's the base of many Latin meals, including those from Mexican, Cuban, Colombian and Brazilian cuisine (also known as refogado). Haitians, have their own version of Sofrito too called Epis. In order to truly appreciate Sofrito, we have to understand the origins and history behind it, along with its evolution. 
"I think everybody has a different perspective on how sofrito started, and that's because every family has such a personal relationship to it, but sofrito has been around the block," says Chef and Community Educator Yadira Garcia of Happy Healthy Latina. "Historically, sofrito originated in 1324 in a Catalan cookbook called Libre de Sent Sovi. Sofrito comes from the word sofregit, which translates from Catalan as lightly fried or sautéed. During colonization, the Spanish brought the technique to Latin America and the Caribbean. A lot of people don't want to give it that acknowledgement, but it does come from Spain. It's just taken on such a beautiful life of its own on each shore which it landed. Everybody thinks they have the right way to make sofrito, but we have to honor where it comes from and where it's been. We have to acknowledge and respect that it has different forms in each country." 
Overall, Garcia wants folks to understand that there isn't one way to prepare sofrito. She believes it's important to respect and honor the different sofrito variations that exist within Latin America. "In Dominican Republic and Puerto Rico, they use culantro, which some refer to as recao. This is why our sofrito tends to be greener but there are red-colored sofritos, orange-colored sofritos, and even yellow colored sofritos," Garcia says. "In Brazil and Cuba they tend to add bay leaves to theirs, while in Mexico, they use cumin seeds and jalapeños, which gives it a spicy and smoky flavor. Sofrito is a recipe we can continue to build upon versus take away from, and I think that's it really beautiful to acknowledge that and open up the conversation more, beyond what is right and what is wrong. Instead, we can learn from each others' cultures and learn how to play with flavors based on what was accessible regionally. As Latin folks, we have a language that binds us, but we have different cultural traditions as well." 
Chef Yadira Garcia shares this knowledge and her own unique recipe in her How to Make Sofrito workshop, which she has taught over 200 times — including twice virtually this year. "My sofrito recipe comes from a very personal place because it comes from my own healing journey. Being challenged with my own health and having experienced a lot of health issues that were rooted in inflammation, which is the gateway to many diseases, inspired me to think about how I could use foods to heal my body," Garcia says. "For me, it led to rediscovering the foods that my Dominican grandmother and great grandmother made, but also honoring the education and training path that I took through culinary school and a holistic nutrition program at the Institute of Integrated Nutrition. There, I learned about the anti-inflammatory properties of ingredients like apple cider vinegar, turmeric, and black pepper." 
For this reason Garcia chose to switch out ingredients used in more traditional Dominican sofritos, like white vinegar for apple cider vinegar, or annatto/bija for turmeric and black pepper. "I've been able to create a sofrito that's really vibrant and feels so alive." Motivated to access these health properties more often, Garcia also realized her recipe opened up new ways to enjoy its flavor. "Sofrito is traditionally known to be the base of most Latin meals, but I also use my sofrito as a dip with plantain chips," she says. "You can use it as a dip, or you can thin it out with olive oil and vinegar to make a salad dressing. We've gotten so used to this one way of using sofrito — which is as a cooking sauce. But how do we unlock the other levels to it? How do we unlock its complexities, and how do we honor that it's taken such a voyage?"
More recently, as Loisa decided to expand its offerings and develop a Sofrito, it was a perfect opportunity to grow their partnership with Garcia and work together on a recipe they'd be able to offer their customers across the US. A lot of work went on behind-the-scenes to make this a reality. 
"There were two things we were certain we wanted to focus on and maintain. First, we wanted it to be accessible, and in this case, that meant a shelf stable product people could store in their pantry and enjoy when they please, without a ticking clock on freshness in the fridge," says Scott Hattis, Loisa's Co-Founder. "We've all been through the experience of making sofrito fresh. It's amazing and ritualistic, but it takes work and can get costly. We wanted to help solve that. Second, we wanted to maintain the brightness and vibrancy of our home recipe, even while making it shelf-stable. While it took some effort to fine tune our recipe, our sofrito ended up with a liveliness we're super proud of no matter how it's enjoyed."
It was also a priority to include important ingredients like culantro and ajicito peppers, which are very traditional and culturally relevant to many Latinx families, yet often hard to find outside of a few major cities in the US. 
Ultimately, the final product combined inspiration from Garcia's own family recipe, along with her ayurvedic, medicinal and plant-based culinary training, and her current journey with Loisa, to include tomatoes, bell peppers, onions, lemon juice, ajicito dulce peppers, olive oil, cilantro, culantro, apple cider vinegar, garlic, sea salt, organic black pepper, organic oregano, and organic turmeric. It's also Non-GMO, vegan, plant-based, gluten-free, MSG-free, and contains no artificial colors, flavors, or preservatives - meaning it's as healthy as it is delicious. 
Importantly so, no one at Loisa is suggesting you do away with your abuelita's sofrito recipe —  far from it! But for those days when you don't have time to make-up a batch, or you're just ready to try something new — they've got you covered. Because Loisa Sofrito is sofrito para todo!