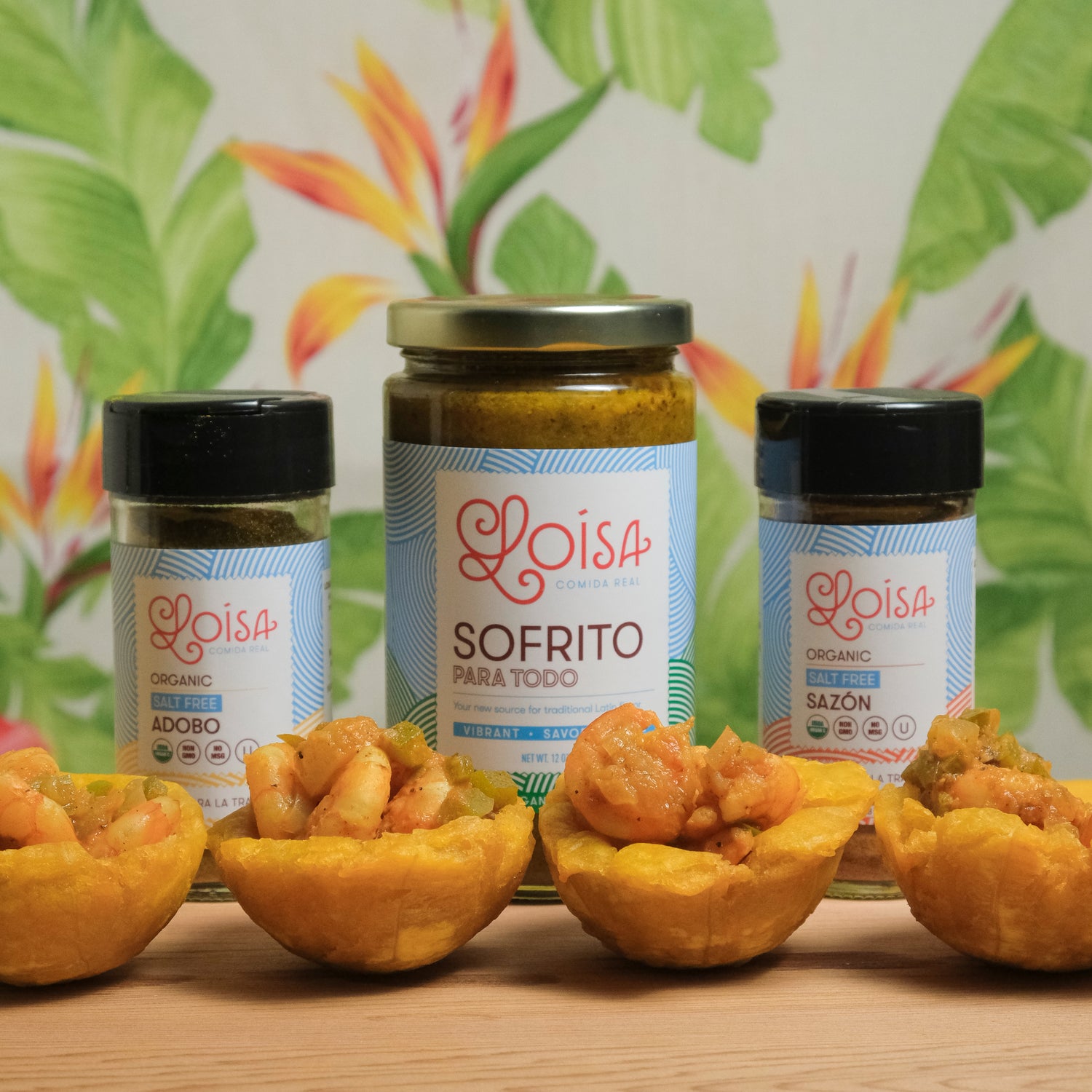 Tostones Rellenos de Camarones
Tostones rellenos (fried plantain cups) can be filled with anything, but there's something about this recipe by Carolina Ginorio, combining flavorful, tender shrimp with fried plátanos, that takes us straight to the beaches of Puerto Rico. 
by Carolina Ginorio | @caroginorio_pr
I was born and raised in San Juan, Puerto Rico. I use my love of food and my background in design to make videos that highlight how fun it is to cook and eat Puerto Rican food. I started cooking as a way to feel at home even when I was far away, so although I may not make it the way your abuela would, each bite is sure to transport you to my favorite island on the globe.
Tostones Rellenos are fried plantain cups filled with goodness. They can be filled with any meat of your choice but there's something about combining seafood and the fried plantain that takes me straight to the beaches of Puerto Rico. During the weekends me and my best friend would spend all day at the beach, and once all the snacks were gone it was time to head over to one of my favorite seafood restaurants. Legs still covered in sand, we would sit at the same table and order not one but two orders or tostones rellenos de camarones and a big pitcher of water—the perfect pick-me-up after a long day at the beach. When I left the island for college and started to get homesick, this is always one of my go-to recipes to transport me back home. 
Traditionally, tostones are made by frying chunks of plantain, smashing them and then frying them again. But because when I learned to cook I was a super busy college student, my mom taught me a few tricks to cook smarter, not harder. So instead of frying them twice, I put the plantain in the microwave for 5 minutes, cut it, smash it, and then fry it. It creates the perfect, crunchy tostones you need to compliment the shrimp seasoned with the Loisa trifecta of Sofrito, Adobo y Sazón. I can't wait for you to try it, buen provecho!