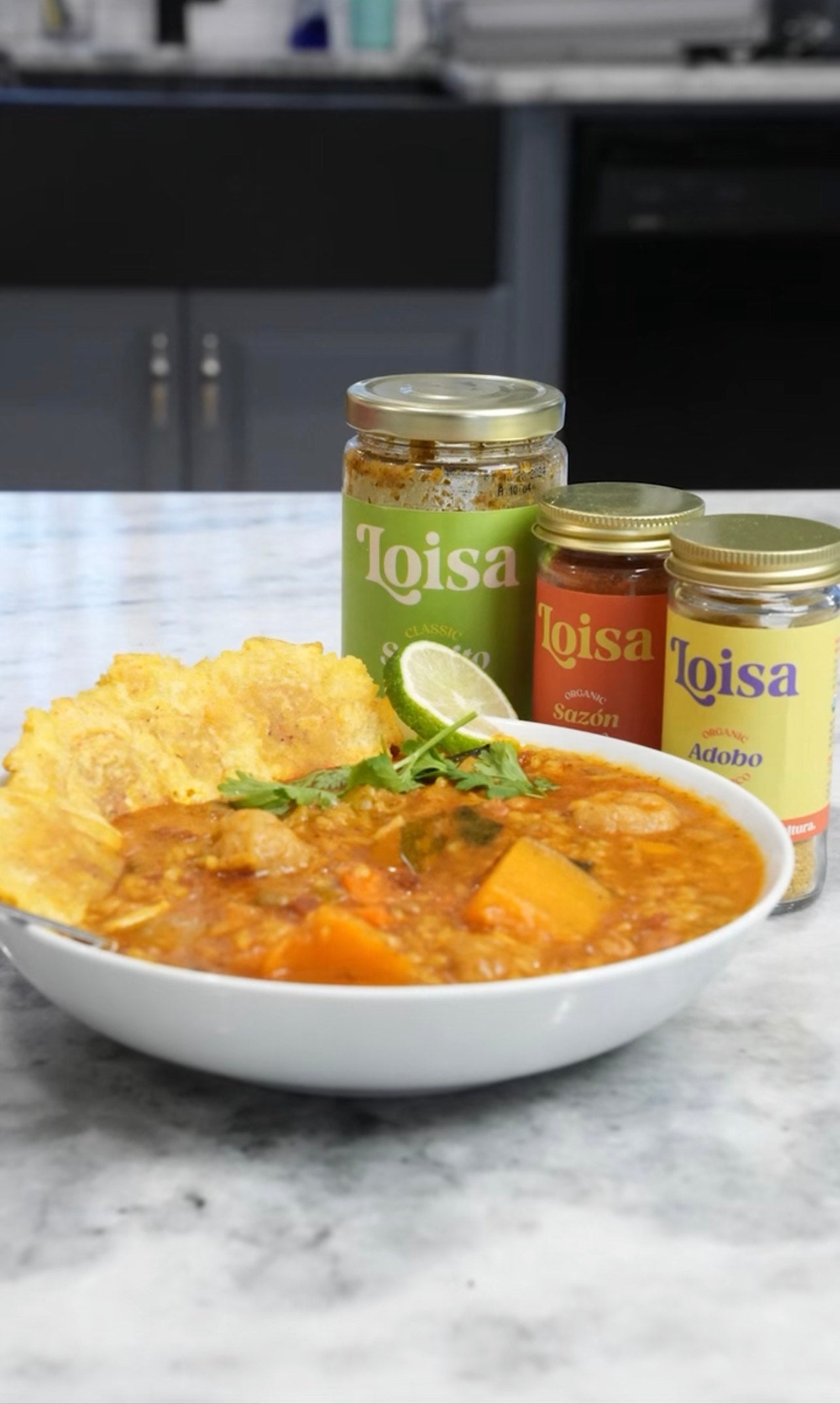 #Adobo
#mortarypestle
#recipes
#Sazón
#skimmer
#sofrito
#vegan
#vegetarian
Vegan Asopao de Gandules
Cozy up with this soupy rice stew any time of the year!
By Lyana Blount | @blackricanvegan
My favorite soup that my Tío used to make is Asopao de Gandules, a soupy rice stew made with pigeon peas. Tío Ramon, also known as sweet Daddy Ray, has always been the life of the party. Whether he is cracking outlandish jokes or getting down in the kitchen, you can trust there is never a dull moment with him. He knows how to live life to the fullest and is a giver, just like my mom. I spent a big portion of my life with my uncle. Tío Ramon babysat my siblings and me, picked us up from elementary school, and even lived with us at one point. He's into old classic films and savory foods, and of course, he always had to have his sweets. Tío would gather the family together for soup night, where drinks, jokes, and games were played. Life brought him many challenges in recent years – a fall at work and a health emergency due to his diabetes. Even so, he has managed to keep his spirits high and continue to appreciate life. I admire him so much for his resilience and hold all of my memories of him so dearly. My favorite memories are of us cooking together.
Asopao de Gandules is immersed with herbs, spices, aromatics, green plantain balls, and rice making it a filling warm bowl of love. The best way to make the plantain balls is with a grater or a blender so that when you drop the balls in the soup, they do not break up. Also, leave this step for last after everything is cooked. 

About Lyana
 Lyana's goal is to offer more vegan options and an alternative way of eating in food desert areas. With the demand for vegan eats across the country, her business, Black Rican Vegan, has taken the road and hosted Pop-Up events in NYC, Miami, and most recently, Los Angeles. 
Black Rican Vegan is a pop-up that puts a vegan twist on soul food and Puerto Rican cuisine in vegan desert areas. Black Rican Vegan offers delivery and pick-up service and pop-ups through NYC and other states. 

The Black Rican Vegan concept was born during the Covid-19 pandemic; something that started as a hobby and evolved into a full-blown business showcasing her passion for creating many traditional dishes but with a vegan twist. 

Lyana's social media has a following of 100 K hungry vegans and meat eaters from all across the U.S. and parts of the Caribbean. Black Rican Vegan hopes to pass the vegan plate from Coast to Coast and beyond and is doing so by putting out her cookbook in 2023, Black Rican Vegan: Fire Plant-Based Recipes from a Bronx Kitchen. Which is available for pre-order here!