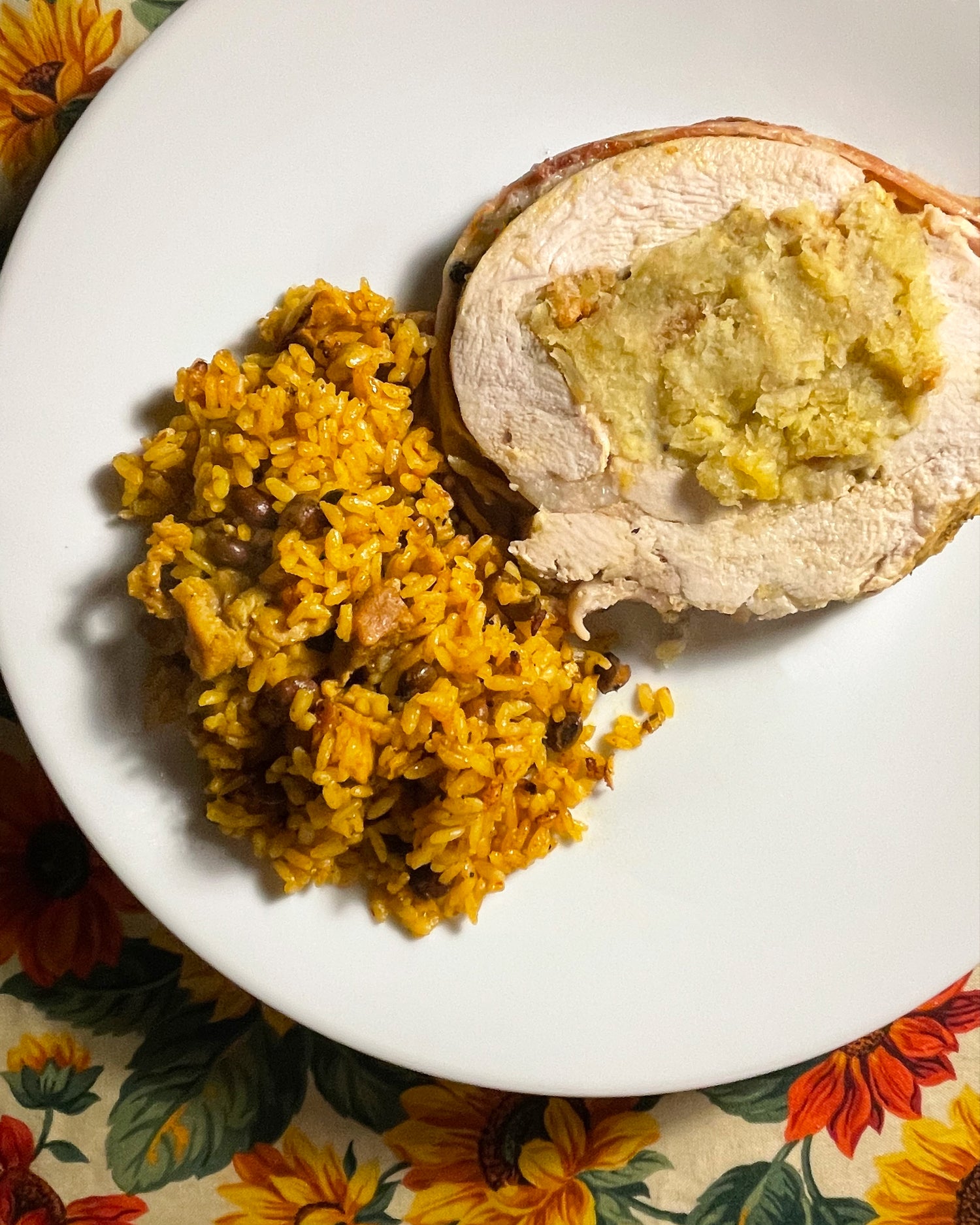 #Adobo
#masher
#mortarypestle
#recipes
#Sazón
#sofrito
Pavo Relleno de Trifongo
This mouth-watering turkey breast is stuffed with yuca, green plantain, sweet plantain & wrapped in bacon.
By Carolina Ginorio | @caroginorio_pr
This turkey is sure to be the star of Thanksgiving dinner. It's a spin on a traditional stuffed turkey breast using a trifongo-style stuffing and a classic "Pavochon" marinade to bring a little Puerto Rican flair to your Thanksgiving table. Trifongo is basically an upgraded mofongo. Instead of just fried and smashed green plantain, it also has yuca and sweet plantain mashed together to create a glorious combo of savory and sweet perfection.
Although this recipe has quite a few steps, it's still fairly easy.  If you've never de-boned a turkey breast, there are a few quick tutorials on youtube that get the job done, and if that's too intimidating, sometimes you can buy the turkey already de-boned, or you can ask the butcher to help you out. Once the turkey is de-boned and cleaned, the key is to hit it with a tenderizer to flatten it a little bit. This will help when the stuffing has been added, and it's time to roll the turkey breast.
Wrapping the turkey in bacon is optional, you could skip this step and just tie it with baker's twine, but I highly recommend using bacon. It creates the perfect crunchy and salty crust and helps the turkey to stay moist. Serve this turkey with some arroz con gandules and some pasteles in order to have the best food coma of the year.