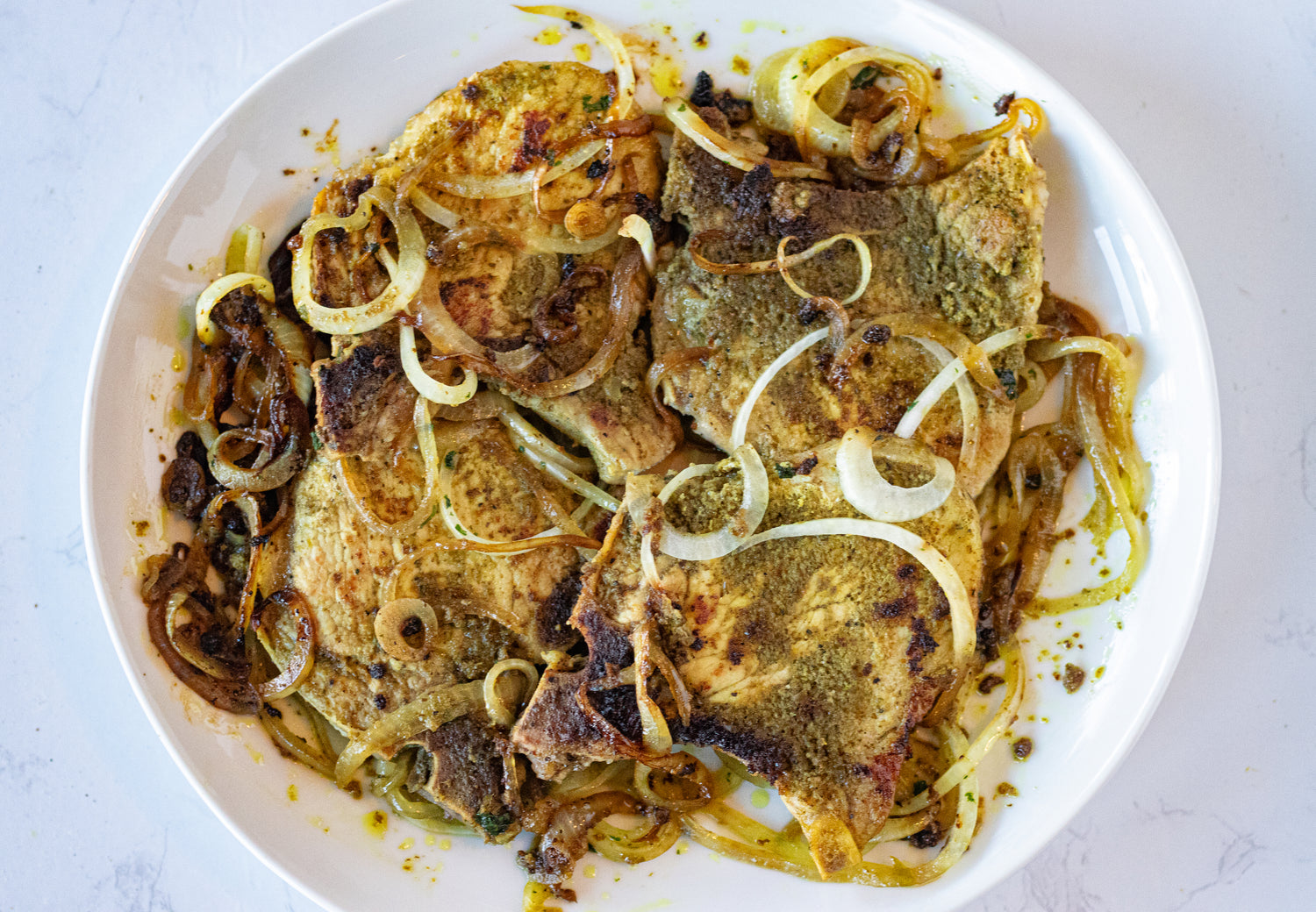 #Adobo
#Dinner
#Recaito
#recipes
Chuletas Encebolladas
Tender and savory pork chops cooked with caramelized onions & Recaito.
By: Belqui Oritz-Millili | @belquistwist
What I love most about Latin cooking is that so often we're transforming everyday ingredients into beautiful, flavorful dishes that connect us to our ancestors and bring everybody together. These Chuletas Encebolladas (pork chops cooked with onions) are a direct example of just that, taking humble pork chops and onions and transforming them into something delicious that feels like home. The secret ingredient in this recipe is Loisa's Recaito used to marinate the pork chops and and that extra oomph to the dish. Plus, it helps the recipe come together so quickly and easily – just 20 to 25 minutes! This is a perfect quick and satisfying weeknight meal you'll be coming back to over and over again!
Recaito is a type of sofrito that is typically very green in color due to the inclusion of culantro (also known as recao among many other names), cilantro, green bell pepper, and our favorite flavor bombs, ajicito dulce peppers. I love this shelf-stable version from Loisa, especially when I'm in a pinch and don't have time to make my own. It's beautifully fragrant and full of that classic flavor that I look for when I'm cooking Latin dishes – as soon as you open the jar, you'll immediately smell what I mean! 
A bit about the key ingredient that makes this Recaito so perfect for this recipe and so many others – Culantro! 
Culantro, a cousin of the more commonly known cilantro, plays an essential role in the flavor of Recaito and in so many other Latin dishes. While these two herbs– culantro and cilantro– are related, they differ in appearance, aroma, and flavor profile. Culantro is a long leaf with jagged edges, and its flavor is decidedly more intense and robust. It's often described as a concentrated version of cilantro, with a potent, peppery bite. Its aroma, too, is more pronounced, adding a unique depth and richness to dishes where it's used. Fresh culantro is commonly chopped and added to marinades, stews, soups,  and of course, to Sofrito in its many forms. As it cooks, its strong flavor balances out and beautifully melds into any dish you're cooking. 
Like other types of Sofrito, Recaito can be used as a cooking base for stews, beans, or rices, or as a marinade for proteins or even veggies. In this recipe, I'm using Recaito to season my chuletas, quickly imparting a world of flavor and elevating the dish with just a few spoonfuls. 
In Caribbean cooking, chuletas are a staple dish and can be cooked in many different ways. What sets Chuletas Encebollado apart from any other chuletas recipe are the fragrant onions that are directly cooked in with the meat, binding the flavor of onions and pork together. Just as steak and onions are a classic pairing (known as Bistec Encebollado in Latin cooking), so are pork chops and onions. The process of caramelizing onions to enhance their natural sweetness is a culinary technique that's been perfected over generations. Dishes like these are a testament to the resourcefulness of Latin American kitchens and the ability to turn simple ingredients into flavorful and craveable dishes. The simplicity of the dish is what makes it so appealing, as it allows these humble everyday ingredients to shine.
In this recipe, I used thin-cut and bone-in chuletas, but, feel free to go boneless or choose a thicker cut of pork chops. The beauty of this dish is that you can tweak it to your liking – it's hard to go wrong! If you do opt for a thicker cut of pork, the cook time will vary by just a few minutes. As for onions, sweet yellow onions tend to be best choice for this dish. As they cook with the chuletas, they'll become tender and caramelized, and impart their natural sweetness into the dish. 
In my cocina, the preparation and sharing of Chuletas Encebolladas is often a family affair. It's a dish that brings us all together in the kitchen. My abuela taught me the art of caramelizing onions to perfection, my mother passed down her own secrets of seasoning pork chops, and my father would always share funny anecdotes about enjoying this dish during his own childhood. In my family,  Chuletas Encebolladas is a shared experience, a ritual that strengthens our bonds and creates lasting memories both on our palates and in our hearts. 
I like to serve the chuletas alongside a generous serving of arroz blanco y habichuelas guisadas (white rice and stewed beans). Depending on who's serving it up, you might also find this craveable dish served with mofongo, tostones, a simple lettuce and tomato salad, or even fried rice! Whatever way you choose to serve it, I know it'll be good. ¡Buen Provecho!