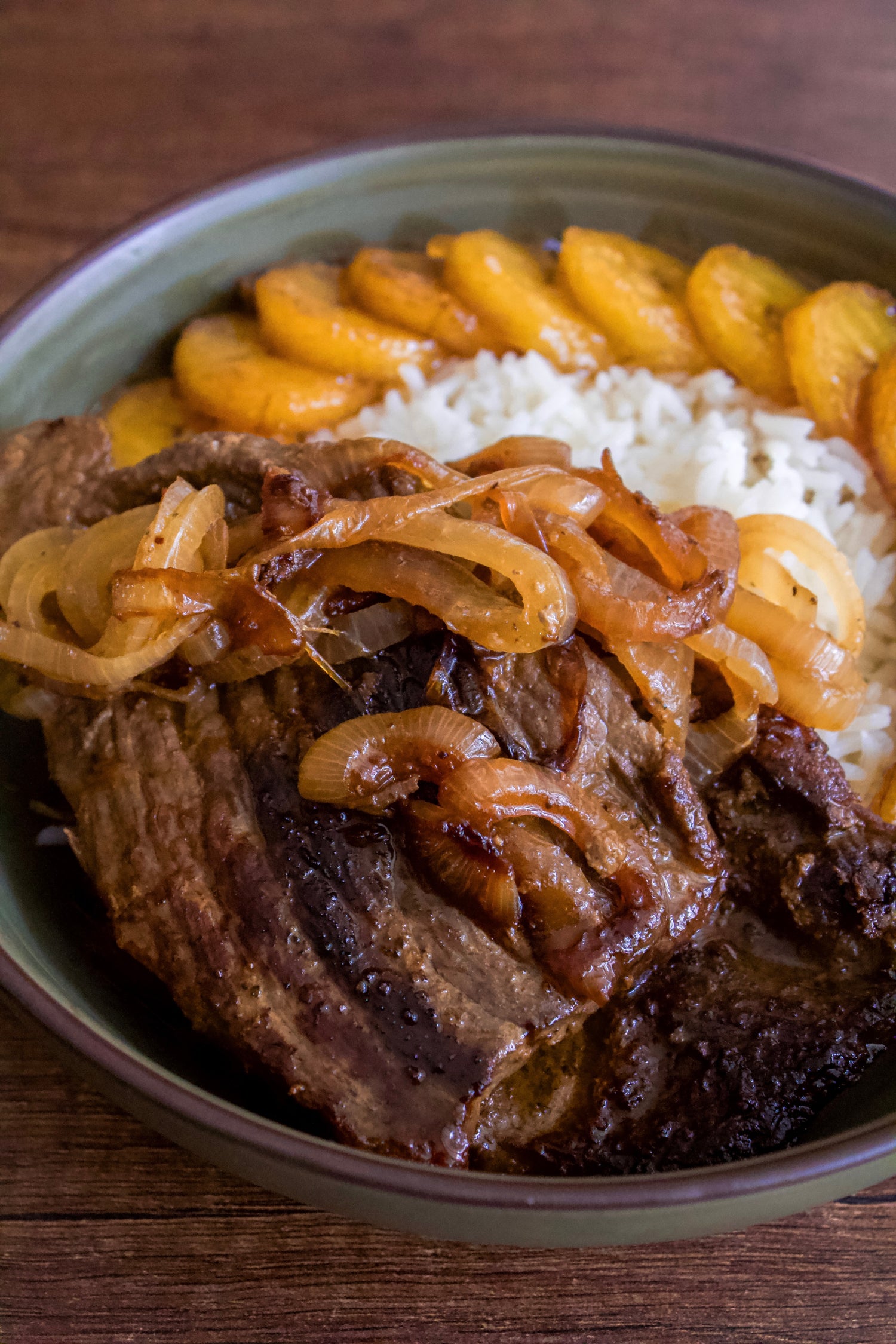 Bistec Encebollado
Tender, slow-cooked steak topped with fragrant onions.
By: Eat Rico | @eat.rico
There are many Latin cultures that use the word "bistec", most of them following the English pronunciation "beef steak". In Puerto Rico, one of our favorite ways to enjoy bistec is the classic bistec encebollado, representing a harmonious fusion of confit, escabeche, and encebollado techniques. Although there are many different forms of bistec encebollado, like this genius burrito hack, this recipe is a classic take on the authentic dish. Give it a bit of time and a cheap cut of bistec is gloriously transformed into a unique blend of tenderness and flavor, transcending its humble origins.
Central to this tender bistec is the interplay between vinegar and the inherent richness of the dish. The addition of vinegar harmoniously balances the flavors, cutting through with delicate acidity, elevating the bistec encebollado to a sensory journey that leaves our taste buds tantalized and craving more. We can almost hear the echoes of generations past, invoking memories of our abuelita working her magic en la cocina.
A generous serving of fluffy white rice serves as the perfect base, absorbing the savory juices of the bistec encebollado, allowing every grain to take on the flavor. And what would a Puerto Rican feast be without plátanos maduros? The caramelized sweetness of these fried plantains, which are a staple in any Caribbean meal, complements the savory depth of the dish, culminating in a culinary experience that's as much about culture and tradition as it is about taste.
Whether this is your first time having bistec encebollado, or your hundredth time eating this dish, we are all united by its magic, moving to the rhythm of its intricate taste profile, and celebrating the way it connects our familias. As the aroma wafts through the air and we take our first bite, we're transported to not just a meal, but to a culinary journey that encapsulates the heart and soul of Puerto Rican cuisine.