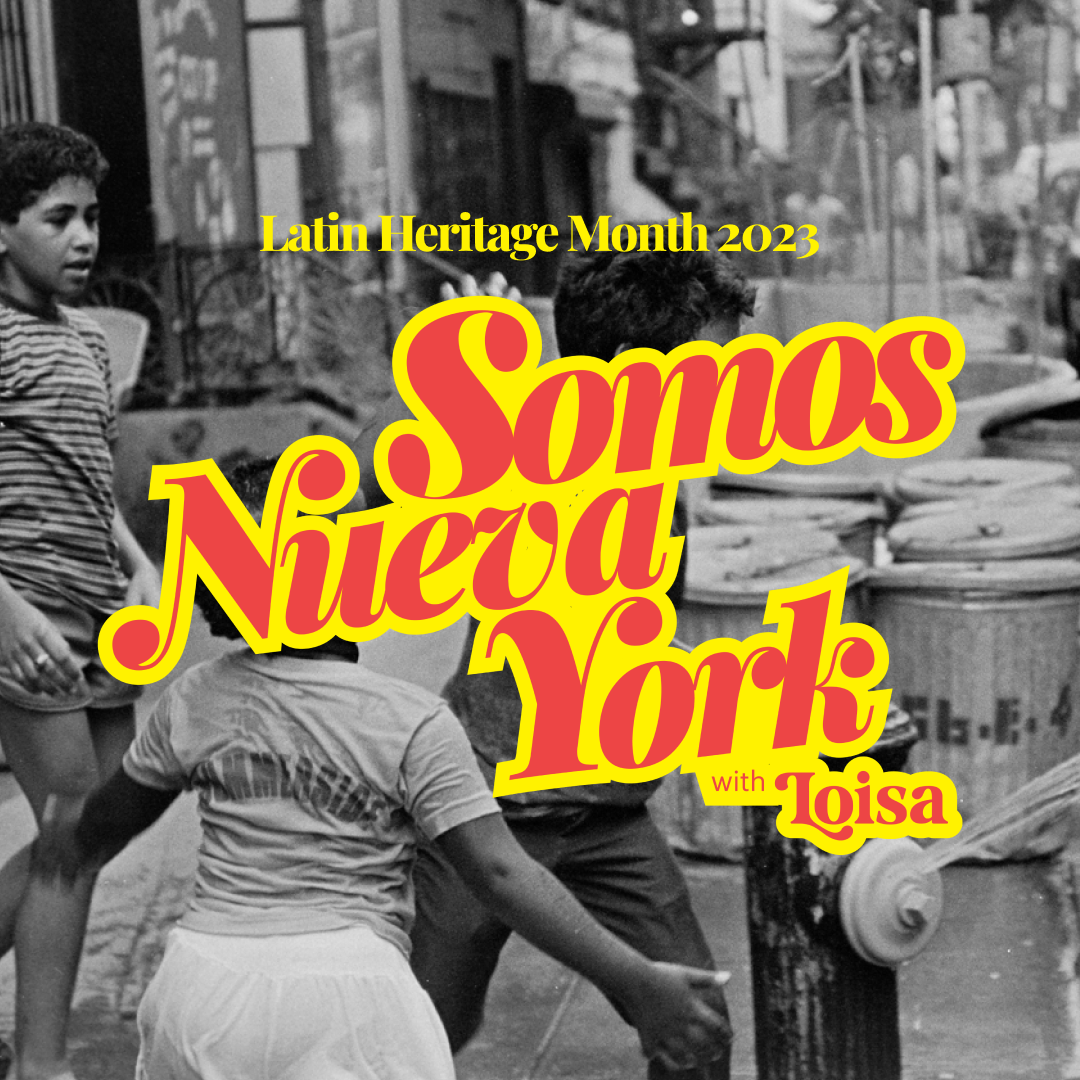 Somos Nueva York: A Latin Heritage Month Celebration
NYC wouldn't be what it is without the vibrant Latin community within it. Celebrate this truth with us this Latin Heritage Month.
By: Janel Martinez | @janelm
Aquí en Nueva York, nuestra latinidad can be seen and felt everywhere. From our music filling the streets of Graham Avenue to the steaming mofongo being served up at Casa Adela's. Even thousands of miles away from the countries we or our ancestors left, we've preserved our heritage, maintained our traditions, and built a community that spans generations. New York City wouldn't be what it is without our vibrant community within it, and this year for Latin Heritage Month, we're celebrating that truth. Somos Nueva York is a month long celebration of our comunidad and cultura in the city we call home.  
From the Author
Born and raised in the Bronx, I often say I'm a 1.5 gen Honduran-American of Garifuna descent. With a mother who came to the borough I call home as a young girl and a father who immigrated to New York City as an adult, the space between first and second generation seems fitting. Similarly, my multi-hyphenated identity feels at home here. 
Nueva York has always been an important part of my story. Growing up, though the Caribbean coast of Honduras (where my family is from) was hundreds of miles away from our Bronx home, my parents ensured that our Afro-Indigenous history, traditions, and culture were preserved. That meant hudutu, a mashed plantain ball served family style in a savory, coconut and seafood stew, was enjoyed regularly in my household. During the Christmas season, gadamalu — or tamales — are prepared with love by my abuela. To this day, I'm in awe of her ability to make what seemed to be close to 100 gadamalu in her prime. I've even joined in on this holiday tradition: rolling up my sleeves, getting into the masa and, yes, filling and wrapping the tamales. Of course, the best part is enjoying the fruits of my labor. 
While there are parts of my story that are innately mine, it parallels many other first, second, and third generation New Yorkers of Latin American and Caribbean descent. It's no surprise with Latin Americans currently being the second largest racial or ethnic group in the United States. According to the Pew Research Center, there are 62.5 million people of Latin American descent in this country and New York is among the top five states with the largest Latin population — 3.9 million people, to be exact. A large percentage of them undoubtedly call NYC home.
New York City's Latin Roots
Latin Americans have called New York home for centuries. Juan Rodriguez is documented as New York City's first immigrant. A free Afro-descendant from Hispaniola — the island of the Dominican Republic and Haiti, Rodriguez arrived on a Dutch ship in the Hudson Harbor in 1613, preceding both the English presence and Dutch settlement in Manhattan. When it was time for the ship to return to Europe, he reportedly refused to leave and remained in New York until 1614. 
Rodriguez's arrival marked the beginning of a Latin presence in NYC. The 19th century saw a sizable number of Cuban and Puerto Rican immigrants to the city as the sugar and cigar industries provided working-class Cubans and Puerto Ricans with opportunities. Toward the close of the century, scholars such as José Martí — an exiled Cuban political and literary figure whose statue stands in Central Park — and Arturo Alfonso Schomburg — an Afro-Puerto Rican activist, writer and historian known as "The Father of Black Studies" who the Harlem cultural institution is named after — called Nueva York home. 
From the Spanish-speaking Caribbean to Central and South America, governments across the region were destabilized by conflicts in the 20th century. With that, the number of people of Latin descent immigrating to the U.S. increased over time from the 1960s onward, leaving a cultural, economic and social impact on this country. The cultural imprint can be seen in NYC neighborhoods such as El Barrio (East Harlem), the South Bronx, Loisada (the Lower East Side), Los Sures (Williamsburg), and Jackson Heights, to name a few. Today, the majority of Latin immigrants reside in Queens and the Bronx, and represent more than 20 different ethnic groups. 
Why Somos Nueva York?
Have you heard the common phrase "Ni de aquí, ni de alla" ("Neither from here, nor there")? While it speaks to the complexities of being from one place and navigating another, and not quite fitting into either over time, we're affirming our place here in New York. Somos Nueva York (We are New York).  
At Loisa, we celebrate the richness of Latin culture, history, traditions and, most importantly, la gente every day. Latin flavor found in heirloom recipes passed down for generations across fronteras, fresh ingredients that make up our favorite sazónes, and the many cultures that comprise our Latin American and Caribbean identity are at the core of our story. 
Loisa began in New York City, a place with nearly two-and-a-half million people of Latin American descent, to offer la comunidad Latin pantry staples hecho con cariño. Like many families of the Latin diaspora, the families of Loisa's founding team have called Nueva York home for decades. With that, melding traditional flavors and techniques with new ones to create the flavors of their ancestral homes. That approach even extends to language. The name Loisa was inspired by the historically Latin neighborhood of Loisaida — the Spanglish term for the Lower East Side, which was coined by Nuyorican community activist and poet Bittman John "Bimbo" Rivas. 
From Kenny Luna, Co-Founder

"To me, New York, food, and Latino culture are one and the same. My family was in the grocery business and as a kid in the 90s, I would work at our stores in West Harlem and the Bronx, packing bags for tips and stacking shelves. What I loved about being there beyond just making $20/day, was the barrage of daily interactions with other 1st and 2nd generation Latinos who saw the stores as a place to socialize.

It was loud and vibrant. Not that I understood or cared at the time, but I remember constant debates about D.R.'s former president Joaquin Balaguer, who I still don't know much about, or the trade-offs of being a Dominican-Dominican versus Dominican-York. And I loved the O.G. food vendors showing up outside the stores with their shopping carts and yelling "tenemos pastels y morir soñando por dos dolares" or setting up their grill to make pinchos at night. All the employees would line up to get a snack - myself included.

I feel blessed to have grown up Latino in New York. To have that feeling of one foot in the D.R. and the other one here in New York. It's a shared experience and one that I embrace more than ever. Loisa is a reflection of that blended New York upbringing that I know so many other 1st, 2nd and 3rd generation Latinos experienced."
Somos Nueva York will be a month-long celebration of the food, culture and history of nuestra gente both on and off line. Follow along as we share community stories and tasty borough-wide spotlights of Latin restaurants like Casa Adela and Malecón. We'll be bringing Latin sabor into the iconic NYC kitchens of Win Son Bakery, Shmackwhich, and DIG. Join us at Maria Bido's Cocina de Loisaida for a Puerto Rican cooking class and stay tuned for a limited edition merch drop in partnership with an exciting community artist. To kick things off, on September 17th, we'll be bringing the uptown food truck, El Patio to Williamsburg in a celebratory event with Room Service International featuring local DJs the Whooligan, Dada Cozmic, Nas Leber, Sorry I'm Late, and DJ Synchro. And, on October 8th, we'll be closing it out on the dance floor with Perreo Intenso. 
From Sami Abreu, Head of Brand & Partnerships

"I'm a second generation American on both sides – my mother's parents immigrated to the Bronx from Rincón, Puerto Rico and my father's parents to Washington Heights from Santiago, Dominican Republic. While my childhood in the Bronx was geographically rooted miles away from the islands they left, my world was vividly and inextricably colored by Puerto Rico and DR.

At my home in Soundview, my Boricua family would gather in my grandmother's kitchen to make empanadas, sorullitos (dipped in sugar or mayoketchup), and bacalaítos. My sister and I, equipped with metal forks, were trusted with the job of securing the edges of the empanadas. We'd sit at the dining table and play PO-KE-NO, my aunts and uncles dropping quarters and nickels into the game cups on our behalf.

In New Jersey, my Dominican abuela broke our language barrier by feeding my sister and I plate after plate of bistec encebollado, carne guisada, or my favorite, asopao de camarones. All served alongside a humble salad of iceberg lettuce and tomatoes seasoned with white vinegar and salt – and we could never get enough of it. 

In my world, New York is a grape Snapple and flattened buttery bread at Brisas on Castle Hill Ave. New York is the Coco Helado man pulling up in front of our house on Pugsley Ave. It's the first bite of Dominican bizcocho with guava filling and sugary frosting. It's my uncle Rocky's domino table. It's my cousin's guira and baby showers that last until 1 AM. It's my mother's shrimp hoop earrings and my double-plated name chain. Our community and Nueva York are one in the same, alongside the many other immigrant communities that make this city what it is. You can feel and see it any day of the week in any borough – and I'm so proud to be elevating that truth with Somos Nueva York." 
This month, our 2% for Justice organization is The Loisaida Inc. Center, a Puerto Rican-founded multipurpose space and multidisciplinary community development organization located in Loisaida. The arts and culture collective highlights the rich culture, heritage, and contributions of the Puerto Rican and Latin American community in NYC. Many of the historic photos you'll find in this article and across our campaign both on and offline are from the Loisaida Center's archives. 
Tell us your Nueva York Story 
We all have a story to tell. 
We want to hear from you! Tell us how the Latin community has shaped your NYC experience. Feel free to share your story on Instagram or TikTok and tag us @eatloisa!
We invite you to celebrate with us online, across social media and in-person over the next four weeks, from September 15 through October 15. Check out the calendar!