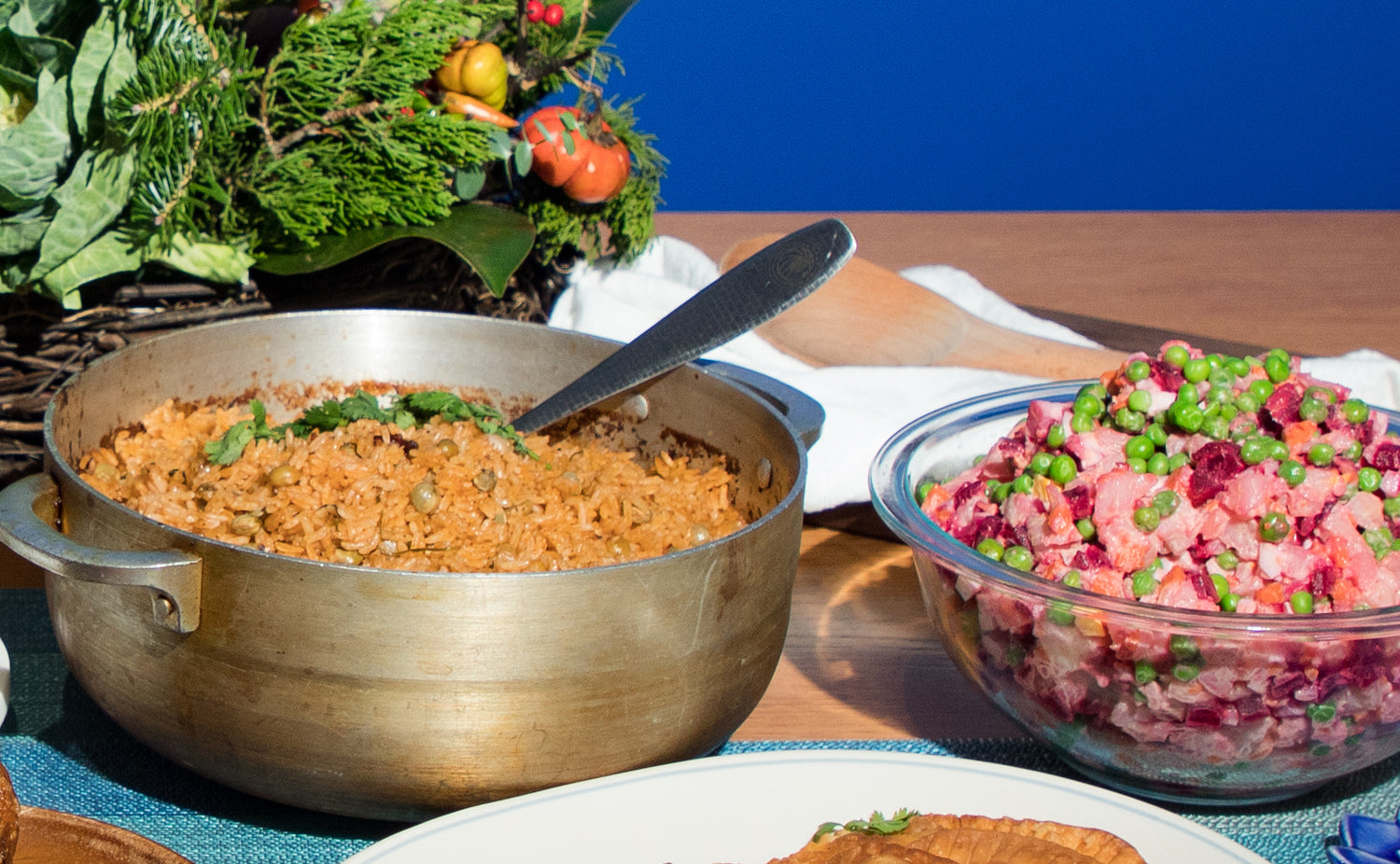 Holidays with Loisa: Ensalada Rusa y Moro de Gandules
Complete your spread with these two delicious sides - Ensalada Rusa and Moro De Gandules, special recipes from our Head Chef and Educator Yadi Garcia and her Elevated Melanated Cuisine team.
Welcome to Holidays with Loisa! This season we plan to bring you some classics, some twists on the classics, as well as some easy new ways to enjoy Latin flavor besides the big meals. We know the holidays look a little different this year, and many of us (ourselves included) will be taking on more dishes than normal. That in mind, we've gathered an inspiring group of chefs and creators to help you thrive during this unique time with a full season's worth of recipes & insight. 
The following recipes are extra special -- brought to you by Chef Yadira Garcia (@HappyHealthyLatina), Loisa's Head Chef & Educator and a partner in our business, Chef Irbania Tavares (@irbania), and Chef Nikki Gurley (@chef_gstackz). They've got an amazing collective going called Elevated Melanated Cuisine. Be sure to check that out, too. Also blessed to work with photographer and stylist Rosanna Añil (@nycfoodmuse) to capture all the magic!
~ ENSALADA RUSA ~
A pillar of Dominican food and a staple at Christmas dinner, this recipe is our flavorful and colorful take on the classic potato salad, or "Russian" potato salad. The addition of beets brings it that wonderful pink tone. 
INGREDIENTS 
1 lb of potatoes 

2 large carrots 

3 eggs 

2 teaspoons of Loisa Sal de Mar, or more, to taste 

2 teaspoons coarse ground pepper 

1 tbsp Loisa Organic Oregano 

1 medium beet 

1 medium red onion 

2 tablespoons vinegar 

½ cup of sweet corn 

½ cup of blanched green peas 

½ cup mayonnaise 

3 tbsp cilantro, de stemmed and chopped
DIRECTIONS
Place the potatoes, carrots, and eggs in a pot and add enough water to cover (and extra). Add a teaspoon of salt. After 12 minutes have passed, remove the eggs from the water and continue boiling the carrots and potatoes until they are cooked through. 

Boil the beetroot in a different pot until it's cooked through 

Once cooled to room temperature, peel potatoes, carrots, eggs, beetroot, and dice into small cubes. 

Mince the onion, add vinegar and let it rest until it's time to mix with the rest of the ingredients (at least 10 minutes). Discard the vinegar. 

Mix potatoes, carrots, eggs, beetroot, onion. corn and peas. Add mayonnaise, oregano and mix. Season with salt and pepper to taste. 

Garnish with Fresh Herbs 

Serving: You can either serve chilled or at room temperature, depending on your preferences.
~

 LALA's MORO DE GANDULES 

~
This recipe is a gift in itself from Chef Irbania Tavares' Mama, Lala! An all-time classic, shared amongst family, and now with all of us. The addition of Loisa Adobo is one that certainly makes us proud. 
INGREDIENTS 
14oz bag frozen pigeon peas

1 ½ teaspoons

Loisa Sal de Mar

, divided

3 tablespoons olive oil, divided

1 medium Spanish onion, halved

2 tablespoons apple cider vinegar

4 garlic cloves, peeled and mashed in a pilón (mortar and pestle)

2 tablespoons tomato paste

1 teaspoon

Loisa Ground Oregano

1 teaspoon

Loisa Adobo

½ teaspoon

Loisa Ground Black Pepper

4 cups white rice, rinsed

½ cubanelle pepper, deveined 

¼ cup fresh cilantro, plus more for garnish
DIRECTIONS
In a large pot bring 8 cups of water to a boil.

Remove frozen pigeon peas from the bag and place it in a medium heat-proof bowl, add 2 cups of boiling water and ¾ teaspoons of

Loisa Sal de mar

. Stir well and let soak for 10 minutes. 

While the pigeon peas are soaking, peel and slice the onion in half. Place half of the onion in a small bowl with the apple cider vinegar. Let the onion marinade in the vinegar.  

Mash the garlic cloves with ¼ teaspoon of Loisa's

Loisa Sal de Mar

in a mortar and pestle until it becomes a paste (if you don't have a mortar and pestle, mince the garlic on a cutting board, then add the salt and mash using a tablespoon or the flat side of a knife).

Drain the soaking pigeon peas and rinse with cold water. 

In a large heavy bottom pot, heat 2 tablespoons of olive oil over medium heat. Add half of the onion (not the half marinating in the vinegar) and cook stirring until the onion is browned but not burnt, about 5 to 7 minutes. Remove and discard the onion and reduce the heat to low. Add the mashed garlic, stir constantly for 30 seconds until fragrant. Add the tomato paste and the marinated half onion with the vinegar. Stir until the tomato paste is dissolved and all ingredients are incorporated. Add the pigeon peas,

Loisa Ground Oregano

,

Loisa Adobo

,

Loisa Ground Black Pepper

, and remaining ½ teaspoon of Loisa

 Sal de Mar

. Stir for about two minutes until all ingredients are incorporated. Add 4 cups of boiling water, the rinsed rice and the cubanelle pepper. Stir and let boil uncovered for about 8 minutes until most of the water is evaporated. Reduce the heat to low, place the ¼ cup of cilantro on top and cover the pot, cook for about 18 to 20 minutes until all the water is absorbed and the rice is cooked. 

Uncover the pot, remove the cilantro, add the remaining tablespoon of olive oil and stir the rice. Cover the pot and cook for 5 more minutes. Turn off heat, uncover the pot and remove the cubanelle pepper and cilantro. 

Serve the moro warm garnished with fresh cilantro. Enjoy.

 
A little bit extra about Chef Yadira Garcia

Yadira Garcia is a trained Natural-foods Chef and certified Integrative Health Coach, of Dominican descent who grew up in the South Bronx of New York City. She is now leveraging her education as a community Chef-Tivist, educator, and Speaker under the platform she created Happy Healthy Latina, INC., helping to address food justice, nutrition education & health inequities in NYC. Together with her team she works with several Community Based Organizations, NYC Public Schools and Bronx/NYC Urban Farms as a culturally relevant cooking, nutrition education/food justice workshop curriculum creator, facilitator. She's also a partner in the Loisa business and our Head Chef & Educator. Stay tuned for more to come :-)
Find and follow Chef Yadi on Instagram at @HappyHealthyLatina