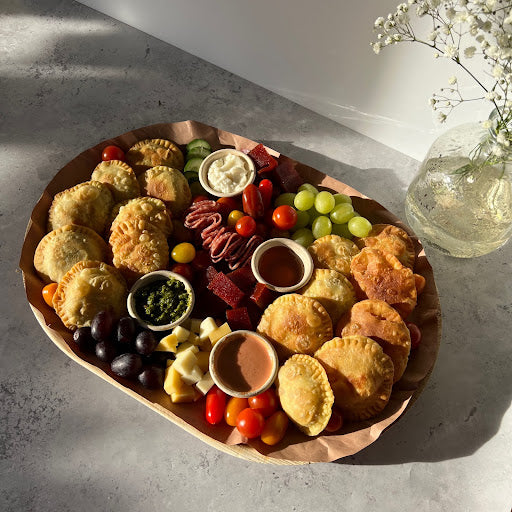 #Adobo
#recipes
#Sazón
#sofrito
Mini Pastelitos (Mini Empanadas)
Bite-sized empanadillas, plus how to make the dough from scratch!
By: Melissa Toribio | @brieonthechisme
One of my earliest childhood memories I have is making pastelitos with my Tio Papilin when we first moved to Brooklyn from the Dominican Republic. We spent a lot of time together, so I had the lucky privilege of consuming a lot of his pastelitos and, as contested of a topic as it is, he used to put raisins in his beef pastelitos which I love to this day. I wholeheartedly believe that this is where my love of savory and sweets began.
Keep in mind that you are more than welcome to cut down your cooking and prep time for the pastelitos by purchasing frozen empanada dough, but the dough from scratch will always be my personal preference. Plus, it tastes better anyway!
You can make these pastelitos the star of any holiday, by making them the centerpiece of a charcuterie board. Perfect for entertaining around Thanksgiving, Friendsgiving, Christmas, New Years, or any celebration. Coupled with my obsession with cheese, creating a Dominican pastelito charcuterie board was an easy concept that was made that much easier using Loisa's products! 
On your board, you'll want to place the cheese pastelitos on one side with meat close by (dried genao, chorizo, pepperoni, peppered salami, etc), and alongside the beef pastelito place any unused cheese you cut up for the cheese pastelitos. Fill the rest of the board with whatever you'd like!
My recommendations are adding fruits like oranges, kiwis, starfruit, oranges, seedless grapes, and guava. Vegetables such as cucumbers, tomatoes, mini peppers, and avocado. For sauces, I like mayo-ketchup, chimichurri, hot honey, and garlic confit. Lastly, for any additional cheeses I recommend brie, manchego, and cheddar.