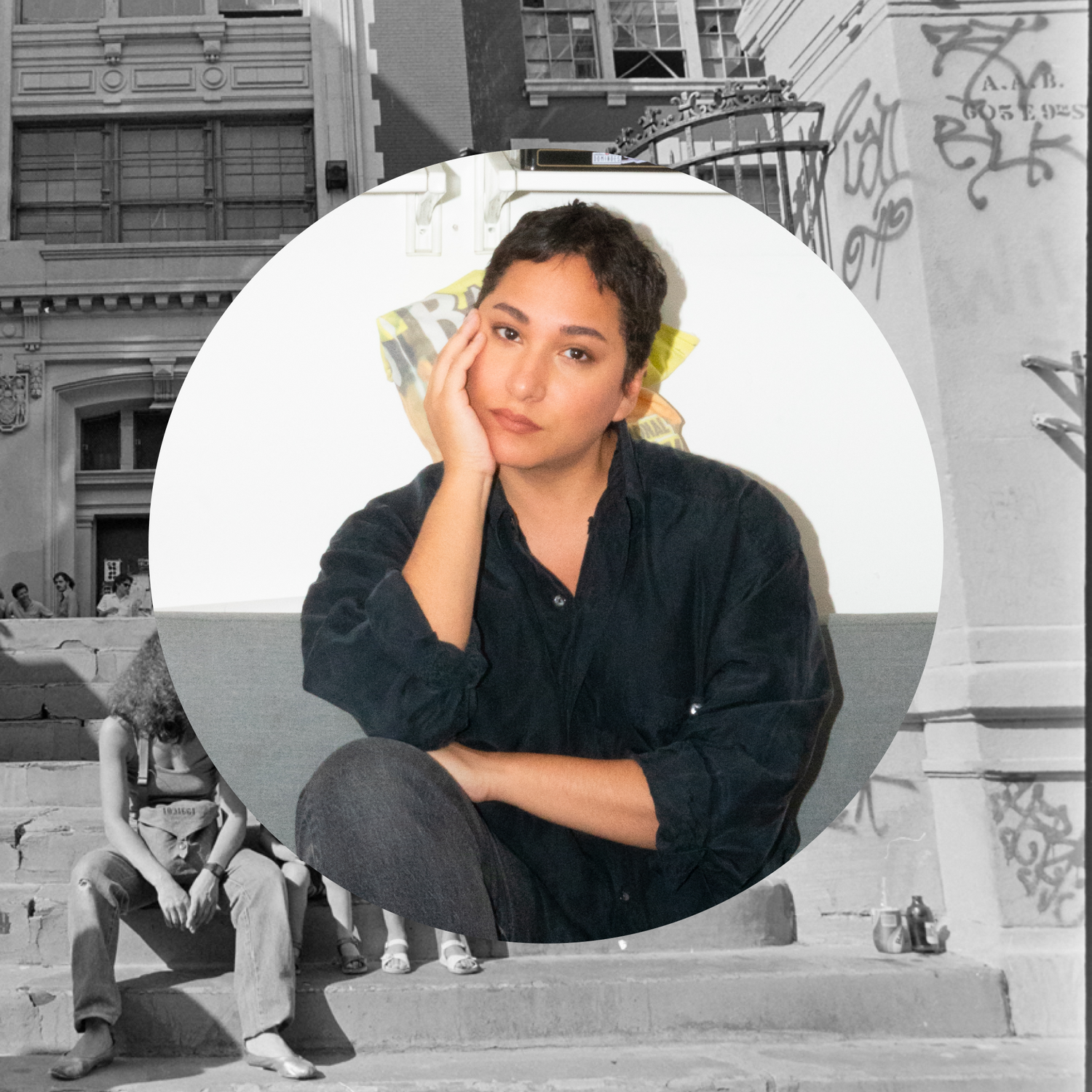 Flavor Profiles with Lucia Hierro
Meet Dominican-American artist Lucia Hierro, as she explains the impact her Latin culture has had on her world-renowned artwork.
For Latin Heritage Month, we're introducing a month-long celebration, called "Somos Nueva York", where we're spotlighting the incredible and integral contributions of the Latin community to the food, culture, history, and fabric of New York City. Our name Loisa was inspired by Loisaida, better known as the "Lower East Side", a neighborhood with a prominent Latin population and a community that we aim to uplift.

This Flavor Profile is part of a series of features where we're elevating the stories of notable members of our community here in Nueva York that continue to push our cultura forward. We hope you enjoy their stories and we encourage you to explore their work.
About Lucia Hierro
Lucia Hierro (b. 1987) is a Dominican American conceptual artist born and raised in
New York City, Washington Heights/Inwood, and currently based in the South Bronx. Lucia's practice, which includes sculpture, digital media and installation, confronts twenty-first century capitalism through an intersectional lens. She received a BFA from SUNY Purchase (2010) and an MFA from Yale School of Art (2013). Hierro's work has been exhibited at venues including the Bronx Museum of the Arts, the Museum of African Diaspora (MoAD) in San Francisco, Jeffrey Deitch Gallery (Los Angeles), Elizabeth Dee Gallery (New York), Latchkey Projects (New York), Charlie James Gallery, Primary Projects (Miami), Sean Horton Presents (Dallas), Fabienne Levy Gallery in Lausanne, Switzerland and Casa Quien in the Dominican Republic.
Her works reside in the collections of the Guggenheim Museum New York, the Museum of Fine Arts Boston, Museum of Contemporary Art San Diego (MCASD), El Museo del Barrio in New York City, the Perez Art Museum Miami, the JP Morgan & Chase Collection, the Progressive Art Collection and the Rennie collection in Vancouver, among others.
In 2021, Lucia's work was exhibited in ESTAMOS BIEN: LA TRIENAL 20/21, El Museo del Barrio's (NY) first national large-scale survey of Latinx contemporary art featuring more than 40 artists from the US and Puerto Rico, and she was the subject of a solo exhibition at the Aldrich Contemporary Art Museum in Ridgefield, CT titled Marginal Costs.
Tell us a little bit about your background! Where is your family from? Where did you grow up? What role did Latin culture play in your upbringing?
My folks are from San Francisco de Macoris, a city in the northeast region of the
Dominican Republic. I grew up in Inwood/Washington Heights, New York on Riverside right by what used to be La Marina. I like that this neighborhood is so historically Dominican that the city had no choice but to officially name it Little Dominican Republic.
My father Henry Hierro is a Merengue music icon; he was the lead singer/producer/
composer of a band called La Gran Manzana in the 80's. Music is the family business so to speak. My brother Chris is a Latin Grammy award winning producer, musician and singer currently touring with Alejandro Sanz. Latin culture was just so present in my reality that to describe its role in my life would be like a fish describing water. I visited the Dominican Republic frequently and moved there 8-10th grade (formative years). I was surrounded by the people that shaped the island's identity through music. Living in Macoris politicized me because for the first time I was having to live with the ramifications of U.S foreign policy. I was in the middle of student protests, tear gassed, on my way to 8th grade.
Dominicans in the island often grow their own food and I fell in love with the close
connection people have to the land. My parents would drive us around the island and made sure we immersed ourselves in the culture. Music has been the constant thread in my life, it's what connected me to history and politics as well as art via album covers. As I got older and furthered my studies, my personal history became a way for me to think about politics and local economies.
Describe the work you do. What's your favorite aspect of your day-to-day?
I'm a sculpture and installation artist. I make soft sculptural objects made of photo-based images printed on fabric. These prints are machine and hand-sewn. They not only depict specific imagery associated with Dominican or Latin culture, but consumer culture at large.
I was trained in painting but the work naturally evolved into what it is today. I started
working with digital printing on fabric in grad school at the end of 2012. My mother would later become instrumental in the studio. She grew up working in NY factories alongside my grandmother who was an amazing seamstress. Mom has taught me everything I know about sewing.
My favorite thing about my day-to-day is the problem-solving/conceptualizing time.
There's a lot of looking at an idea from many different angles before settling on
anything. I have an amazing studio assistant Andrew Smalley and we just take on every project like it's a giant puzzle we get to tackle. He shows me the best TikToks and Real Housewives content! Sometimes we hit walls or have to make certain deadlines and people really just don't understand what goes into all this but my team of people (48Print, Rosendo at RJ Custom Furnishing) make it all so enjoyable.
How does your work impact or engage with community?
There's this local economy aspect to the work; profits get funneled back to Latin-owned small businesses in the South Bronx. I have someone who works on my prints with me, Dominican commercial printer Luis Guerrero at 48 Prints. There's also Rosendo, a master woodworker who helps with some structural support things, and my mother who comes in for more tedious sewing projects. I usually hire and mentor students — it's how I met my current studio assistant.
The historic impact of the work via academia and education is really important to me. My work is being taught in art history classes from kindergarten through MFA programs. The Guggenheim recently acquired my work "De Todo Un Poco" (2018) and now I'm part of their permanent collection. This means my art is archived and taken care of just the same as any other historic artist in their collection.
I live in the neighborhood where I grew up, I shop at the street markets, know my local vendors by name, and have regular hang-out spots. My Dominican manicurist calls me her "artista favorita" after seeing me on Telemundo. I'm here because of the ripple effects of elder Latinos who paved the way for me in all aspects of my current existence. I hope whatever I'm doing is having the same effect.
What inspires you most?
I'm inspired by love. I think it's the spark that ignites everything. I love the work all my talented friends do; they are chefs, writers, doctors, musicians. I'm so inspired by all of them. My neighbors hustle all day and have the best sense of humor. I'm inspired by little acts of tenderness displayed by a borrowed cup of sugar or food brought to me in recycled butter containers. LOVE.
What does Nueva York mean to you?
New York means home. My neighborhood makes me feel like I belong here. It's got so much soul. There's so much visual stimuli, it's hard to NOT be inspired. I bump into different stages of who I've been and am becoming on every block. New York has a way of making you feel like no matter how insignificant you think you are, you're a part of its fabric.
One way we like to connect with our friends and family is through comida! Tell us about your favorite Latin dish, and recount a special memory you have related to that dish.
I'm a fan of moro de guandules and pollo guisado with a side of repollo or ensalada rusa. The rich simplicity of it when done right. I think for me it's going over to my mom's and hanging with my siblings; the loud, aromatic goodness of it all.
For more info on events, collabs, exclusive merch, and more during Latin Heritage Month, check out this link and follow us on Instagram for updates!
Read more Flavor Profiles like this one that are part of our Somos Nueva York series, featuring DJ and entrepreneur Julio G, Puerto Rican chef María Bído, and event organizer Jo Bailon.
Shop Our Limited Collaboration with Lucia Hierro!
All proceeds will benefit the Batey Relief Alliance