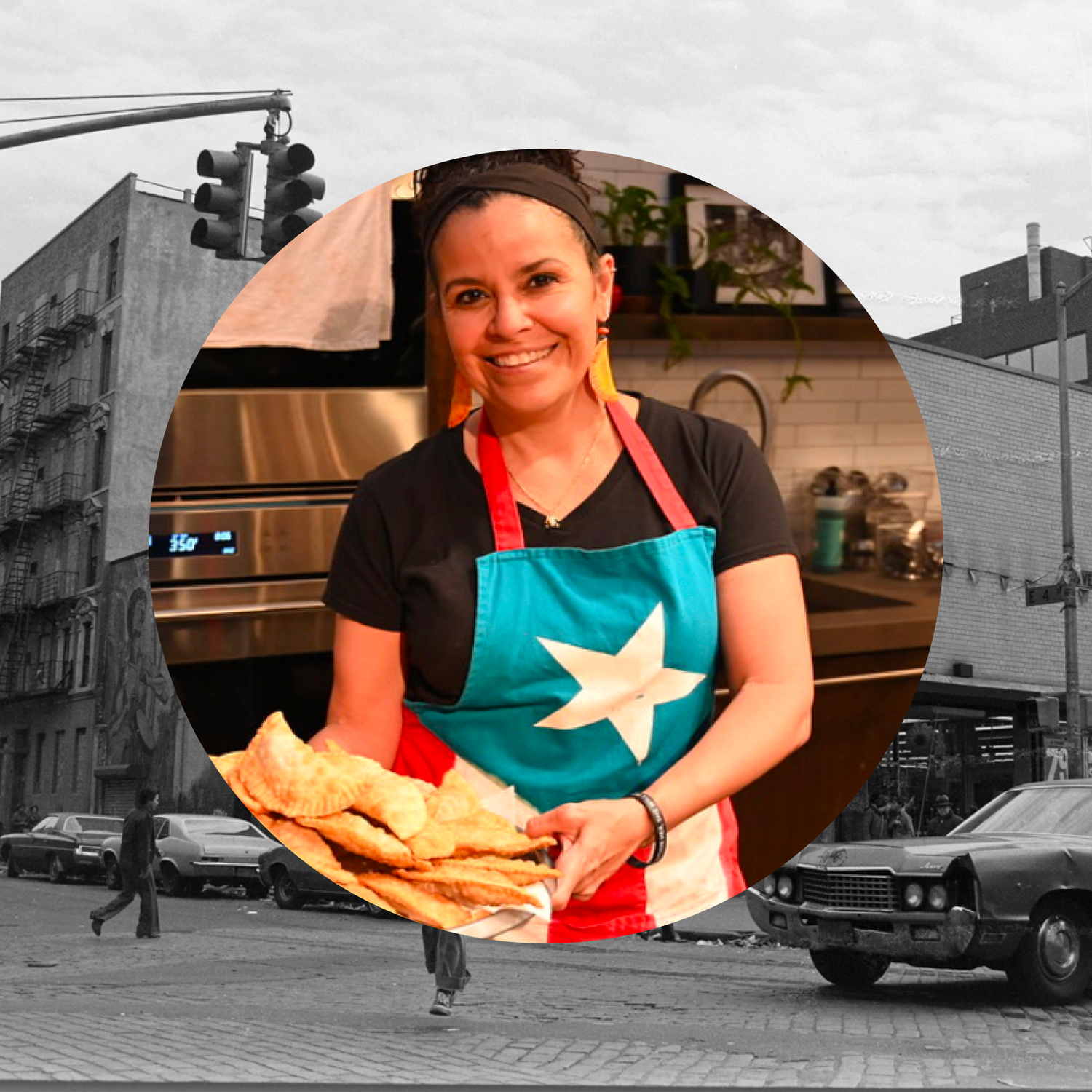 Flavor Profiles with María Bído
Meet Puerto Rican chef María Bído, as she describes how her love for Latin food has shaped her life and career.
For Latin Heritage Month, we're introducing a month-long celebration, called "Somos Nueva York", where we're spotlighting the incredible and integral contributions of the Latin community to the food, culture, history, and fabric of New York City. Our name Loisa was inspired by Loisaida, better known as the "Lower East Side", a neighborhood with a prominent Latin population and a community that we aim to uplift.

This Flavor Profile is part of a series of features where we're elevating the stories of notable members of our community here in Nueva York that continue to push our cultura forward. We hope you enjoy their stories and we encourage you to explore their work.
About María Bído
Since the age of 6, lifetime Loisaida resident María Bído acquired a taste for cooking traditional Puerto Rican dishes from her grandmother. By watching and helping her grandmother prepare dinners for the family, María received a non-traditional, hands-on culinary learning experience. As a mother of four sons in the Lower East Side, Maria continued to cook these traditional dishes for her family and friends. As a result, Maria has become a local chef and caterer in the Lower East Side. This authentic cuisine includes a combination of the flavors of sofrito and adobo, coupled with an extremely intricate variety of plates which makes for a perfect cuisine. In 2020, Maria was asked to join La Cocina de Loisaida and has partnered with them to share these traditional Puerto Rican recipes.
Tell us a little bit about your background! Where is your family from? Where did you grow up? What role did Latin culture play in your upbringing?
I was born and raised in Chelsea Projects in Manhattan, NYC. I moved to the Lower East Side when I was 18 and have lived here over 35 years, so this is home. My grandparents and my mother were born in Ponce, Puerto Rico. They migrated to, believe it or not, the Lower East Side when my mother was a year old. My grandfather came first to secure a job and an apartment, then sent plane tickets for my Wela, Mom, Titis and Tio. My Wela safety pinned my Tias and Tio together so she wouldn't lose them in the airports. Propeller planes flew them from Ponce to Mayaguez, from Mayaguez to San Juan, from San Juan to Miami, and finally from Miami to Newark. The planes were oversold so my Tias had to sit on the laps of strangers. There was a snowstorm in New York City on December 7, 1947, so their plane's final destination to JFK was diverted to Newark where my Welo met the family with coats and hats.
Since my Wela was born in 1921 when there were no refrigerators or freezers, everything was made fresh daily. She cooked everyday for her family of eight children, relatives who stayed when arriving from Puerto Rico, friends, and neighbors. The apartment in the projects was like a mansion to her. Anyone walking through the eighth-floor tunnel could smell the food cooking and knock on the door to be offered a seat and a plate of food at her table.
My Uncle Kiko was a musician, and his room was always filled with band players. Mom's friends were groupies and always in the apartment as well. The holidays were a time of coming together to eat and argue about how long people sat at the six-person table taking too much time, as the rest of us waited eagerly for our turn.
Summers were filled with Mets and Yankees on the television and when we did go to the games my Welita always brought handmade empanadas for us to munch on. Coney Island, Lake Welch and Tomahawk Lake were our go-to locations to enjoy the sun and the water. Wela would wake up at 5AM to fry a giant bandeja de pollo frito. I can still taste the chicken which was lightly dusted with sand from the wind blowing on it. Best pollo frito EVER.
Parties, music, food, dancing, smiles, hugs and love filled the apartment in the projects at all times.
Describe the work you do. What's your favorite aspect of your day-to-day?
I am the owner of Mia's Cocina. There are three parts to my company. I conduct in person cooking classes in collaboration with the Loisaida Inc. Community Center and the Essex Market. These classes are usually held twice a month from September and run through June. The classes are a hands-on experience where clients put on an apron and a pair of gloves and then we make the meal together. While we're cooking, I'm speaking about the history and the culture behind the food and telling stories about the recipes.
After the meal is made, the clients sit and enjoy the fruits of their labor and eat. The recipes are then emailed to the clients after class so they may continue to make them for their friends and family.

I also cater Puerto Rican food for corporate events, weddings, sweet sixteens, baby showers, housewarming parties, or any type of event that requires a delicious meal.
The third and final part of my business is vending food at festivals throughout NYC.
I think the best part of what I do is meeting so many people and connecting with them through the food. Whether it's at a festival or a cooking class, I'm always so grateful to bring joy to people by having them taste the food and loving it, or by the food causing them to reminisce about their own family recipes.
How does your work impact or engage with community?
I collaborate with the Loisaida Inc., Essex Market, and Museum At Eldridge Street which are all heavily community-based organizations. This year, I will also collaborate for the first time with the NYC Parks and Recreations Department.
Loisaida Inc. has monthly Senior Days and I have the pleasure of catering several events throughout the year. The food brings so much joy to the seniors and to me watching them enjoy the food. Spending time with the elders brings me so much joy! They can't walk without their walkers, but put on some salsa or meregnue music and they jump up and dance the day away!
La Cocina de Loisaida is the monthly cooking class that is a collaboration with Loisaida Inc and the Essex Market. This partnership allows the cooking classes to be affordable so anyone who wants to learn how to make Puerto Rican food will have an opportunity to attend. This partnership is a blessing.

What inspires you most?
I'm inspired by my clients. Everyone that comes to a La Cocina de Loisaida cooking class leaves full and happy. We have several repeat clients, some of which have become part of my extended family. When a client says, "I don't have elders to teach me how to make pasteles, arroz con gandules, arroz con dulce, flan…etc so I decided to take your class and it was the best decision I made.", my heart is full. Knowing that I am filling a void for many people is a gift from God.
Honestly, words cannot describe the feeling. I know there's a need for these classes and I'm going to continue to help show people how to cook Puerto Rican food as long as possible. Helping to keep our cultura alive in NYC is what inspires me.
What does Nueva York mean to you?
Nueva York is home! It's diversity, culture, music, food and fun. Nueva York is life and love. 
One way we like to connect with our friends and family is through comida! Tell us about your favorite Latin dish, and recount a special memory you have related to that dish.
So many dishes and stories to choose from!! I think I'm going to have to share my Rellenos de Papa story.
When my Welo started to age, he moved into my Titi and Tio's house in Sarasota, Florida. I would visit him for summer vacations and cook all of his favorite meals and he would grade me on my cooking. Always looking for approval from our elders, I knew my rellenos de papa would be the favorite dish I made for him that summer.
Well, I was dead wrong. Welo gave me a D!! I said, "What? A D?? What do you mean a D???" Welo continued to chow down on the rellenos as I eagerly awaited a response. After taking a sip of water to clear his throat he said "Pusiste demasiado carne adentro. Tienes que poner meno carne porque los rellenos tienes que tener un balance entre la papa y el carne. ¡Y no pusiste acetuna!" He then grabbed another relleno and started eating it. 
And you know what…he was right! There absolutely needs to be a balance between the potato and the filling because they are both delicious and we need to enjoy both parts of this amazing recipe.
For more info on events, collabs, exclusive merch, and more during Latin Heritage Month, check out this link and follow us on Instagram for updates!
Read more Flavor Profiles like this one that are part of our Somos Nueva York series, featuring DJ and entrepreneur Julio G, Dominican-American artist Lucia Hierro, and event organizer Jo Bailon.