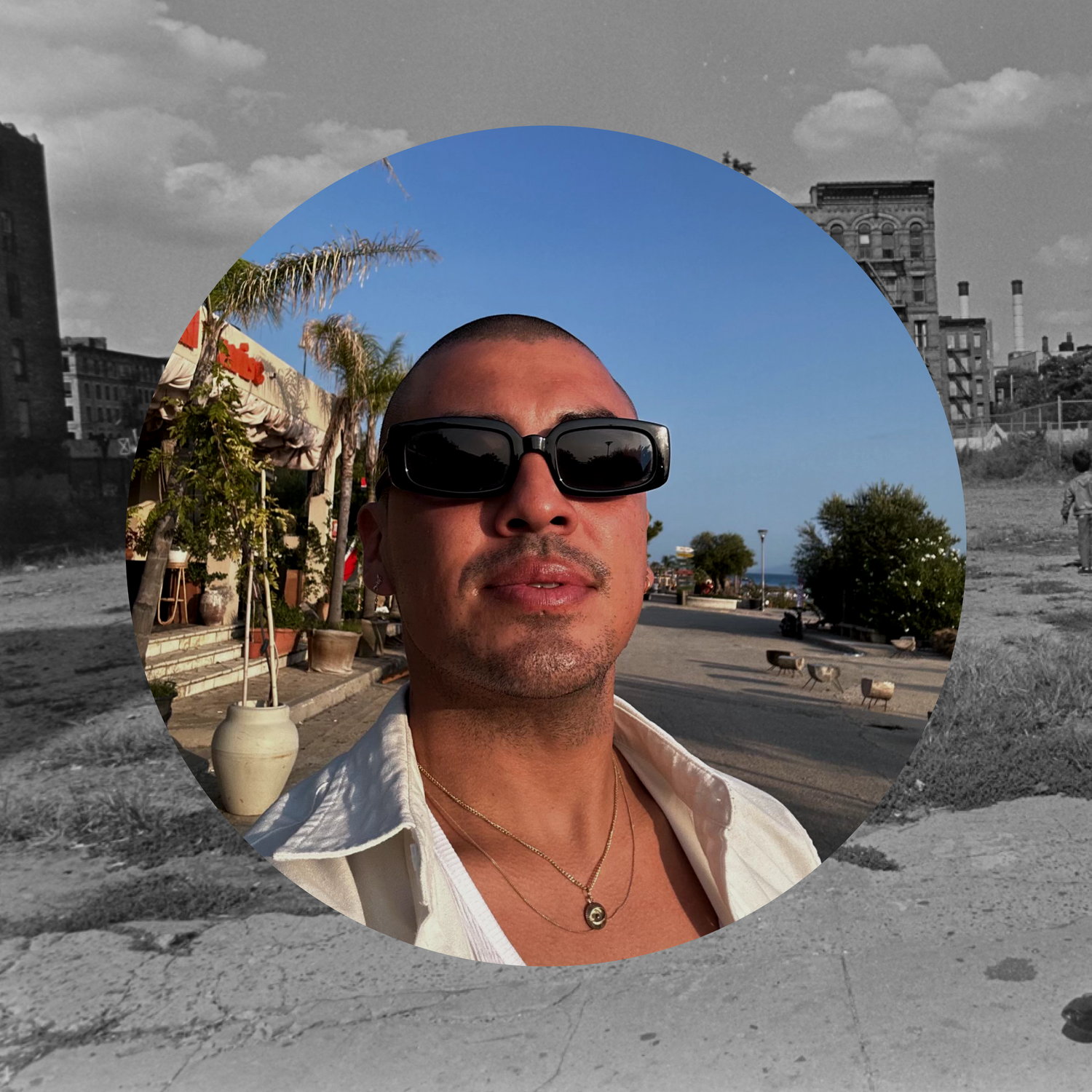 Flavor Profiles with Julio G
Meet Julio "The Whooligan" Galvez, a California-bred, New York-fed DJ and entrepreneur shaping the landscape of music around the world.
For Latin Heritage Month, we're introducing a month-long celebration, called "Somos Nueva York", where we're spotlighting the incredible and integral contributions of the Latin community to the food, culture, history, and fabric of New York City. Our name Loisa was inspired by Loisaida, better known as the "Lower East Side", a neighborhood with a prominent Latin population and a community that we aim to uplift.

This Flavor Profile is part of a series of features where we're elevating the stories of notable members of our community here in Nueva York that continue to push our cultura forward. We hope you enjoy their stories and we encourage you to explore their work.
About Julio G., The Whooligan 
Julio G is a music lover, world traveler, community organizer and entrepreneur. Known by his stage name, The Whooligan, he has over 15 years of performance experience as a globally recognized DJ and Artist. Julio's commitment to humanitarianism is what motivated him to launch music-based, social impact group, Room Service International in 2018. Under Julio's leadership, Team RSI has expanded their mission to live a life of service in four continents around the world. Room Service International activates change through the power of electronic music, events and community service initiatives.
From 2013 - 2018, Julio served as the Director of Worldwide Bookings and Partnerships for Los Angeles based music collective, Soulection. In late 2020, Julio became an A&R/Label Manager for Paradise Worldwide, an independent digital distribution company based in Berlin, with offices in Johannesburg, New York, Shenzhen, Mexico City and San Francisco. The Whooligan has a monthly radio show, Room Service Radio, which airs every first Tuesday of the month on Half Moon Radio, broadcasted live from Brooklyn, New York.
In 2022, Julio became the Music Director for famed wine and vinyl bar, Sauced, located in Brooklyn and he is also a partner at the highly acclaimed Japanese/Filipino fusion restaurant, Gugu Room, located in the Lower East Side in New York City. The seasoned artist, business executive and humanitarian brings a unique perspective to the music industry through service, open-mindedness and inherent positivity.
As a world class music selector, The Whooligan has performed in countless international tours and one-off events, reaching 6 continents, 40+ countries and over 100 cities. Julio's relentless work ethic, insatiable curiosity for travel and undeniable love of bringing people together has fostered a community in celebration of underground dance music, diversity and inclusion.
As a trusted source of insight and groundbreaking music across the globe, The Whooligan's zest for life, ability to identify new music and creative culture first, has led him to collaborations with brands including VICE, Noisey, HBO, MTV, Hypebeast, Red Bull, Boiler Room, The Lot Radio, SoHo House, Soundcloud, Yves Saint Laurent, Maison Kitsuné, Daily Paper, Brooklyn, Circus, NIKE, PUMA, ALO & JD Sports. As a multifaceted and genre-bending artist, he's also shared the stage with the likes of the late Mac Miller, DJ Jazzy Jeff, De La Soul, Kaytranada, Masego, DJ A-Trak, Kenny Dope, Just Blaze, Natasha Diggs, Mark Farina, Soul Clap, The Internet, Tokimonsta & Little Dragon. The Whooligan has also received press mentions from Billboard Magazine, Los Angeles Times, MISSBISH, MIC, Forbes, TheGuardian, MIXMAG, HYPEBEAST & more.
The Whooligan's live DJ performances permeate an eclectic, stylistic mix of internationally influenced progressive soul, deep house, afro/latin and feel-good beats that will mirror the energy of the crowd, his love for people and his intimate connection with the world and travel. Whether blending two records in a unique fashion or working closely to cultivate next level talent, the common thread is his ability to see beauty in all.
Tell us a little bit about your background! Where is your family from? Where did you grow up? What role did Latin culture play in your upbringing?
My family is from Ecuador and I'm first generation American-born. We moved from Los Angeles, where I was actually born, to Northern California when I was five years old. I was raised in the San Francisco Bay Area and moved to Brooklyn around 10 years ago — I'm California bred, New York fed. Latin culture played a huge role in my upbringing, it literally gave me the flavor I have today. Growing up with my family playing soul, salsa and dance records on the daily, while fútbol was on the TV in the background, and my mom and dad were cooking up a feast in the kitchen, was quintessential Latino upbringing and the foundation of how I approach a lot of what I do today. I'm pretty sure this is why I'm in music and hospitality — it's all about making people happy and well-nourished.
Describe the work you do. What's your favorite aspect of your day-to-day?
I'm very grateful to say that music is the nucleus of all that I do — I love every second of it. Because all of my work is music-related (i.e. strategizing and building with artists and record labels, cultivating new talent, curating playlists and sets I play out in the club, throwing parties and producing events, booking DJs at one of our restaurants), every day is very different from the next — they present unique challenges, lots of communication and require a lot of love, passion, creativity and teamwork when making it all happen. Speaking of teamwork, I'm part of a team called Room Service International — we're a social impact group that throws dope dance parties throughout New York and all over the world. I think that's my favorite aspect of what I do — I get to work with incredible humans and we can be as creative as we want; music has no boundaries. 
How does your work impact or engage with community?
Music is a powerful reflection of the community — there's no greater joy than sharing and creating music for people to vibe out to, sing and dance. Music brings the world happiness, so to be a vessel of that is such a huge honor. Bringing all walks of life together to exchange frequencies, and creating positive change in the world is very intentional, it's visceral and deep rooted, we become one and connected on the dance floor and the events we organize and produce. If even one person tells me that what we did helped changed their life, or gave them positive affirmation, we've done our job.
What inspires you most? 
Traveling and exploring the world inspires me the most. The fact that music allows me to experience all of these amazing places, and learn about different cultures, music, cuisine, tradition, history and ways of life is crazy to me, it really is a blessing and something I've dreamt about my whole life. I love meeting new people and getting put on to something dope. That knowledge and energy exchange is so precious. And the fact that I get to share it all with everyone back home here in NY and help inspire those around me is such a good feeling. I never want to live life without curiosity.
What does Nueva York mean to you?
Nueva York means resilience, determination, empowerment. Not even in just the day-to-day, but in all the unique & beautiful cultures that make up the city — you can truly taste all of it in the food, nightlife, art and diversity. Nueva York toughens you up, but it also teaches you empathy and understanding. I love the fact that you can be completely anonymous one day or be completely outside the next, and still find your own groove and rhythm within all of the chaos. It's beautiful chaos though, and I wouldn't have it any other way, there's no place like NY.
One way we like to connect with our friends and family is through comida! Tell us about your favorite Latin dish, and feel free to recount a special memory you have related to that dish.
My mom is such a bomb cook, I miss her home-cooked meals. I don't always get the opportunity to eat her delicious food when I travel back home to the Bay, but when I do, it's such a momentous occasion. She takes so much pride, care and love in every meal, and it's insane that I've never seen her use a measuring cup. Encebollado is such a classic Ecuadorian dish and the way she prepares her fish is second to none — all of the spices and veggies combined with the fish is just wow. Throw a bowl of rice in the mix, crisp glass of white wine, and it's lights out before you reach the opening credits of her favorite novela.
For more info on events, collabs, exclusive merch, and more during Latin Heritage Month, check out this link and follow us on Instagram for updates!
Read more Flavor Profiles like this one that are part of our Somos Nueva York series, featuring Puerto Rican chef María Bído, Dominican-American artist Lucia Hierro, and event organizer Jo Bailon.