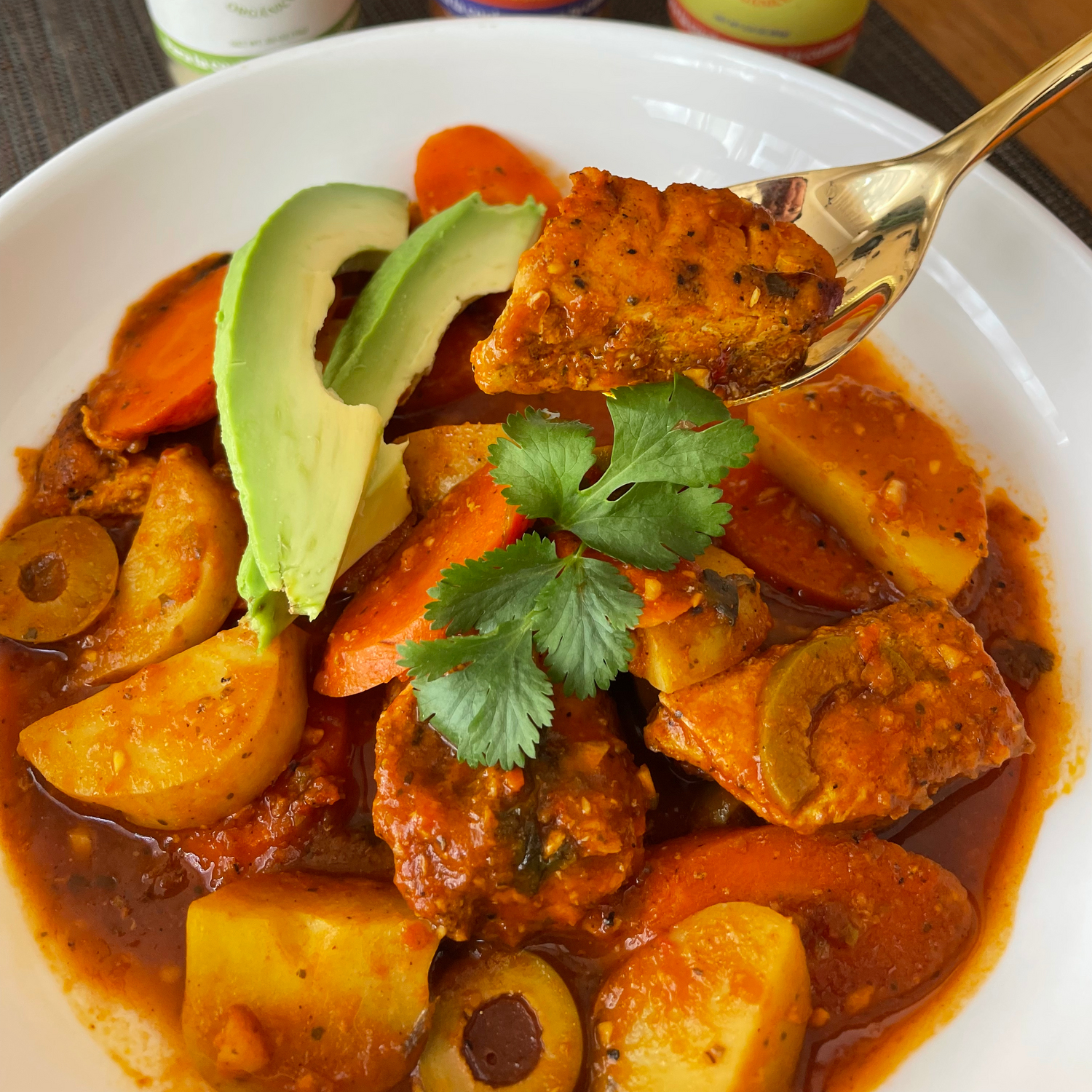 #Adobo
#pescatarian
#recipes
#Sazón
#sofrito
Salmon Guisado
Flaky and tender salmon in a classic Puerto Rican guisado.
By Emma Betancourt | @emmas.agenda
Most people are familiar with carne guisada or pollo guisado. With this recipe, I wanted to try something different by making this salmon stew. I use the same foundation of seasonings and meat preparation style but substitute the meat with fish instead.  Perfect for those cutting back on poultry and beef.
Because we are using salmon, the guisado comes together much quicker, making it perfect for a weeknight meal! You can adjust how much liquid your guisado has by controlling the broth you add in. Some people like it with a lot of liquid, so the rice you serve it with can soak up all the flavor, while others prefer less. So you can adjust the amount of broth and seasonings to your liking. You are the boss in your kitchen! :) 
About Emma
I grew up half-Mexican and half-Puerto Rican in California. Since it was easier to find Mexican ingredients in Cali than it was to find Puerto Rican ingredients, my mother would cook mostly Mexican dishes. As much as I loved the Mexican classics, I craved more classic Puerto Rican dishes in my life as well. As an adult, I made it a goal to cook more of the traditional recipes I'd eat with my Nana when I visited her in Puerto Rico. This journey sparked my interest in growing my own vegetables and even attempting to make my own seasonings to honor the way my Puerto Rican grandmother would cook. When I found Loisa a few years ago, as I was looking for an Organic Sazón that didn't contain any artificial dyes, my classic Puerto Rican dishes started to get even better. Now, I even get Loisa's refill bags on subscription because they've become so essential in my kitchen. These seasonings have helped my food taste as good as my Nana's (well, almost, because let's be honest…nothing is ever as good as our abuelitas!)