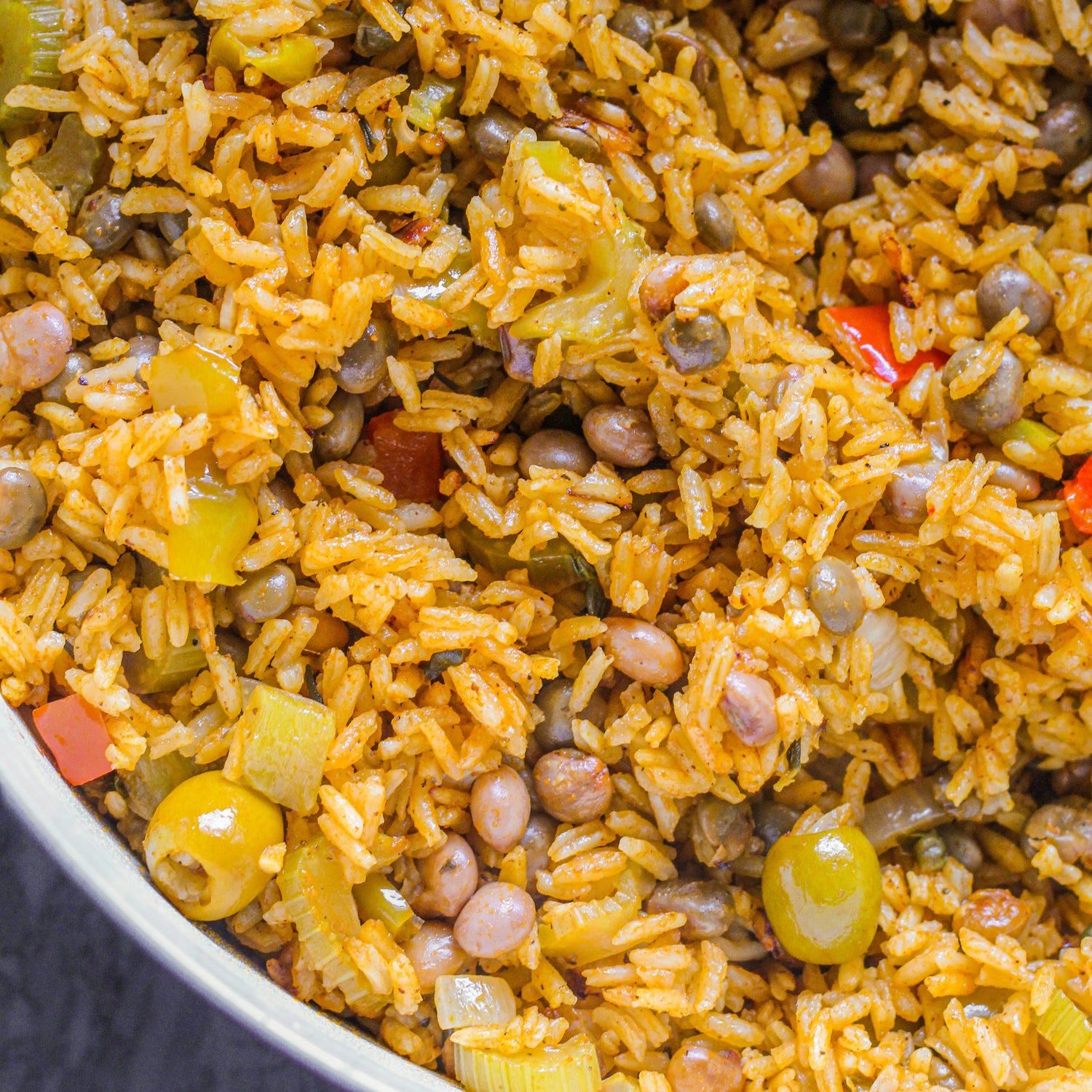 Holidays with Loisa: Moro De Gandules Con Coco
A heartfelt take that's ready for the holidays, try the beloved Catherine Perez's (@plantbasedrd) recipe for this classic rice dish.
Welcome to Holidays with Loisa! This season we plan to bring you some classics, some twists on the classics, as well as some easy new ways to enjoy Latin flavor besides the big meals. We know the holidays look a little different this year, and many of us (ourselves included) will be taking on more dishes than normal. That in mind, we've gathered an inspiring group of chefs and creators to help you thrive during this unique time with a full season's worth of recipes & insight. 
This delicious feature is from Catherine Perez (@Plantbasedrd) 
Moro De Gandules Con Coco is a sign of family and celebration. This Dominican inspired rice is flavored with adobo, sazón and coconut milk. Everyone has their own special moro. This one is buttery, spiced to perfection and the perfect fluffed rice side for your holiday table.
Moro
Can you honestly say it's a holiday or family gathering without the presence of moro? For this Dominican, the answer is simply no. I can't recall a family gathering where it wasn't present, and now it's a permanent fixture for me when it comes to special events and especially during the holidays. Probably one of the best sides to have and the one I look forward to the most anytime we gather to celebrate. While we might not be doing a lot of the gathering part, I still love to partake in the tradition. And this variation of moro is my own. I personally love mine with coconut milk. It makes the rice velvety and I feel it enhances the adobo and sazón even higher. 
Why you'll love this rice
This rice is anything but boring. Flavored with lots of garlic, sazón, and adobo, it will become your favorite rice. 

The coconut milk in this dish not only provides a beautifully buttery flavor, but it also helps keep this moro perfectly fluffy.

This moro de gandules is vegan, gluten free and surprisingly easy to make considering the flavor.  
Key Ingredients
Peppers: choose a variety and make it colorful

Olives and capers: add another layer of salt and vinegary flavor to the rice as it cooks

Coconut milk: provides a lovely buttery flavor to this rice and also helps to keep your rice fluffy and flavorful

Jasmine rice: the best rice to use for this as it is fragrant and such a lovely balanced flavor with the spices
~ MORO DE GANDULES CON COCO ~
Ingredients 
1 tbsp olive oil
1/2 medium onion, diced
1 stalk celery, diced
1 Cubanelle pepper
1/4 red bell pepper
3 cloves garlic, minced
2 tsp Sazón
1/2 tsp Adobo
1/2 tsp dried oregano

3 tbsp Spanish olives

1 tbsp capers

1 can gandules, partially drained

1/2 tbsp tomato paste

1 1/2 cups vegetable broth

1/2 cup coconut milk

2 cups white Jasmine Rice, rinsed and drained

Handful of cilantro
How to make Moro De Gandules Con Coco
Bring a large pot to medium high heat sweat your onions and celery with a pinch of salt.

Once onions are soft add in peppers and garlic. Stir until fragrant.

To the pot fold in sazón, adobo, oregano, Spanish olives, capers, tomato paste and partially drained can of gandules.

At this point you can pour in your coconut milk and vegetable broth, stir and bring mixture to a boil. 

Add in your rinsed rice and stir well. Allow rice to continue to boil to help absorb a majority of the liquid while making sure to stir rice every so often to prevent any burning on the bottom of the pot. 

Once most of the liquid is cooked off and it appears that the rice is drier at the top, stir in your cilantro. Lower your heat to the lowest setting and cover your rice with a lid to steam for 30-40 minutes undisturbed. 

Fluff your rice and season to taste. 

Tips for making moro
The great thing about moro is that everyone has their own twist. I've seen variations with different beans, vegetables and seasonings. This version has the twist of coconut milk that shows a lot of influence from the Caribbean. 

WASH YOUR RICE WELL.

You will need to rinse and drain a few times to make sure it is clean. This does make a difference when it comes to flavor. 

Follow the steps for cooking the rice appropriately. You need to let the rice steam all the way through, which will take about 30-40 minutes to do. If you keep disturbing the rice during the steaming process, you will end up with hard rice that doesn't cook evenly. Big tip here is to be patient! 

At the end of cooking, taste your rice and adjust your seasonings based on your preference. A good place to start if needing adjustment is adding in additional adobo seasoning, salt and/or pepper to your rice. 

Feel free to change out the type of bell peppers you use based on your preference. You can replace the cubanel with green bell pepper. Using different colored peppers can add some color and visual excitement to the dish, which is great to make your table look festive during the holidays.

If there are leftovers they are best stored in an airtight container in the fridge for up to 3-4 days. This rice does freeze well and can be kept in the freezer for up to 3 months. Just defrost and heat, then enjoy.
A little bit about Catherine Perez
My name is Catherine. I'm a registered dietitian and plant based enthusiast here to inspired everyone to eat more plants. As a dietitian I counsel individuals full time to help them make steady and sustainable health and wellness changes. I also love to share my cooking. The kitchen is therapeutic for me and being able to share simple and practical meals socially brings me great joy. I'm Dominican and part Mexican, so everything I eat tends to have a little Latin flare to it. This also helps me connect more with those that aren't as represented in the health and wellness space. I hope to continue learning and growing as a dietitian and helping those that need it most. 
You can find Catherine on her blog at Plantbased RD Blog, as well as Instagram, and if you make this recipe be sure to give her a shout! 
Check out Catherine's other Loisa recipes below: