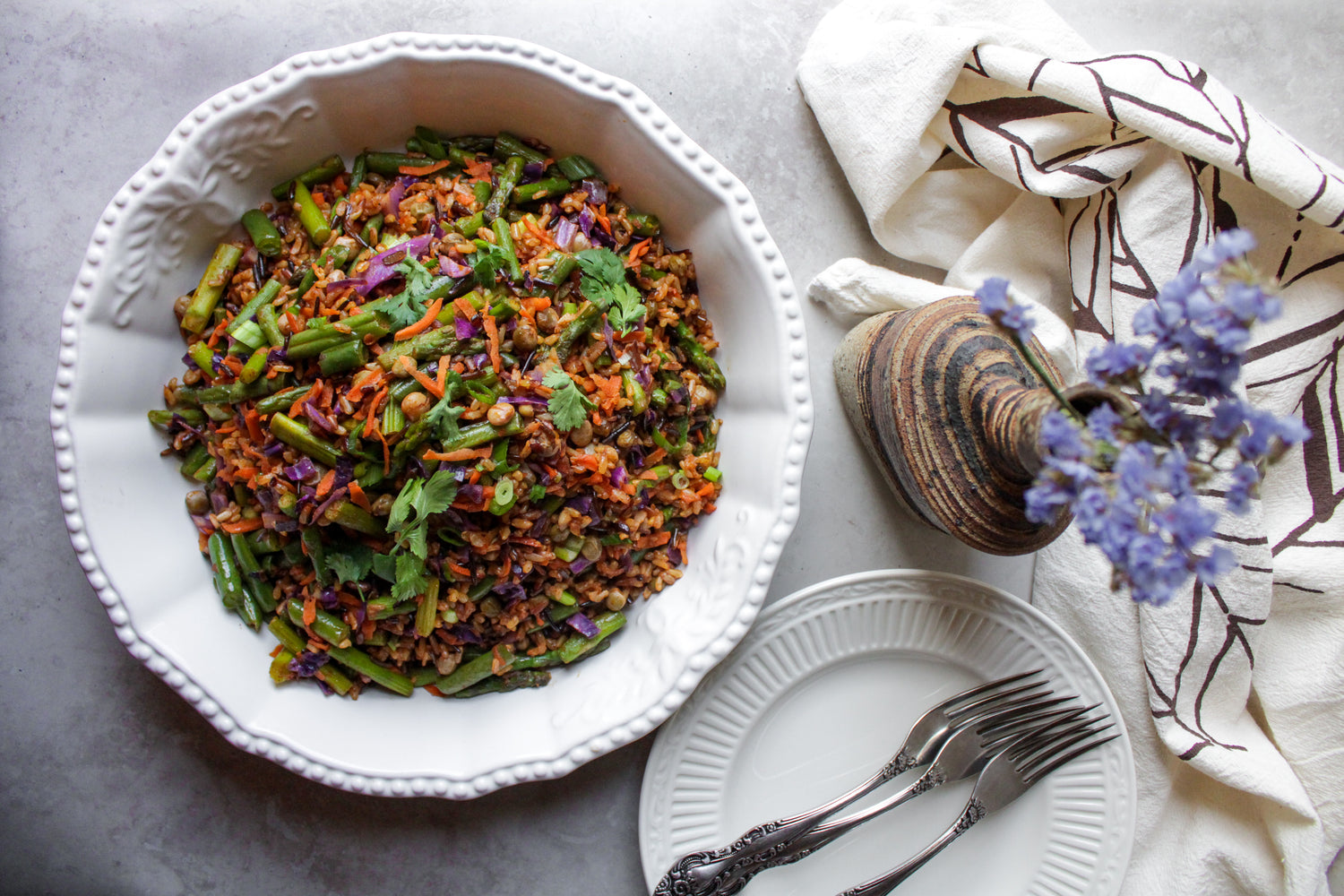 Holidays with Loisa: Festive Veggie Arroz Con Gandules
Try your hand at this twist on a classic, imbued with a rainbow of deliciousness and an equally amazing narrative by the talented Crystal Rivera (@cookonyournerve)
Welcome to Holidays with Loisa! This season we plan to bring you some classics, some twists on the classics, as well as some easy new ways to enjoy Latin flavor besides the big meals. We know the holidays look a little different this year, and many of us (ourselves included) will be taking on more dishes than normal. That in mind, we've gathered an inspiring group of chefs and creators to help you thrive during this unique time with a full season's worth of recipes & insight. 
To kick us off, this lovely feature from Crystal Rivera (@cookonyournerve) 
I started writing this on a rainy NYC morning, exactly four days away from November 3rd--during a pandemic. You feel me? This recipe is the complete opposite of what I am feeling, and that's good because who wouldn't want to see ALL THE COLORS right about now? There are small joys in a day that ought to be had. Food should be one of them. 
Easygoing food is a plus. I will not force you out of your home, in the rain, four days away from Election Day, to pick up a bunch of veggies you don't currently have. But what I do suggest is that you bring on the color for your holiday table, especially if you are a small group or unable to be with loved ones right now. Speaking of. The only advice I can give you during this hard time is to check in on one another, especially if you have people in your life who are quiet and internal even under "normal" circumstances. If it weren't for the beautiful soul that just asked me if I'd like to read and discuss a book of poems with her, that'd be another small joy lost on me. However these small joys come, hold on to them. Create them. Volunteer. Vote. Feed someone. Send a text. You should have enough to get you through this winter, election, pandemic--all of it. 
On to the food: 
We could all use a wow factor and it doesn't necessarily mean one caused by big basted birds and beautifully scored pernil on the table. Though feel free to enjoy that with this rice, I just wanted a main or a side that stands out and feels good to eat. I love peering into a bowl full of greens, yellows, bright oranges, and purple. This rice has that, along with our beloved gandules y sazón, a dish chosen because it was always on our table during the holidays. Not this version. THE version a lot of us are familiar with. I just decided that I needed something festive AF and maybe I'm not alone. 
While you may use whatever rice you love, I chose this variety for its colors and texture. You can even use a variety of different vegetables not listed in the recipe, just be mindful of their different cooking times. Go with your gut. If you'd love to see a pop of bright yellow, a yellow squash or corn will do. Roasted pumpkin might be fun, too. Smoked tofu. And radishes. Have you seen how colorful they've gotten? And if you're reading the ingredient list and say, "That's a whole lotta veggies!" Then, yes. I love my rice to have more veggies than rice but that's completely up to you! Anything goes!
~ FESTIVE VEGGIE ARROZ CON GANDULES ~
INGREDIENTS:
For the rice 
1 cup wild rice*, dried (I used Lundberg Wild Blend) 

1 ¾ cup water or veggie stock 

1 tbsp butter or oil 

1 cup gandules, frozen or canned 

1 tbsp Loisa Sazón 
*if using other rice, follow it's directions 
For the veggies 
Olive oil, long drizzle 

1 tbsp garlic (from about 3 medium cloves), chopped 

1 bunch asparagus (2 cups after trimming), cut into 1-inch pieces 

1 cup green beans, cut into 1-inch pieces 

1 1/2 Loisa Sofrito* 
2 tsp Loisa Sazón 

1 cup carrot, grated 

1 cup purple cabbage, chopped 

salt and pepper, to taste 

cilantro, to taste 

green onion, sliced, optional 
*If you'd like to make your own, Mom's small batch sofrito from a blender contains one small onion, 2 cloves of garlic, red and/or green bell pepper, big handful of cilantro, drizzle of olive oil, sazón, ground cumin, salt and pepper. 
Bring water or stock to a boil in a saucepan, add rice, gandules, and sazón.

Stir once, then turn down the heat, cover, and let simmer for 45 minutes.

Meanwhile, prep the veggies.
For the veggies 
Note: Things happen quickly here so make sure the rice and gandules are ready. 
Set a deep skillet under medium-high heat.

Drizzle about 3 tbsp of olive oil into the pan and add your garlic and sofrito.

After about a minute, add your asparagus and green beans, along with sazón.

Stir fry them for about 2-3 minutes. You'll want them still a lovely bright green with a bit of crispness to them. Quickly add carrots and cabbage, give it a quick stir and then add your rice and gandules.

Shut off heat and add any fresh herbs you'd like. Serve and enjoy.
A little bit about Crystal Rivera
Crystal Rivera, once a performing poet, is now a food stylist, food photographer, and recipe developer located in New York City. ​Recipes found on her blog are flavored, mostly, by seasons. Particularly the way seasons move in the city, from market to market. ​Quickly. ​Born a Russian-Puerto Rican Jew in Queens, NY, many of her dishes merge cuisines into poems.
You can see what she's been admiring and cooking by following her on ​Instagram​, as well as on her food blog​. She'll be happy to see you.
Check out Crystal's other Loisa recipes below: 
Citrus-Stewed Beans