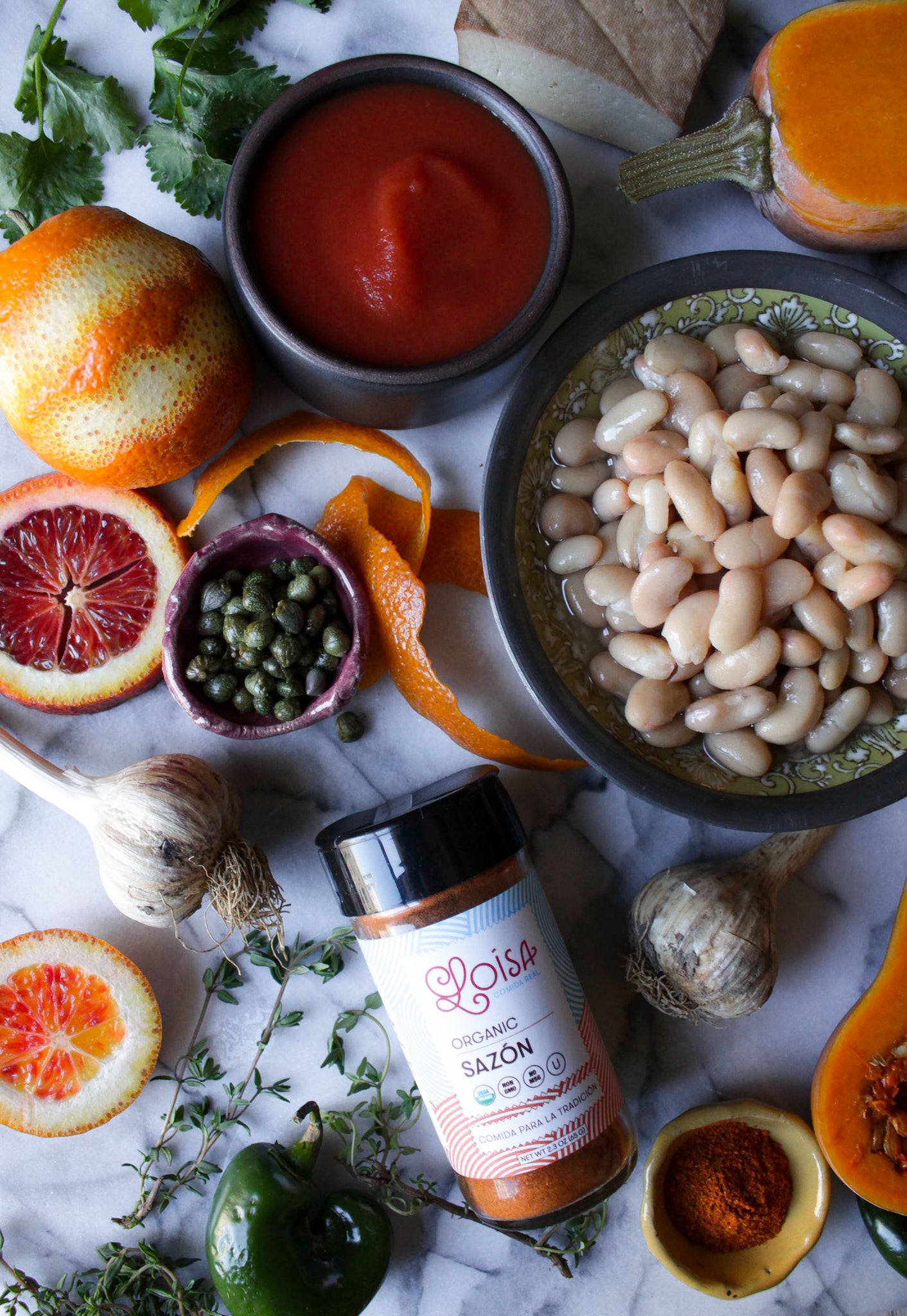 Citrus-Stewed Beans
Try this new, vegan take on a great classic, Citrus-Stewed Beans by the brilliant Crystal Rivera (@cookonyournerve)!
*Guest post by Crystal Rivera (@cookonyournerve)*
No one would believe my mom is Russian if they've tasted her pernil or rice and beans. Seriously. And while, these days, I don't eat pernil, I'm perfectly happy with a bowl of habichuelas with arroz or a side of bread. 
These stewed white beans particularly are a dish my mother used to make all the time. Mom told me she learned to stew them from her best friend's mother as a teen. Tomato broth, with potatoes and olives, smoked, salty meat, and tons of fresh cilantro is where her recipe begins, but she always changed it up based on whatever ingredients she had on hand. Sometimes you'd see sliced carrots in there, sometimes you'd see fresh peppers. That's what I love that most about this dish–  as long as you have a can of beans, this sazón, and tomato puree, you can totally improvise based on what you have around your kitchen. No fuss, EVER. Do you always store sofrito in your fridge? Use some of that, too.
My approach to mom's beans is always based on the season and what's in season. The addition of orange zest is not something mom would use, but I happen to be obsessed with cooking with oranges. When flavors of citrus, smokiness, and spiciness meet--it surprises you in an eyebrows-up kind of way. While smoked or cured meat is always involved in her recipe, I've added smoked tofu instead. And, since I'm making this in the autumn, I've also added in some Honeynut squash for a bit of sweetness. Feel free to swap in or out whatever seasonal ingredients you might have on hand and make this dish your own. 
Now, let's get cooking! 
~ CITRUS-STEWED BEANS ~
Serves 4 alone, or 4-6 as a side
INGREDIENTS:
Olive oil, to coat pan
2-3 long strips of orange zest
2 tsp Loisa Sazón
2 sprigs of fresh thyme or oregano (or 1⁄2 tsp dried herbs)
1/3 cup onion, diced
2-3 garlic cloves, chopped, about 1 tbs
1 jalapeño, diced (optional)
1 heaping tbsp capers
1 1/2 cup honeynut squash or other veggies, diced*
1/2 cup smoked protein (such as smoked tofu) 85 grams or 3 oz or 1⁄4 c plus tbs
15 oz can of cannellini beans (or any kind, alt: soaked and cooked)
1 8 oz can tomato sauce (alt: 1/2 tomato paste 1/2 water mixture)
1 1/4 cup water (or more if you want)
Salt and pepper to taste
Cilantro, chopped (optional)
*Note: Any veggie you like will do just fine. Carrots, potatoes (sweet or not sweet), yucca, etc. Even adding chopped fresh greens towards the last few minutes of cooking is a nice touch.
INSTRUCTIONS:
In a medium pot under low-medium heat, add your orange zest, garlic, onion, jalapeno, capers, sazon, and herbs. Saute for a few minutes, til onions are translucent.

Add your tofu and beans, tossing til everything is combined.

Stir in the tomato sauce and water. Simmer, covered, for about 15 minutes. It should take on the flavors of citrus and smokiness from the tofu.

Then add your honeynut squash and any more liquid if necessary. Simmer til tender, about 15-20 minutes. Discard orange zest and woody herbs.

Serve with rice or bread.
A little bit about Crystal Rivera
Crystal Rivera, once a performing poet, is now a food stylist, food photographer, and recipe developer located in New York City. ​Recipes found on her blog are flavored, mostly, by seasons. Particularly the way seasons move in the city, from market to market. ​Quickly. ​Born a Russian-Puerto Rican Jew in Queens, NY, many of her dishes merge cuisines into poems.
You can see what she's been admiring and cooking by following her on ​Instagram​, as well as on her food blog​. She'll be happy to see you.