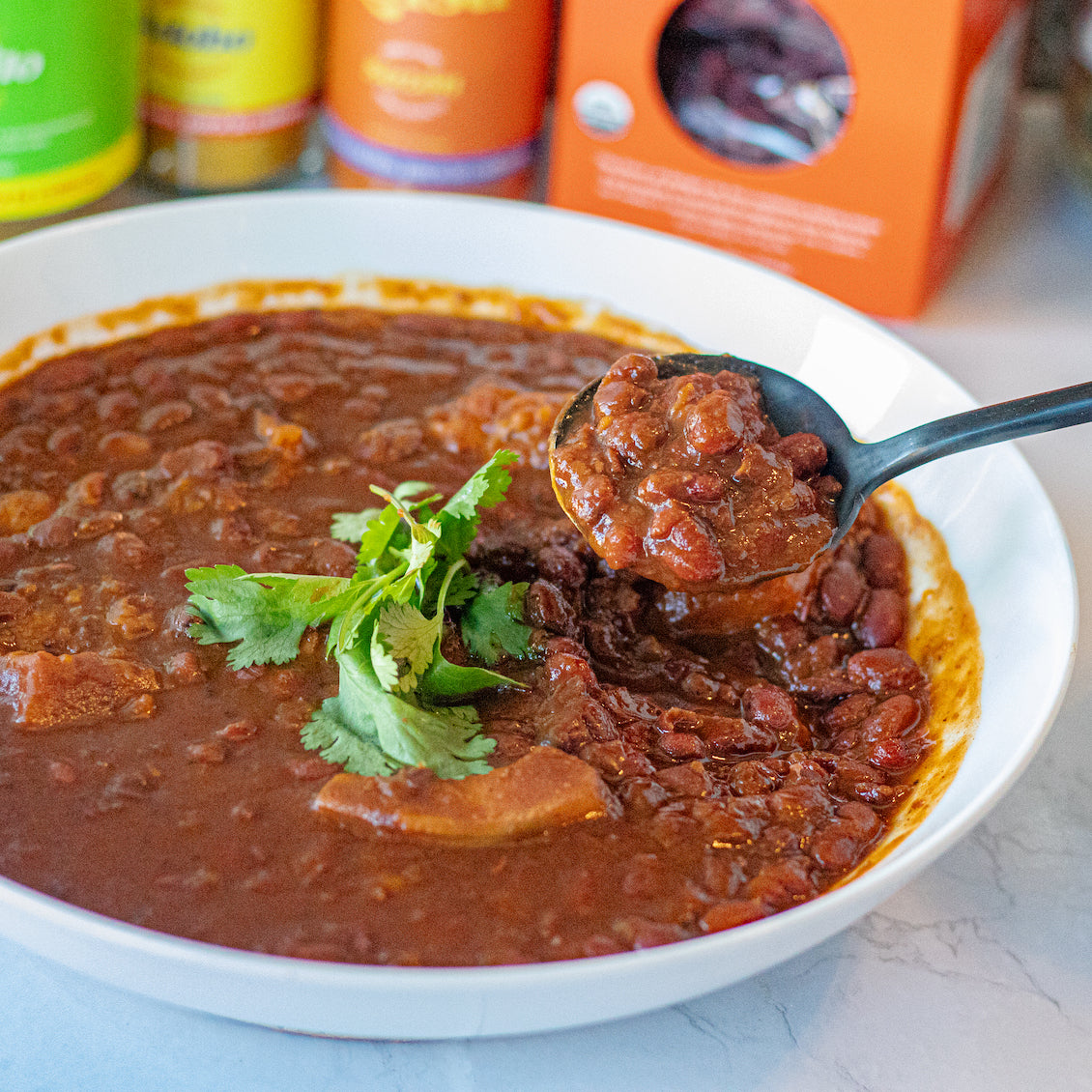 #Adobo
#beans
#Dinner
#recipes
#Sazón
#sofrito
#vegan
#vegetarian
Habichuelas Guisadas
Creamy and delicious classic stewed red beans made with heirloom dried beans from Primary Beans.
by Belqui Ortiz Millili | @belquistwist
There is nothing I love more than a good Habichuelas Guisadas (Latin-style stewed red beans) to spoon over a healthy serving of white rice. It's a staple in basically every Caribbean country and across Latin America. It was the 3rd recipe I learned to cook proficiently by age 13. And yes, my family raved about how good my beans were and still to this day, they feel the same.
Growing up we always bought dry beans, let them soak overnight and cooked them the next morning. To speed up the process, we used the old-style pressure cookers. But after a couple of accidents, where the beans ended up on the ceiling, we opted for the long soaking way every time. And guess what, those beans on the ceiling left a nice imprint for us to remember them by. I can't help but laugh about it when I think back to those days. Luckily, today we have the beloved Instant Pot that is much safer, and I would dare say faster than the traditional pressure cooker.
This recipe is very distinct because not only am I using my favorite Sofrito by Loisa, but I am also using Sangre de Toro beans by Primary Beans to cook the most delicious Habichuelas Guisadas. What makes this a home-run for me is that I can directly cook them in the pot with all the Habichuelas Guisadas ingredients in just over 2 hours! Yes! That fast! Why?
Primary Beans are so fresh that you can skip the soaking. Just like I did for this recipe. With a sourcing philosophy rooted in regenerative agriculture, cultural preservation, and maximum flavor, Primary Beans showcases lesser-known varieties that home cooks crave, and farmers are thrilled to grow. The quality is undeniable.
By joining their community, you will be inspired and empowered, to trust your instinct as you would trust any recipe. Their guide provides all the information you need to start the journey.
Now back to the habichuelas! Beans have a very long history in Caribbean cuisine, dating back to the indigenous Taino people who cultivated various types of beans. With the arrival of European colonists, beans were integrated into the local diet and adapted to the tastes and ingredients of the time.
Habichuelas Guisadas, literally translated to stewed beans, is one of the most popular ways to prepare beans across the Caribbean, often served as a side dish or accompaniment to various main courses.
In the Dominican Republic, Habichuelas Guisadas are typically made with red kidney beans. The beans are stewed in a flavorful tomato-based sauce, often seasoned with Sofrito, which includes ingredients like onions, bell peppers, garlic, culantro, and cilantro. When I'm in a pinch, I love that Loisa's Sofrito has all of these classic ingredients already mixed for me. Some variations of habicheulas include diced carrots and potatoes for added texture. The beans are usually served with white rice and a protein like chicken, pork, or beef.
In Puerto Rico, Habichuelas Guisadas is a common side dish and an essential part of a traditional meal. Puerto Ricans often use pink or pinto beans for this dish. The beans are cooked with Sofrito, Sazón (like Loisa's Organic Sazón), tomato sauce, and various spices. Some versions also include ham or salted pork for added flavor, and you might also find a lot of Puerto Rican recipes include calabaza, or kabocha squash. Like in Dominican Republic, it's commonly served with white rice and other Puerto Rican dishes like pernil (roast pork) or arroz con pollo (chicken with rice).
In Cuba, you may more commonly find "Frijoles Negros," or, black beans. Here, the beans are also cooked with a Sofrito and seasoned with bay leaves, oregano, and cumin. Cuban black beans are usually served over white rice and are a staple in the Cuban diet, often accompanied by tostones (fried plantains) and other side dishes.
Similar dishes made with different types of beans are enjoyed on other Caribbean islands, each with its own unique flavors and ingredients. For example, in Jamaica, "rice and peas" is a popular dish made with red kidney beans, coconut milk, and rice, flavored with spices like thyme and scotch bonnet peppers.
Before we get cooking, here are some answers to common questions for Habichuelas Guisadas.
Can I cook the beans ahead of time and can we freeze them?
The answer is yes and yes! One of my tips on how to always have fresh cooked beans on hand is to cook them either plain boiled to soften or thoroughly cooked and seasoned and then refrigerated or frozen. Both ways in batches.
To cook ahead, I recommend you cook a day or two before you plan to have them, refrigerate, and heat up on the stove until heated through. You will need a bit of water to loosen up the beans. To freeze, my favorite way is to cook the beans not seasoned, place in individual freezer-friendly meal containers and freeze for up to 1 month. The less time in the freezer, the better. Frozen this way I can season however I choose for different types of meals. I love to cook Mexican food and those beans I season differently. But you can also cook them seasoned and ready to just defrost.
How do I defrost the frozen beans?
I like to place the containers in the refrigerator about 12 to 24 hours before I plan to cook. I reheat the cooked and seasoned beans. The unseasoned beans, I add to a saucepan, season and cook until done.
At the end of the day, you cannot go wrong with any of these options. Now, let's make them!