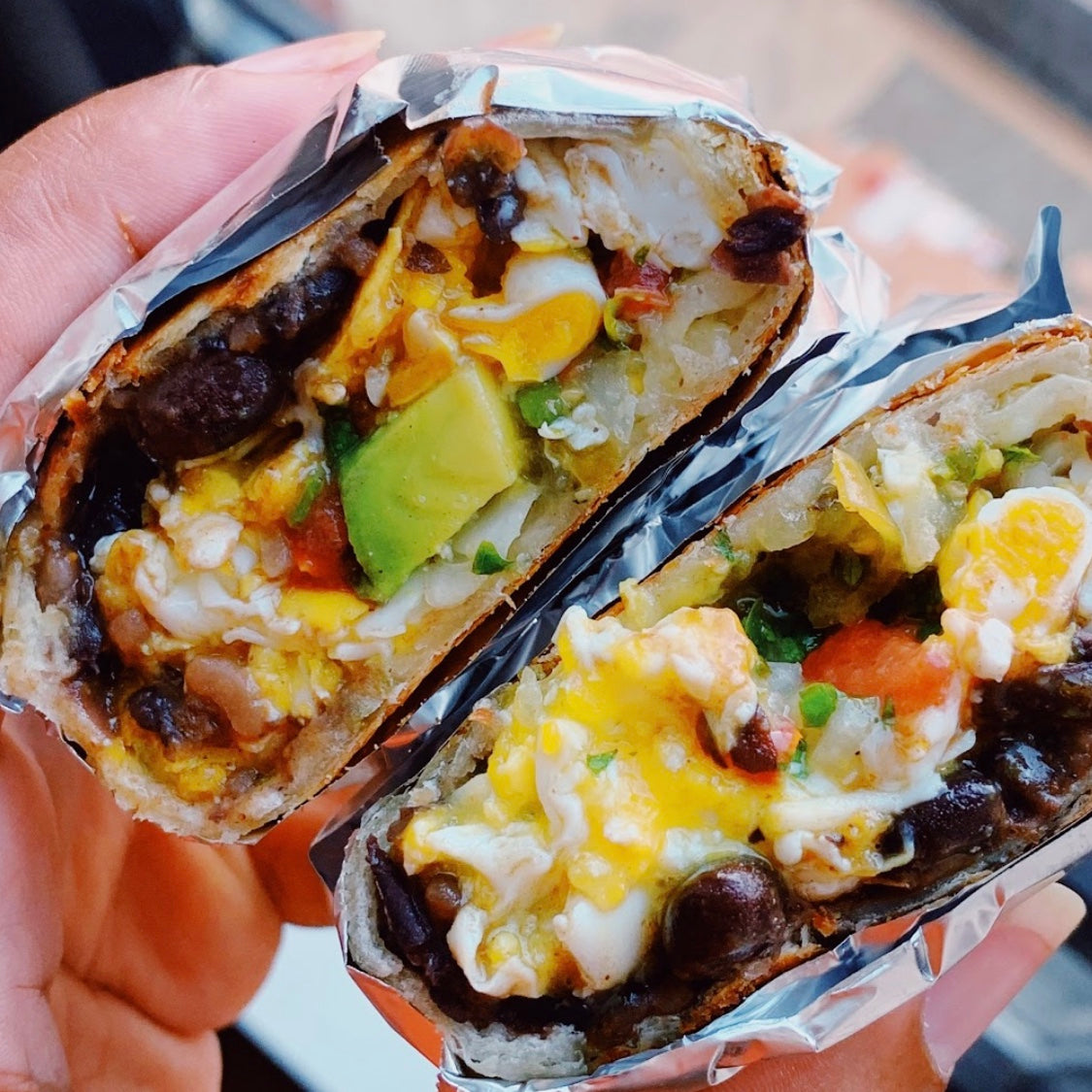 Veggie Breakfast Crunchwrap
Start your day with this yummy Veggie Breakfast Crunchwrap recipe from one of our favorite rising chefs, Alex Hill (@justaddhotsauce_)!
*Guest post by Alex Hill (@justaddhotsauce_)*
So I loveeeee tacos and can eat them everyday. I especially love breakfast tacos so thinking about this recipe I was like -- what could I do -- and instantly a veggie breakfast wrap came into mind. It's full of flavor and you're not missing any of the meat. This dish was inspired by watching @Mollybaz on instagram make a breakfast crunchwrap on IGLive and I decided to add some flair to it! IT WAS EVERYTHING!
Now let's get cooking! 
~ PART 1: BLACK REFRIED-ISH MASHED BEANS~
INGREDIENTS:
1 15oz, can black beans, lightly drained (or 1/2 cup dry beans soaked & cooked)

1 teaspoon, Loisa Sazón
1 teaspoon, Loisa Adobo

Salt & pepper to taste
INSTRUCTIONS:
In a saucepan, add black beans & Loisa Sazón and Adobo and let simmer for about 10 minutes.

Once simmering, taste to adjust seasoning and then with a potato masher or wooden spoon, mash the beans. The reason why we kept a little bit of the water it comes in, so the beans won't dry out when mashing. Usually refried beans are made with some type of lard but this is a veggie version!

~ PART 2:

 ROASTED TOMATILLO SALSA

~
INGREDIENTS:
4 tomatillos, in their husk 

1 poblano pepper, cut in half 

1 jalapeno pepper, cut in half

½ white onion, roughly chopped

3 garlic cloves 

½ cup of cilantro 

1 lime, juiced

Salt for seasoning

INSTRUCTIONS:
 Turn the broil high on your oven. On a sheet pan lay the peppers, onions & garlic and cover in olive oil and a little salt. Let the veggies char under the broiler for about 5-10 minutes (depending on your stove) just until you start to see the black on the veggies. 

Once veggies are done, add everything in a food processor or blender along with the cilantro & the juice of a lime. 

Blend until chunky & taste to adjust seasoning with salt.
~ PART

 3

:

 PICO DE GALLO

~
INGREDIENTS:
1 roma tomato, halved & seeds removed 

¼ white onion, chopped

½ cup cilantro, chopped 

1 lime, juiced

1 jalapeno, chopped 

Salt for seasoning

 
INSTRUCTIONS:
Combine all ingredients together in a bowl and taste to adjust seasoning with salt.
~ PART

 4

:

 VEGGIE BREAKFAST CRUNCHWRAP ASSEMBLY

~
INGREDIENTS:
1 egg, scrambled to your liking (I like soft scrambled eggs, alt: simple tofu scramble with Loisa Adobo!)

1 12inch tortilla

Avocado slices

Shredded cheese (optional, alt: your fave vegan cheese)

Black refried-ish mashed beans

Roasted tomatillo salsa

Pico de gallo 
INSTRUCTIONS:
Preheat a nonstick pan with a little olive oil on medium high heat. 

Lay your tortilla on your cutting board and begin to layer with your refried-ish beans first, then the egg, then the roasted tomatillo sauce, then the pico!

Top with avocado & cheese (if you like) and roll it into a burrito. Add the your burrito seaside down to the pan and let it get nice and golden brown & crispy! Bonus: wrap in aluminum foil to feel like a real burrito spot! :-) 
A little bit about Alex Hill
Alex Hill is a D.C. born and now Brooklyn based, self-taught cook with a passion for making food that's fun, functional, and affordable. Her affinity for cooking developed at an early age watching her mother, Evelyn, create mouthwatering dishes for their family combining both her Puerto Rican and African-American heritages. Young Alex had a knack for creating in the kitchen and never left her mother's side – eventually taking over the cooking duties. At age 12, Alex's first dish was a Vanilla Lime Flan and the rest is history! 
In 2017, she created  Just Add Hot Sauce as an outlet to show an expression of love to the people you care about the most … through their stomachs. From dinner parties and blogging recipes to teaching cooking classes and trying new techniques, cooking is what brings her joy. Whether you want to add a little flavor in your recipe or a boost in your day, you can always get a kick when you Just Add Hot Sauce!
Keep up with Alex at:
Instagram: @Justaddhotsauce_
Website: www.justaddhotsauce.com