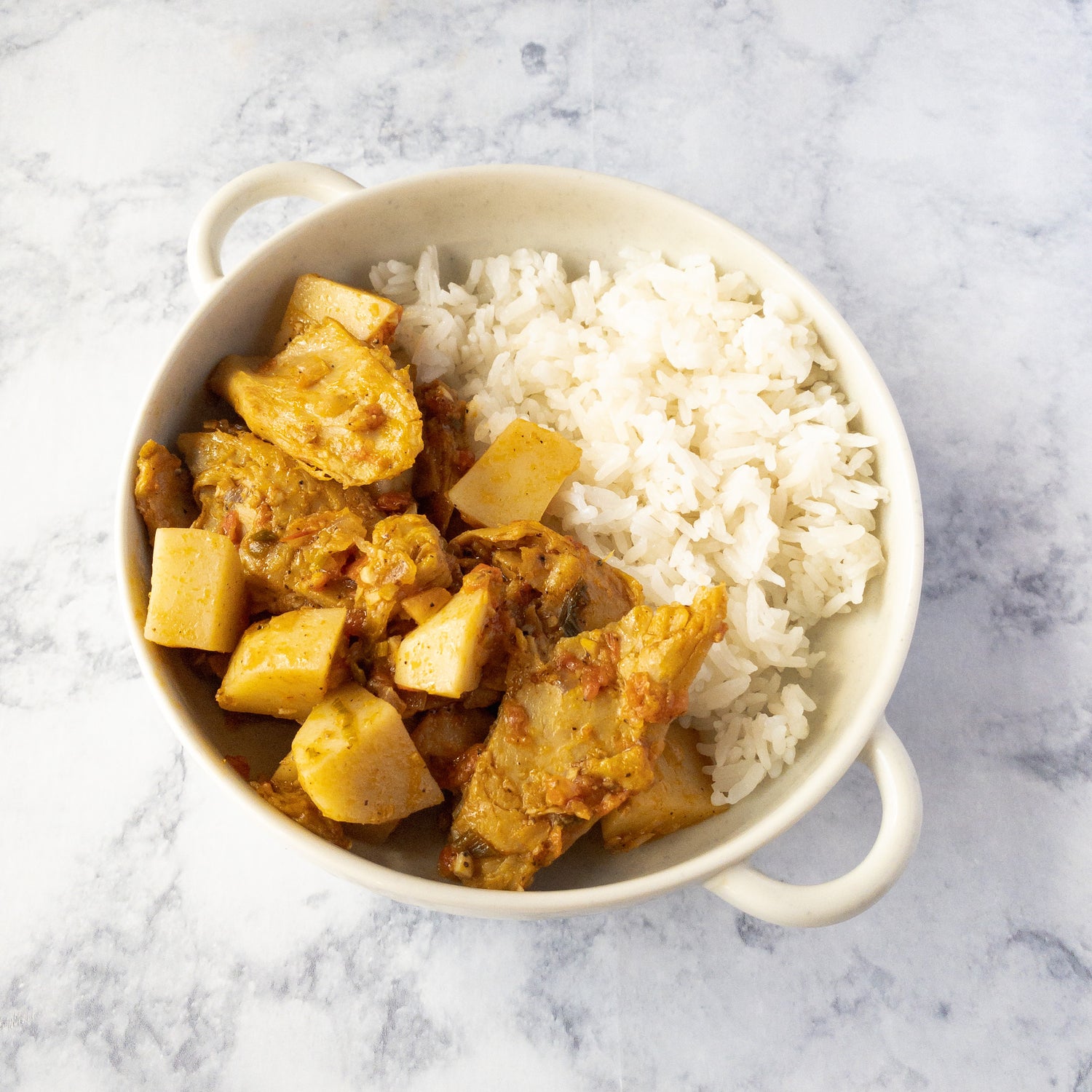 #Adobo
#recipes
#Sazón
#vegan
#vegetarian
Vegan "Pollo" Guisado
This vegan version of the classic hearty, saucy, chicken stew tastes just like home.
By Maria Romero | @plantyflavor
I was born on the northern coast of Colombia in the beautiful city of Cartagena where I lived for the first 6 years of my life. There are beautiful memories from my time in Colombia centered around the wonderful food that makes up my city–food filled with Caribbean flavors such as plantains, fish and coconut. When I came to the U.S I became even more of a food lover since I was being exposed to  different foods that I had never tried in my life.
Even though I have always been a food lover, my love for food grew even more once I transitioned into a vegan lifestyle four years ago. I found myself with this bigger appreciation for food and how it's made since I had to "relearn" how to cook once again. It wasn't only until a couple of years ago, that I found myself really missing the food I grew up with. Thus, I took it upon myself to begin recreating all of my favorite Latin dishes and share them with others that might be feeling the same way I did and that's how this vegan pollo guisado came about.
Pollo guisado is a chicken stew dish known and loved throughout Latin America and the Caribbean. You can find its prominence in Puerto Rican and Dominican cooking. I drew inspiration from Puerto Rican pollo guisado with the addition of Loisa's Organic Adobo that I used to season the vegan chicken. In Colombia, we make pollo guisado or pollo sudado with a delicious, saucy sofrito of onions and tomatoes, that are then seasoned with Sazón. It all comes together with the addition of non-negotiable potatoes to make a dish that always feels like home. I hope you love this recipe as much as I did!