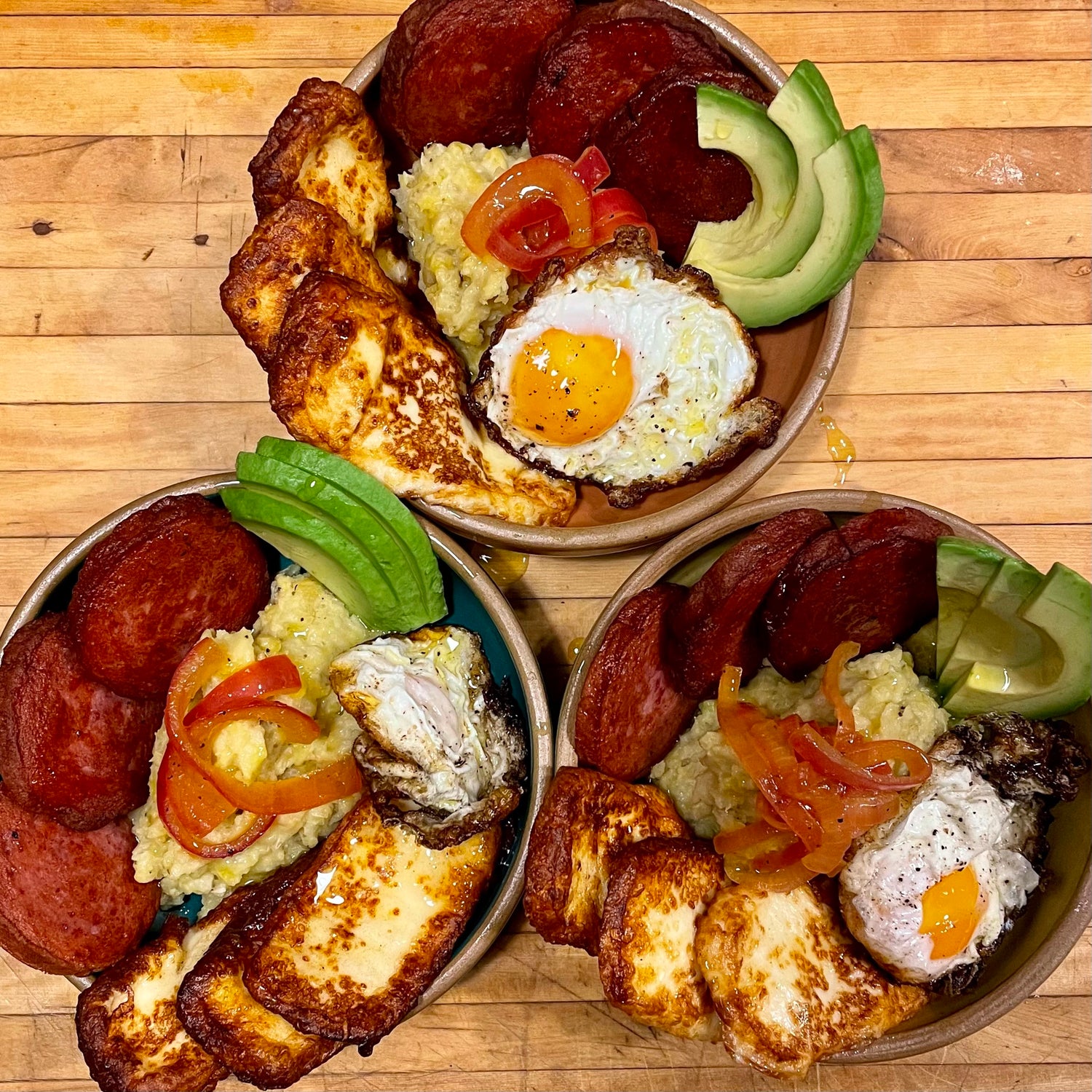 #Adobo
#masher
#recipes
#salt-free
Tres Golpes
A Dominican classic – creamy mangú, crisp fried salami, chewy queso frito, tangy pickled red onions, and a sunny side egg come together for the perfect comfort breakfast. 
Tres golpes always bring me back to memories of weekend breakfast with my family sitting around our dining table. Los tres golpes is the name of the Dominican Republic's national breakfast– it consists of fried Dominican salami, fried cheese, fried eggs, and mangú– creamy and flavorful mashed green plantains. This hearty dish was historically eaten in the campo before a long day of work in the fields and has now become the ultimate comfort breakfast that reminds many of us Dominicans of home. 
This is a fairly easy recipe that requires minimal prep. Whip this up when you're feeling especially hungry– or the morning after you've had a bit of a late night out. Typically this dish is served family style, but it can also be served individually. I recommend adding a few slices of aguacate to this dish as well if you have some on hand. 
For the mangú portion of the recipe, I used Loisa's Masher. This masher is a part of Loisa's new line of kitchen utensils and its beautiful design allows you to achieve a smooth consistency with the plantains. Its silicone grip makes this masher easy to handle, and its curved base allows for use in any bowl and does projects such as making mashed potatoes or, in this case, making mangú less labor intensive and more enjoyable!
I hope recipes like these will encourage people to dive deeper into the intricacies of Dominican cuisine and culture. 
About Edwin: 
My name is Edwin De La Rosa, and I am a Dominican Chef based in Philadelphia, PA. My passions are cooking and researching the history of the foods we eat. I believe that possessing a better understanding of our ancestral foodways will allow us to gain a more meaningful connection with multiple cultures — our own and those that differ from ours — more consciously. Food isn't only nutritious; it has the power to tell stories that have been passed down from generation to generation. If we look at the foods we cook in Caribbean households, most of the techniques we use have been passed to us by our elders. Cooking is a way to keep our ancestors alive with us. I am honored to share some of my favorite recipes with you all.