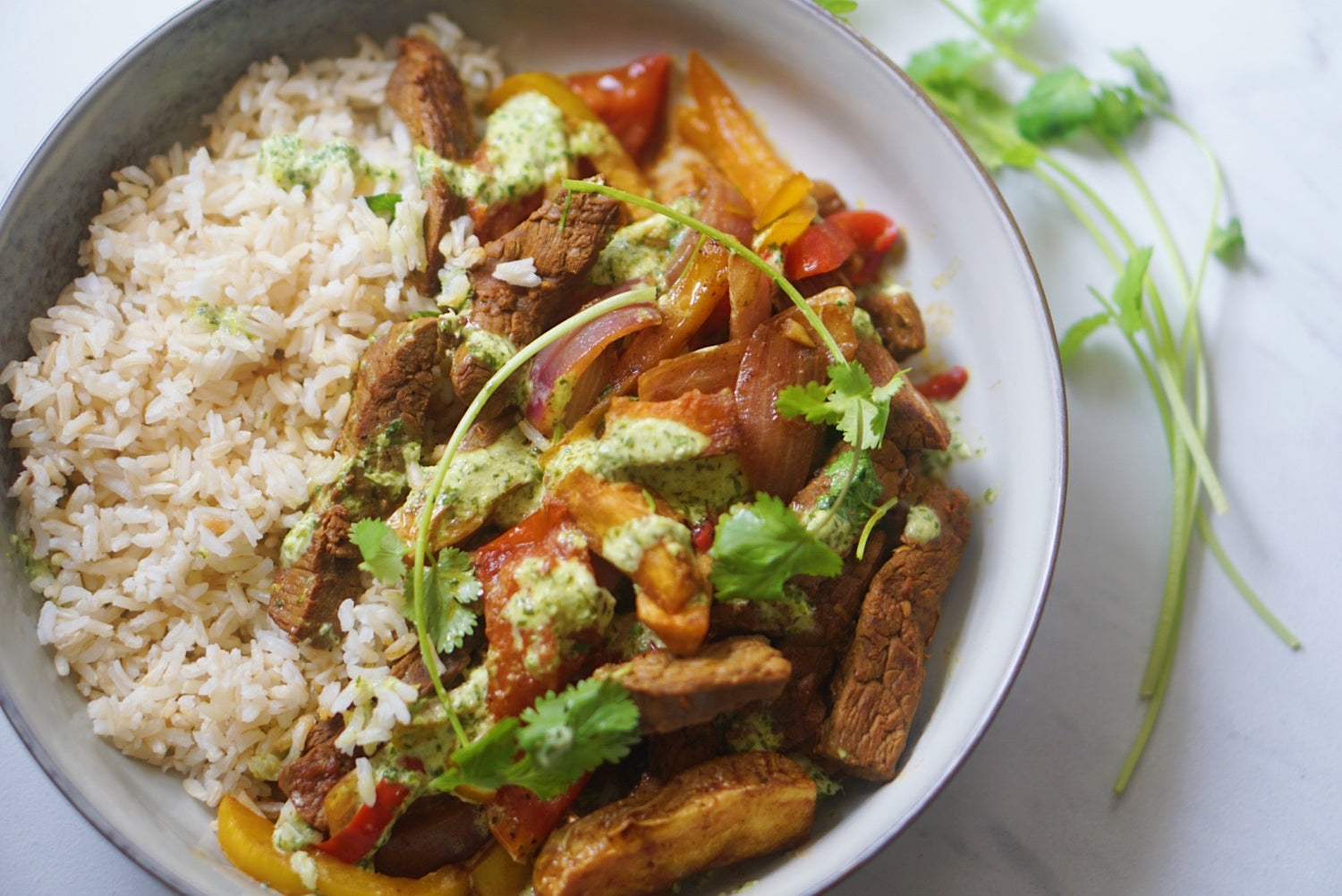 Quarantine & Cook: Lomo Saltado
One of our favorites from the #QuarantineAndCook IG Live series from one of our favorite people! Chef Zoe Kelly's recipe for this classic Peruvian dish is legit full of flavor and easy to prepare at home.
*Guest post by Chef Zoe Kelly (@itszoekelly)*
Lomo Saltado is a classic Peruvian dish composed of beef, vegetables, french fries and a sauce that is to drool for. It's a perfect one-pan meal that is not only easy to make but is very flavorful! The star of the dish, in my onion, is the pan dripping gravy or "juice" like I call it. The aji amarillo paste makes it spicy and the soy gives it a salty umami flavor, all in one bite.

This dish is also very forgiving as far ingredients go. Feel free to use substitutes like chicken, pork or jackfruit, scotch bonnet peppers, or your favorite hot sauce in place of the aji amarillo paste. I also recommend serving with a spicy aji verde sauce on top!
Ingredients (Serves 4-6)
1 lb. protein (sirloin steak), sliced into strips
1/3 cup soy sauce
1/2 tbs aji amarillo paste
3 tbs white vinegar
1 tsp Loisa Adobo
1/2 tsp Loisa Sazon
1/4 tsp ground cumin
2 tbs canola or vegetable oil
1 red onion, sliced thick
1 bell pepper, sliced thick
2 plum tomatoes, sliced thick & de-seeded
2 garlic cloves, minced
1 lb french fries
Serve with steamed white or brown rice
Instructions
In a bowl, combine soy sauce, aji paste, vinegar, adobo, sazon, cumin, and steak/protein, and allow to marinade for 15-20 minutes minimum.
Preheat 1 tbs oil in a large pan over medium-high heat.
Season steak/protein with salt and sear on all sides for about 3-4 minutes, then set aside.
Add the remaining oil and cook the onion and bell peppers until fragrant.
Add the garlic, tomatoes, and cooked steak.
For extra gravy add the remaining marinade and bring to a boil for 3-4 minutes, then reduce to a simmer.
Toss in fries and finish with fresh cilantro.
Serve with rice and enjoy!