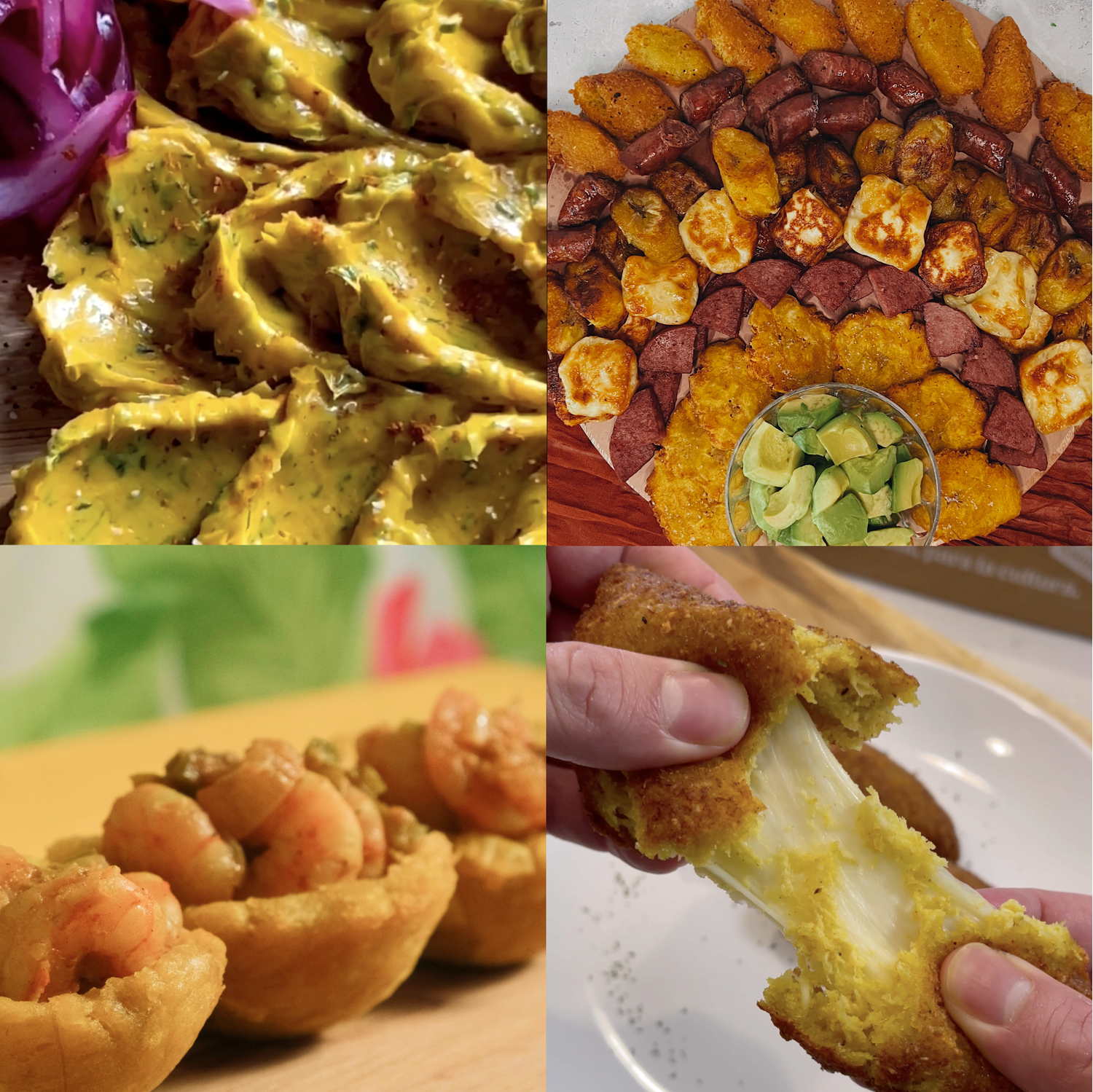 #Adobo
#recipes
#Sazón
#sofrito
#tostonera
5 Shareable Latin Dishes to Bring to the Potluck
From Yuca Empanadas to a Dominican Charcuterie Board, find the perfect shareable dish that'll wow everyone at the gathering.
It's the holidays, which for many of us means a calendar full of potlucks, gift swaps, and dinner parties. And, we can't show up empty-handed! To help avoid the endless scrolling and google searching for the perfect dish to bring, we've compiled some of our favorite share-able, Latin-inspired dishes perfect for any gathering. Just be warned, people will likely be asking you make these again for the next one! 
Dominican Charcuterie Board 
The classic meat and cheese board gets a Dominican makeover! And, let's be real, sometimes we kinda want queso frito and fried salami more than we want brie and fig jam. While this spread has a couple more steps than your everyday charcuterie board since you'll be cooking up all the yummy pieces, from tostones to mini alcapurrias, it's so worth it in the end! The best part is you can pick and choose whichever cuchifritos and bites you enjoy the most and put them all together! 
Empanadas de Yuca
Just when we thought we couldn't love empanadas anymore, Criollo Grindz made the dough out of yuca! Filled with picadillo and melty mozzarella, they're crunchy on the outside, soft and gooey on the inside, and just hands-down delicious. Get the full receta here. 
Picadera
Picadera is the ultimate finger food sampler  – and Beatriz checks all the boxes with hers! Pollo, bistec y cerdo alongside tostones y queso frito – if you show up to the function with this plato, everyone will be your best friend. 
Sazón Butter Board 
We all watched the rise of the butter board on TikTok and Instagram, making butter the star of the show instead of any dip or cheese plate. We love this version by @arrozcondina which features creamy butter seasoned with our Organic Sazón (inspired by Criollo Grindz' sazón butter recipe). Serve with some toasted bread, encebollado, and your favorite fresh veggies, and you're good to go! 
Tostones Rellenos 
There are few things we love more than tostones, and when they're filled with juicy, flavorful fillings like camarones, we couldn't be happier. These cripsy bite-size delights are surpringly easy to put together, and they're a true crowd-please. Get Carolina Ginorio's receta here.