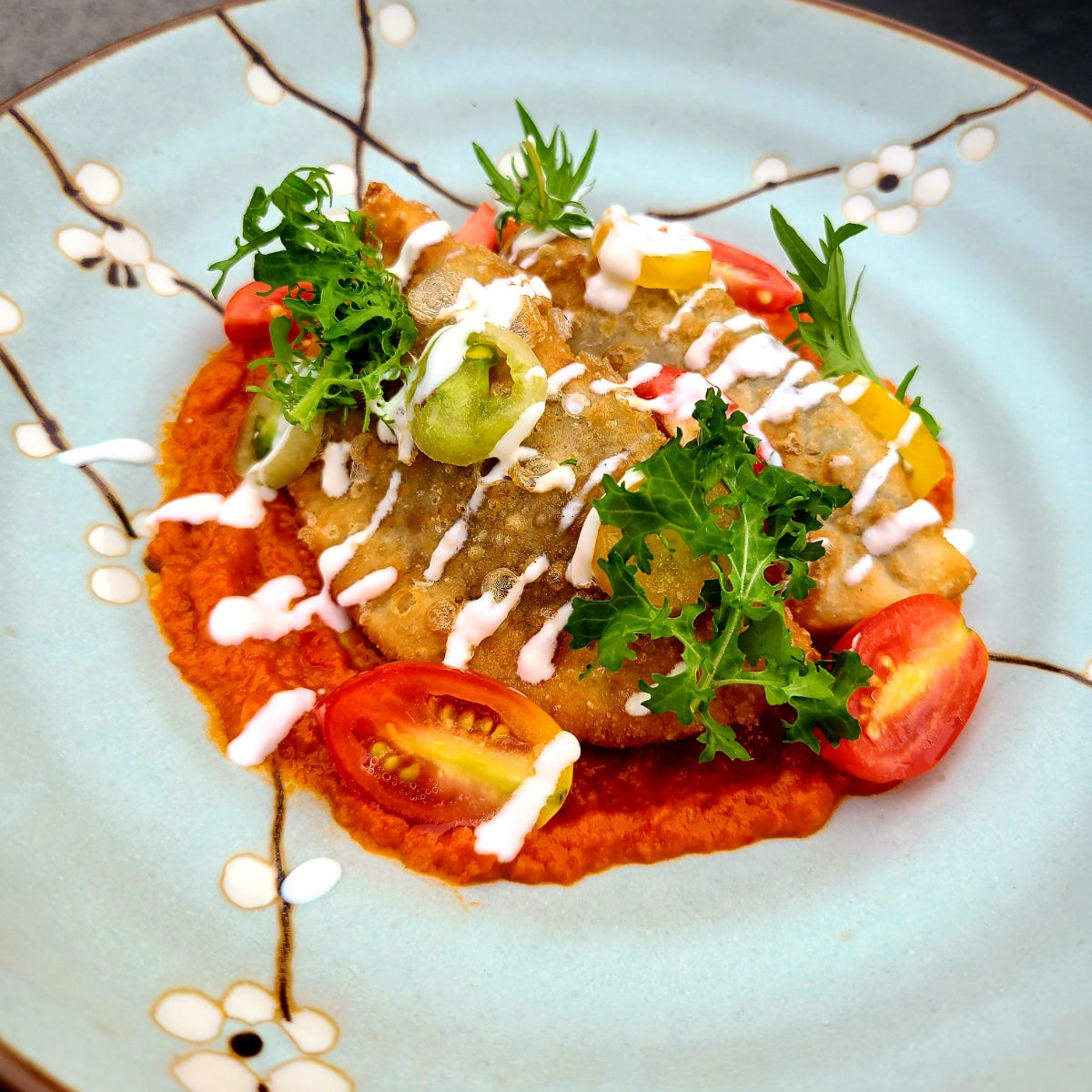 Vegan Mushroom Empanadas
A healthy twist on this famous staple, check out these mushroom & flavor filled empanadas by the brilliant Chef Daniel De La Rosa (@chefdaniel.delarosa.407)!
*Guest post by Chef Daniel De La Rosa (@chefdaniel.delarosa.407)*
How about a healthy twist on a Latin staple......Empanadas anyone??
I have so many childhood memories that I can talk about centered around one of my favorite Latin go to dish, the empanadas. But one of my favorite memories must be of my abuela, my mom, my siblings and me cranking empanadas for our church fundraisers. Cooking with my family and learning my Latin heritage through food has to be one of my favorite things. Therefore, I'm so excited to offer this delicious, easy to make and healthier vegan option to the traditional empanadas. Enjoy!
Now let's get cooking! 
~ PART 1:

 

VEGAN EMPANADA FILLING ~
**Please note filling should be made ahead of time and cooled down**
Yield: 10 each, serves 4
INGREDIENTS:
8 oz plant base beef (Example: impossible beef)
4 oz large portobello mushrooms large diced 
3 oz white button mushrooms large diced 
3 oz oyster mushrooms (if available. If not just double the amount of button mushrooms)
3 oz Spanish onion small diced 
1 TBSP chopped garlic 
TT TSP sea salt
1 TBSP Loisa Sazon
1 TSP Loisa Adobo
1 TBSP of vegetable oil for cooking 
INSTRUCTIONS:
In a food processor add your mixed mushroom and process until nice and chunky and set aside.
In a large sauté pan bring heat up to medium when hot add onion and garlic and cook for 4 min then add salt Sazon and Adobo and begin to toast together in pan for 30 seconds then add plant base beef and mushroom and cook for addition 10 to 15 minutes, stirring to get an even cooking. When done, filling should be nice and brown. 

W

hen filling is cooked, set a side to cool and adjust seasoning as necessary until ready to stuff the empanada. 
~ PART 2:

 ROMESCO SAUCE

 ~
Yield: 2.5 cups
INGREDIENTS:
One 16-ounce jar of roasted red peppers, drained

½ cup raw or roasted almonds (unsalted)

2 medium-to-large cloves garlic, peeled and quartered

1 TBSP sherry vinegar or red wine vinegar

1 TSP smoked paprika
1 TSP Loisa Sazon 
½ TSP fine sea salt, to taste

¼ TSP cayenne pepper
INSTRUCTIONS:
In a blender (preferably) or food processor, combine everything but the olive oil. Securely fasten the lid and blend, starting on low and increasing the speed as you are able to gain traction.

Once the ingredients are mostly blended, start drizzling in the olive oil while running the blender. Blend until you reach your desired consistency (I like my romesco sauce pretty creamy, but you might prefer it with a more chunky texture).

Taste, and add additional salt (up to ¼ teaspoon) if it doesn't quite knock your socks off yet. Serve immediately, or store in a jar in the refrigerator for 7 to 10 days.
*Also this sauce makes a great dipping sauce for grilled vegetables*
~ PART 3: VEGAN EMPANADA DOUGH ~
Yield: Serves 12 empanadas 
INGREDIENTS:
3 cups AP flour 

1 TSP salt

1/2 TSP baking powder

1/2 TSP baking soda

1/4 cup extra virgin olive oil

1 cup warm water

6 oz cashew cream for garnish
INSTRUCTIONS:
Add the flour, salt, baking powder and baking soda to a large bowl.

Pour in the 1/4 cup oil and 1 cup warm water.

You can mix this with a wooden spoon or a hand mixer. I prefer a hand mixer.  It does not take long to come together.

Pour all out onto a lightly floured surface and knead about 50 times. 

Make into a ball and lightly cover with a little bit more oil.  Lay a dishtowel over the ball and let rest 10 minutes.

Next, cut the ball in half, then cut those in half again, then each into thirds so that you have 12 sections.

Roll each one into a ball and flatten out onto a lightly floured surface. Use a pastry roller to help roll the balls out to about 5-6" in diameter.

Place about 1/4 cup of the filling (at the most) in the center of each dough round.

Fold over to make a crescent shape. Fold the edges over so that you get a good seal. Sometimes I am able to fold over twice.

Press the tines of a fork, lightly, over the folded edge just to make a little bit of a better seal.

If you have a deep fryer you can use that for your frying. If not put about 1-1/2" to 2" depth of coconut oil in a frying pan and heat to 325° to 375°.

Carefully place 2 empanadas into the hot oil and flip when one side turns golden brown. It doesn't even take a minute.

Take out with a slotted spoon and drain on paper towels. Continue until all of the empanadas are done.  
Finally...
Plate over Romesco Sauce

Finish with Cashew Cream!

Ready to eat!
A little bit about Chef Daniel De La Rosa
Born and raised in the tri-state area I was inspired at an early age by my grandmother's cooking. My abuela taught me that food is meant to bring people together. She would often reinforce the values to love and respect my food and I genuinely enjoyed all our Dominican family traditions centered around a great meal.
After attending culinary arts in south Florida, I sought chance to further develop my own culinary creativity and skills with opportunities at some of the most exclusive hotels and restaurants in Florida. Where I worked alongside James beard award winning chef Todd English as chef de cuisine at his Blue Zoo restaurant: where I mastered my knowledge of Coastal/ Mediterranean cuisine to new levels that aided in elevating my culinary upbringing but still staying true to my Spanish roots.
My extensive experience and knowledge granted me an amazing opportunity to be chef of one of NYC's famed iconic 5-star 5 diamond hotels the St Regis New York. Reinvigorating menus and adding some /Spanish/southern hospitality but keeping true to the St Regis tradition that makes us enjoy NYC. 
A majority of my inspiration are based on healthy lifestyle trends and Spanish influences with a twist of modern American.... keeping food simple, fresh with healthy mindset but still focus on the main ingredients is my everyday approach.
Throughout my years of experience, the simple joy of bringing people together though a shared wonderful experience is for me the true pleasure of being a chef. During my off time I find joy by volunteering along with being a dog lover and spending time with my family.
You can catch always working on some creative ideas on Instagram at
@chefdaniel.delarosa.407