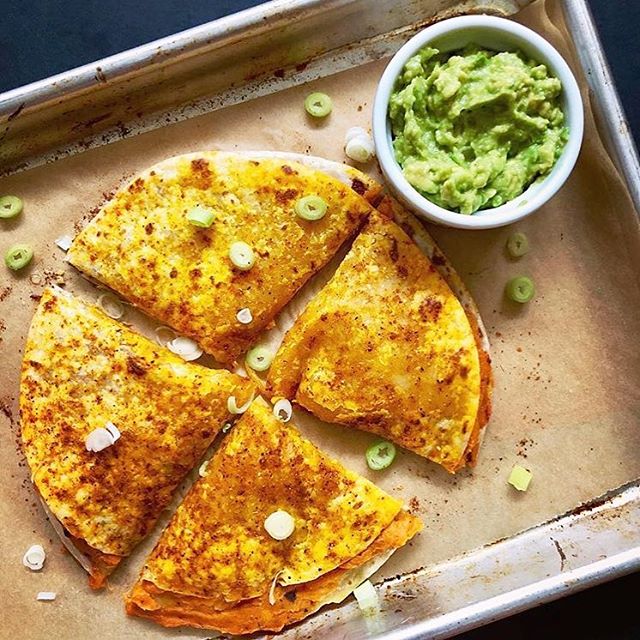 Triple Decker Sweet Potato Sazón Quesadilla Recipe
It's a sweet potato criolla quesadilla. Enough said!
Say that ten times fast! :-)
Everyone loves a cheesy quesadilla, and this cross-cultural vegan version is one you're sure to love.
You can make these with flour or corn tortillas, on the stovetop or baked in the oven. Either way, it's all about the flavor, so get cooking!
(Makes anywhere from 3 to 6, depending on the size of the tortillas)
Thanks again as always Lisa!
Ingredients:
1 baked sweet potato
1/4 cup tablespoons roasted red pepper cashew cream (recipe to follow)
1 heaping tablespoon chipotles in adobo (use Lisa's homemade recipe linked here!)
1 tablespoon freshly squeezed lime juice, about 1/2 a lime
2 tablespoons nutritional yeast
Flour or corn tortillas
Oil, for brushing
Directions to make the filling:
Peel and mash the baked sweet potato
Add the chipotles in adobo, lime juice and nutritional yeast
Mix together well
Directions to prepare the Triple Decker:
Whether you are using flour or corn tortillas, slather a tortilla with some filling
Top with another tortilla
Spread more filling on that tortilla and top with another one
Brush the top with a little oil and a generous shake of Loisa Sazón to cover the top layer (alt: add sazón after every layer)
Bake in oven at 350 degrees for 20 minutes, or cook on the stove top on a cast iron pan. If cooking on the stovetop, flip halfway through.
Enjoy hot with fresh guacamole, scallions, and lime.
RECIPE FOR ROASTED RED PEPPER CASHER CREAM(more than you will need for this recipe):
Ingredients:
1 roasted red pepper
1 cup cashews, soaked for 4 hours
1 cup filtered water, plus more for thinning out
Salt, a pinch 
Drain the water from the cashews and place into the blender
Add the rest of the ingredients and blend until smooth, stopping to scrape down the sides a few times
Add more water, a tablespoon at a time, if too thick. 
Note: this cream will thicken up in the refrigerator so if making ahead of time, mix well and add water as necessary to get back to a creamy consistency.
Then all you got to do is get on #feedingtradition and enjoy!