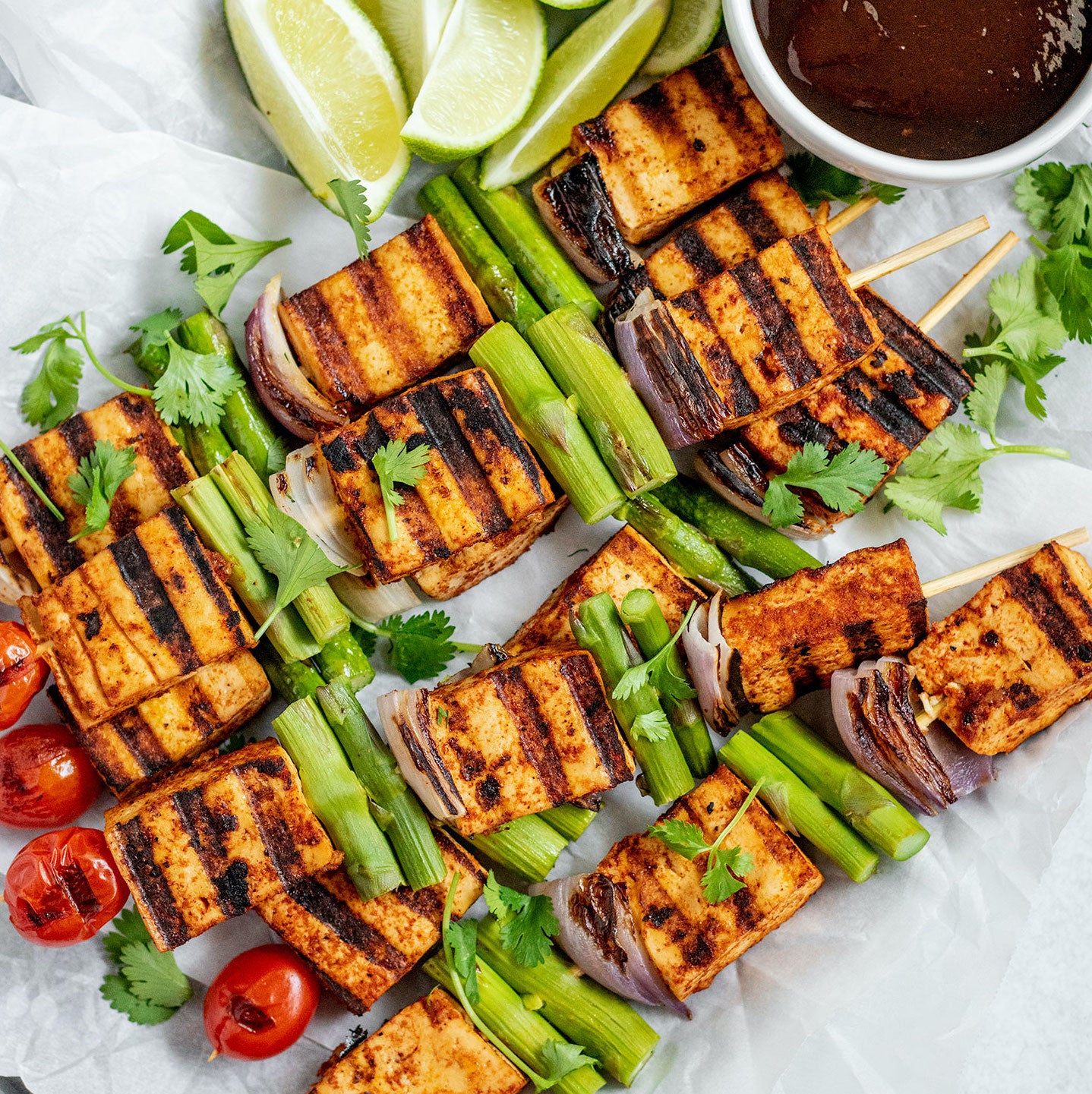 #gluten-free
#recipes
#Sazón
#vegan
#vegetarian
Sazón Grilled Tofu Skewers
Citrusy, bright, and full of flavor, these Sazón skewers from Catherine Perez are made for summer.
By: Catherine Perez | (@plantbasedrd)
These grilled tofu skewers are marinated with Loisa Sazón and a squeeze of fresh citrusy lime, then grilled to perfection. This recipe is vegan, gluten-free and high in plant-based protein.
Heat up your grill, griddle or grill pan because we are making some delicious tofu. I have the perfect marinade for you, using very simple ingredients including Loisa Sazón, lime, and tamari. We'll let the tofu soak it up and then pop it on the grill to cook it up and enjoy.

Easy to enjoy as a high protein vegan option at your next gathering. It also works great for meal prep. Just prepare your skewers and pair with a grain or starch as desired or over your favorite salad.
TIPS FOR MAKING THE PERFECT GRILLED TOFU SKEWERS
Don't cut your tofu too thin. I cut each block of tofu into thick chunks to make sure it could thread onto the skewers easily.
To prevent your skewers from burning, make sure to soak in some water for at least 10 to 30 minutes to help prevent them from burning as they cook with the tofu.
While I used asparagus and onion chunks to add to the skewers, feel free to use the vegetables you prefer most.
To make this dish gluten-free make sure you are using a gluten free soy sauce or tamari.
FREQUENTLY ASKED QUESTIONS

Can you make this recipe without skewers?
Absolutely! Feel free to cut your tofu into different shapes to grill as desired. You can also bake your tofu instead of grilling too. Set your oven to 400F and bake for 15-20 minutes until the edges appear browned.

What type of tofu is perfect for grilling?
You want to make sure that you are using extra firm or super firm tofu for this recipe. If your tofu is too soft, it will likely have a difficult time grilling and might stick a lot to the grilling surface. Pressing your tofu also helps to make sure it absorbs the flavor of the marinade so it grills perfectly.

Should you marinade your tofu before cooking it?
I highly recommend marinating your tofu if you are new to tofu or have not enjoyed tofu in the past. Tofu is like a sponge. If you marinate it, your tofu will be able to soak up some of that great flavor, so the flavor shouldn't just be on the outside of the tofu.
Let's get cooking with that puro sabor!