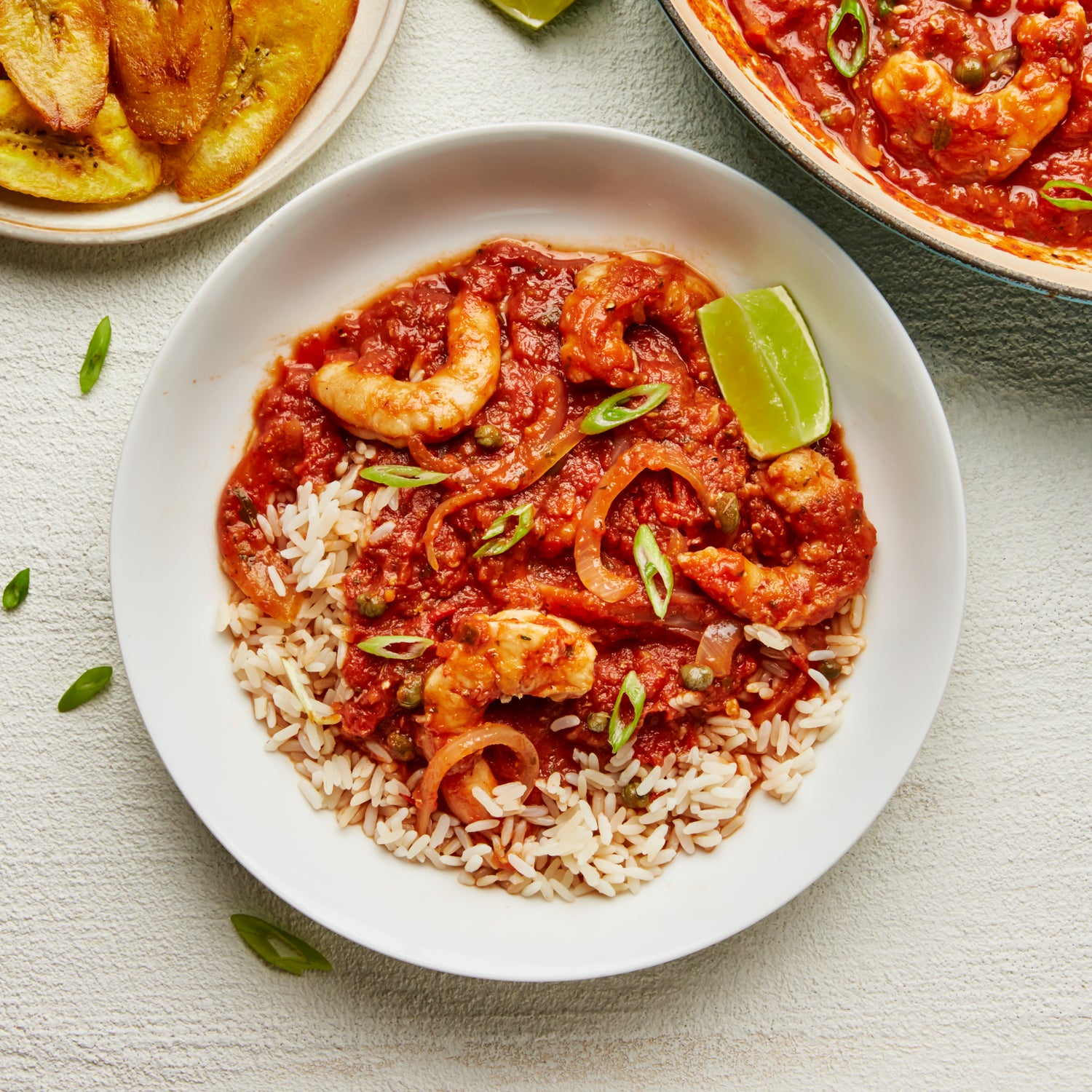 Camarones a la Criolla (Shrimp with Creole Sauce)
Check out this crave-worthy recipe from chef and cultural leader Reina Gascon-Lopez (@thesofritoproject), blending the flavors of her Puerto Rican roots and Southern upbringing.
*Guest recipe by Reina Gascon-Lopez of The Sofrito Project* 
Creole sauce is a richly flavorful tomato-based sauce that was introduced to Puerto Rican cuisine by the Spanish. In this version, the sauce comes together easily with the help of fresh Sofrito and pantry staples. Add some shrimp, and you have yourself a quick and delicious weeknight meal. For a fancier presentation, you could split and butterfly the shrimp before cooking, but that's totally optional. You could also substitute bite-size chunks of firm fish such as cod or snapper for the shrimp. Traditionally, Creole sauce is often served on top of mofongo, the famous garlicky fried mashed green plantain dish. But we also enjoy it with white rice and fried ripe plantains!
~ Camarones a la Criolla (Shrimp with Creole Sauce) ~
Ingredients:
3

 tablespoons

 

extra-virgin olive oil

3

 tablespoons

 

sofrito

1

 yellow onion

 

(large, thinly sliced)

2

 teaspoons

 

capers

 

(rinsed and drained)

1

 teaspoon

 

kosher salt

1

 teaspoon

 

black pepper

1

 bay leaf

 

(large)

1

 teaspoon

 

dried oregano

2

 teaspoons

 

garlic powder

2

 teaspoons

 

smoked paprika

1

 can

 

crushed tomatoes

 

(1 can is 28 ounces; or use 4 large ripe tomatoes, diced)

1

 can

 

tomato sauce

 

(1 can is 8 ounces)

2

 tablespoons

 

tomato paste

3

 cups

 

vegetable broth

 

(or water, about)

1

 tablespoon

 

cornstarch

1

/

4

 cup

 

cold water

1

 pound

 

large peeled and deveined raw shrimp (vegan alternatives to try: mushroom stems or seared sliced hearts of palm!)

1

 pinch

 

sugar

 

(to taste)

thinly sliced green onions

 

(for serving)

lime wedges

 

(for serving)

steamed rice

 

(for serving)

plantains

 

(fried, for serving; optional)
Instructions:
Preheat a large pot such as a Dutch oven over medium heat and add the olive oil. Sauté the sofrito until it's fragrant and toasty, 3 to 5 minutes. Then add the sliced onion and capers and stir well. Season with salt, black pepper, bay leaf, oregano, garlic powder, and smoked paprika. Cook, stirring often and scraping the bottom of the pan, until the onion is slightly translucent, 5 to 7 minutes.

Then add the crushed tomatoes, tomato sauce, and tomato paste and stir to blend. Add the sazón and vegetable broth. Bring the sauce to a boil; then reduce heat to medium to medium-low and cook at a low boil for about 15 minutes, stirring often.

In a small bowl, combine the cornstarch and water. Stir into the sauce to thicken it and cook, stirring, another 2 minutes. It should be the consistency of a gravy.

Fold in the shrimp and reduce the heat low. Once the shrimp are no longer translucent and are pink and slightly firm, about 2 minutes, they're ready. Taste and add some sugar if the Creole sauce is a little acidic (this will depend on the tomatoes themselves and personal preference).

Sprinkle the dish with green onions. Serve immediately with lime wedges, steamed white rice, and fried plantains if you like.
Enjoy enjoy!
(Recipe originally featured on Yummly.com)