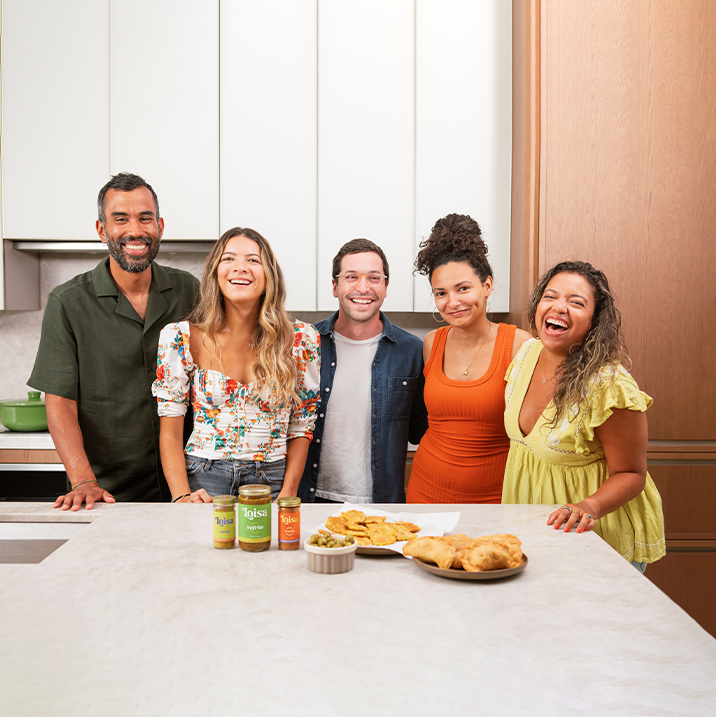 Meet the Team
Learn more about our mission and the collective behind our brand!
Welcome to the New Latin Kitchen!  
Loisa is a destination for us to come together to celebrate the many experiences that make nuestra comunidad unique. Though we each come to la cultura through many different ways, the culinary emblems of our heritage — achiote, adobo, culantro, sazón, sofrito y más — mean so much to all of us. We're here to uplift that. Loisa is built por la comunidad, para la comunidad. As a team, we come from various backgrounds with the same goal in mind: to help build this destination that represents all of us. 
Like sazón, Loisa is birthed from a blend of passion, creativity and innovation, and led by a team of storytellers, home cooks, brand builders, operations pros, and food educators. Here, we're stepping into the spotlight to show you the collective behind our business. Read below to learn more about our vision and, naturally, our favorite seasonings. 
Meet the Team!
La cocina is not only the heart of a home but, for us, it's the root of Latin culture. It's a space to share age-old cuentos, meals that transport us back to our homelands, and recipes that remain in our families forever. However, the kitchen is never still. It's always alive and evolving; so while  we honor and celebrate our raíces and traditions in this space, we're adding to them at Loisa by moving it forward.  
Scott, Co-Founder & CEO
How do you see Loisa pushing the Latin kitchen forward?   
In everything we do, we'll continue to bring a sense of care for the past, the present and the future. That goes for the stories we tell and the products we make. We'll always ask the questions: Are we doing right by our community? Are we picking the best ingredients? Are we using the best materials? Are we pricing this the right way to welcome more people in?
Ultimately, I hope that anyone who connects with what we're doing, or shares a similar set of beliefs, will be able to look around their kitchen and see items from Loisa that make them feel good about who they are, the home they have, the choices they're making, and of course, feel pride for Latin cooking and culture.
What's your favorite spice and/or seasoning?
I get the most joy out of what my son wants, and he most often asks for the sofrito.
Kenny, Co-Founder
How do you see Loisa pushing the Latin kitchen forward?   
When I think about Loisa and how we're pushing things forward, I believe we have an opportunity to create value and an awesome experience for our community. Foremost, that's about delivering the healthier, better quality ingredients that we know we deserve. We're here to let the community know we're listening. We're not going to let this category of products and food be neglected anymore.
What's your favorite spice and/or seasoning?
I love the sazón. For me, based on what I love to cook, there's a lot of versatility to it. In terms of my favorite recipes, I have this mix of seafood, mainly shrimp, with a little bit of cream and a little bit of sazón. I mix it together over the stovetop, and it's an amazing dish.
Sami, Marketing Director
Why do you feel it's so important to empower and uplift nuestra comunidad?
We're representing not only the general culture and what we eat, but also the sentiments that we care about, like the values that we have as a community; like paying more attention to wellness and health, and what we put in our bodies — and making products that respond to that. Also, we want the community to lead us in terms of creating a platform and a destination to share and elevate their voices.
What's your favorite spice and/or seasoning?
I'd have to probably say sazón. I love that we have both salt-free and regular because then I can choose what I put it in, but I'll even put it in non-Latin dishes. It takes me back to sitting at my abuela's kitchen counter with my twin sister and helping her make empanadas, pressing them with forks. That's something I'll always remember. 
I see a future in which every American home has our sazón in their cabinet. 
Maria, Social Media & Community Coordinator 
How do you see Loisa pushing the Latin kitchen forward?
I see Loisa pushing the Latin kitchen forward by embracing that there's not one way to be Latin, and there's not one thing that necessarily defines the Latin community. Loisa defines the Latin kitchen by embracing all the things that make us different in a way that elevates and showcases our people in a positive way. There's so many different nuances in the Latin community and different influences: there's a lot of Afro influences in our food, there's also Asian influences in our food. I think highlighting all of those things and respecting the culture as it is today, and embracing how we got here, that's how Loisa's moving the Latin kitchen forward. It's acknowledging all of these things by amplifying voices, like through our creator community, that necessarily wouldn't have been previously. 
What's your favorite spice and/or seasoning?
My favorite spice is the sazón. I'm Puerto Rican, and growing up, my family only used adobo. But now, after joining Loisa, I've come to use sazón in French fries and other random foods, so it's my favorite seasoning. 
Chef Yadi Garcia, Head Chef & Educator
How do you see Loisa pushing the Latin kitchen forward?
As someone that has a kitchen altar, I love that we're extending beyond what I call the culinary botánica, or your spice cabinet. We're thinking about other ways to be a part of the journey, not just in community and in the initiatives that we have, but inside of the kitchen and making it a celebratory, ancestral, and even medicinal point in the home.
What's your favorite spice and/or seasoning?
I'm always going to give it up to my sofrito, baby! This is my grandmother's and my mother's recipe with some updates. One of my favorite dishes to use it in is moro de guandules.