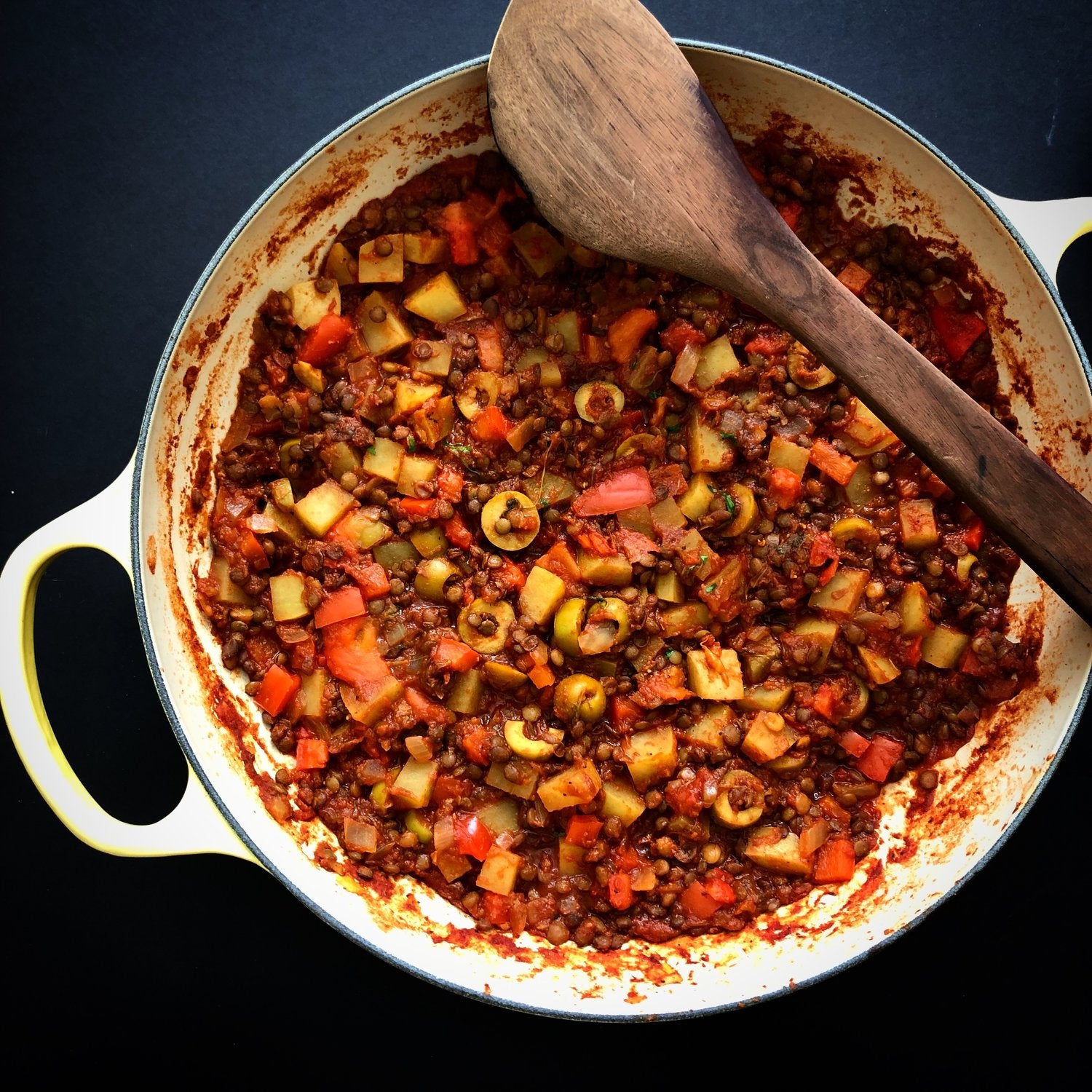 Lentil Picadillo Recipe
A delectable vegan version of this rich Latin stew.
Can we talk about this beautiful honest pot of goodness? Mouths. Watering. 
A little FYI -- Picadillo is a traditional Latin stew. The names come from the Spanish word picar - to mince or to chop. Serve it with rice, or eat it right out of pot (we never judge!). Hearty, nutritious and super flavorful no matter what :-)
We have to thank Lisa again for her creativity in making this dish vegan. We're all in!
Ingredients
1 cup cooked brown or green lentils
1 small onion
1 red pepper
2 cloves garlic
2 tablespoons tomato paste
1 teaspoon Loisa Organic Sazón
1 teaspoon Loisa Organic Adobo
1/2 teaspoon cumin
1/4 teaspoon cinnamon
2 big Yukon gold potaotes
1 cup crushed tomatoes
1/4 cup white wine (I like Vegan Vine Chardonnay)
1 roasted red pepper
1/2 cup green olives
Water as needed
Instructions
Dice the onion and red pepper into small cubes. Add to a big pan and water or oil sauté until starting to soften. 
Add garlic and stir around. 
Add the tomato paste and stir around until it becomes fragrant, a minute or two. 
Add the Sazon, Adobo, cumin and cinnamon. Stir around. 
Dice the potatoes into bite sized cubes and add to the pot. Stir to coat. Add lentils.
Add the white wine and crushed tomatoes. Stir around to bring everything together.
Dice the roasted pepper and slice the olives. Add to the pan as well. Stir around once again and if it seems to thick, add some water. You are looking for a thick sauce but not too thick. 
Cover and cook for 20 minutes or until the potatoes are al dente. Serve as is or serve with rice or on its own.
Enjoy!