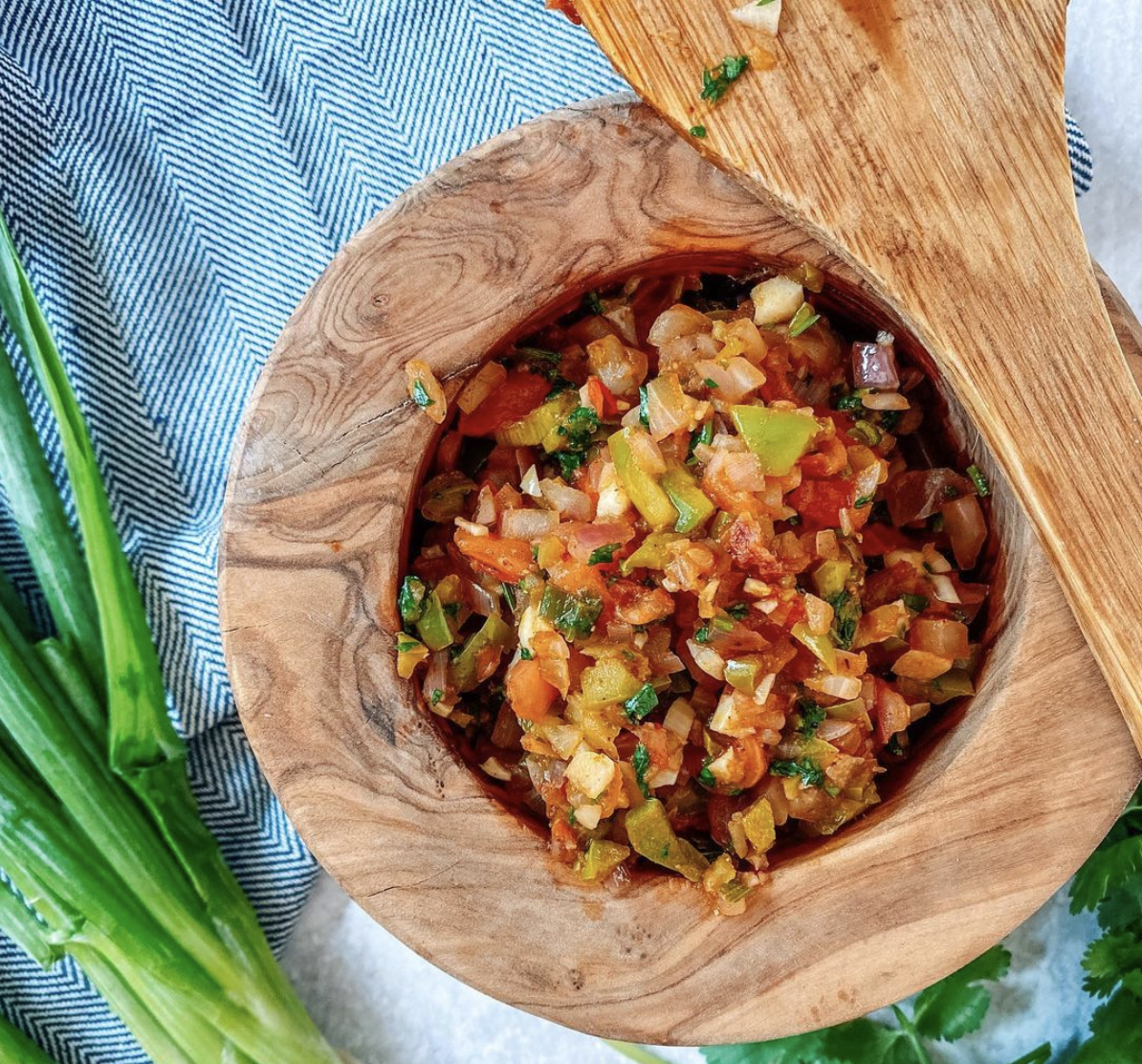 Hogao (Colombian Creole Sauce)
A sofrito-style sauce for everything! This recipe from Ileana (@healthytastybites) is a Colombian favorite that's perfect with yuca fries, arepas and more.
*Guest post by Ileana of (@healthytastybites)!*
Hogao (Colombian Creole Sauce) is a simple and savory and versatile compliment to so many foods. A variant of the beloved sofrito, with the addition of some delicious scallions, it is one of the most traditional seasoning sauces in Colombia. We use it as a base for many typical dishes, and also as a dipping sauce for tostones, arepas and yuca fries. We suggest making a batch, saving it in the fridge, and whenever breakfast, lunch or dinner calls for a hit of fresh flavor, give it a spoonful. Enjoy our recipe below!

~ HOGAO (COLUMBIAN CREOLE SAUCE) ~
 INGREDIENTS
3 tablespoons avocado oil
1 medium red onion, finely chopped
2 ripe tomatoes, finely chopped
4-5 cloves garlic, minced
4 scallions, finely chopped
1/3 cup green pepper, finely chopped
1 teaspoon Loisa Organic Cumin
2 teaspoons Loisa Organic Sazón
1/4 cup cilantro leaves, finely chopped
DIRECTIONS
Heat the oil in a skillet, add the red onions, tomatoes, scallions, garlic, green pepper, Loisa Organic Cumin, Loisa Sazón and cook gently for about 15 minutes, stirring until softened.
Reduce the heat to low, add the cilantro, salt and pepper, and cook for 5 more minutes, stirring occasionally until the sauce has thickened. Check and adjust the seasoning.
Enjoy enjoy, in so many ways!