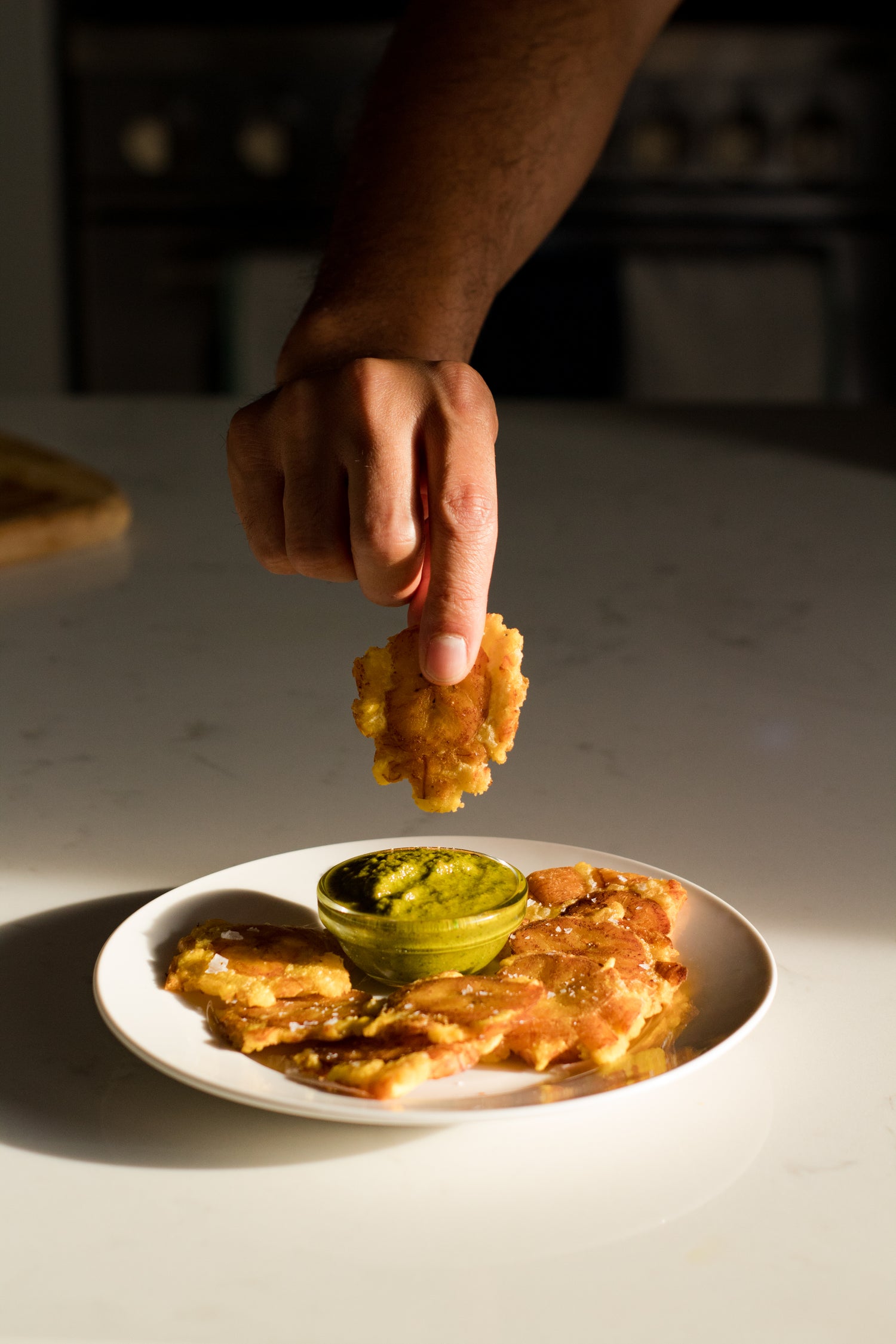 3 Liberating Ways to Enjoy Sofrito More Often
Sofrito is versatile 👏👏 and our Head Chef is here with fresh tips to tap into all its possibilities.
By: Chef Yadira Garcia | (@happyhealthylatina)

There's few things I love more than Sofrito. It carries the essence and flavor of our ancestors and transports us instantly to our islands no matter where we are. It empowers us with healing flavor by being able to cook some of our favorite cultural dishes to share with family, or friends and loved ones, to sustain and also create new memories.
At 17, as I was getting ready to move out, Sofrito was one of the prized recipes my Mami first wrote down for me, passed down from my Abuela. Now as a Natural Foods Chef who cooks in and for the community, it's one of the first items I make when arriving in the kitchen, whether professional or at home.
Today, we are here to liberate sofrito from its traditional uses. I have found that it is deeply versatile and tastes great in a variety of ways. We created Loisa Sofrito with this in mind, and hope you'll join us in embracing the opportunity to bring more traditional flavor into our kitchens and dishes more often.  
Explore with me some uses below - we hope you try at least one, or work your way through them all!
#1: AS A DIP
Did you ever stop to consider having it just as it is?! That's right, it's perfect even before it hits the pan and blooms when placed in a fat, like oil and married with other sazones. A well balanced sofrito has all the elements of a great salsa! Think about it: onions, herbs, tomatoes, pepper, oil, spices (salt, pepper, oregano, and more) and acids from vinegar or sour oranges. It's filled with real ingredients you can feel good about. I encourage you to grab a toston, which is traditionally served with a dip or side dish, or your favorite chip or vegetable crudite, and go for it!! Also, in the dip department, try using it on a sandwich instead of mayo, mustard or hummus. Watch, soon you'll be trading out other dips for this flavorful combo.

#2: AS A DRESSING
Building on the elements of above, brings us to our next use - using Sofrito as an amazing dressing! To thin it out more and bring it into a dressing you have a couple of options. You can use more of the same oil used to blend the Sofrito - ours contains extra virgin olive oil. You can also use a neutral oil that really doesn't alter the flavor, such as a grapeseed oil or safflower oil. Lastly, you can play with boosting the nuttiness of the dressing by adding an oil like avocado oil. If you're working with a homemade sofrito recipe that does not contain any vinegar (ours does, we use apple cider vinegar), simply add 1 part of your favorite vinegar, like red wine vinegar or apple cider, for every 2 parts oil, to maintain the 2:1 oil to vinegar ratio. This dressing adds major flavor and brightness to any plate it makes an appearance on!
When I use Sofrito  on my salads and I often call it a "Diosa Verde" aka Green Goddess. You can also ladle our Sofrito over roasted root vegetables like sweet potato, butternut squash, carrots, yuca, plátano. It's also a wonderful flavor booster on blanched or steamed vegetables like broccoli, cauliflower, and snow peas.
#3: AS A COOKING BASE & MARINADE
Lastly, we have the most common use for Sofrito - use it for a cooking base! This is when you simmer the Sofrito the bottom of your pot to create the flavor that makes your beans, rice, or meats come to life.
However, I encourage you to invite the Sofrito out of the pot and also use it as a marinade. Not just during the holidays on your pernil, but as an everyday marinade.
As a heavy plant-based eater and Chef, I often use Sofrito as a marinade to give dishes that special je ne sais quoi (a special quality that cannot be described or named easily) or what we would call umami en la cocina. So go and press out the water from your tofu and slather it with Sofrito to lock that flavor in. It's also great on other plant based proteins like tempeh and seitan.
Nobody likes bland vegetables or food and neither do I! Go and use it on all the veggies, like brussel sprouts, carrots, auyama (pumpkin), parsnips, peppers and more, oh my! Marinate and use on your animal-based proteins as well like fish, poultry, beef and pork, not just on the holidays.
Here at the Loisa, we invite you to play with your food and explore bringing and blending these cultural culinary traditions into all parts of your recipe and dish creations - not just Latin or Caribbean. I have used Sofrito in all the ways above and also in African, Thai, Indian, Mexican, Italian, etc. inspired plates. I hope you enjoy and share with those you love.

Buen Provecho!
Chef Yadi
Shop Loisa Sofrito here or as a combo with our Loisa Sazón y Adobo here.