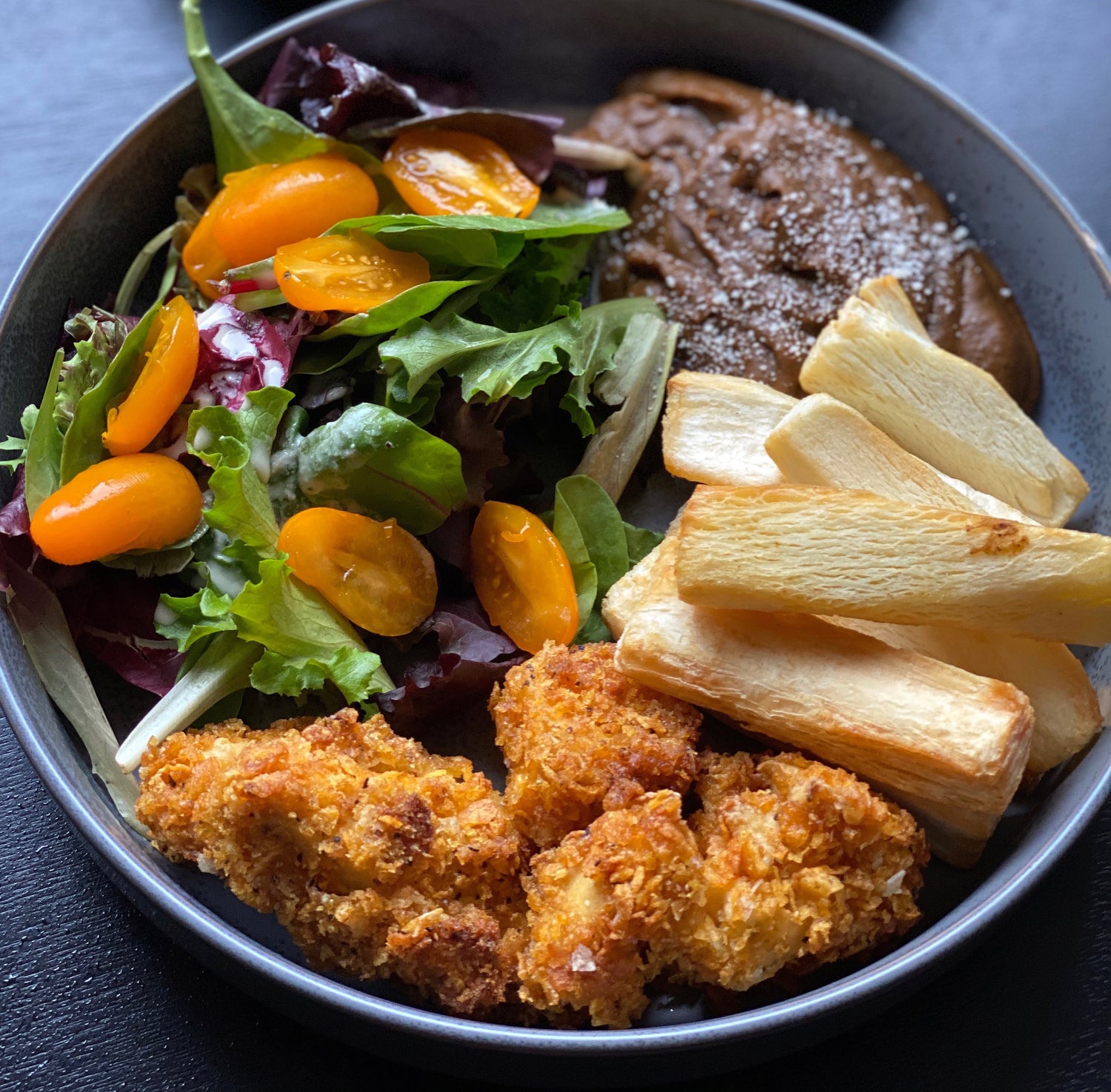 Vegan Pica "Pollo" Bowl
Cecilia Flores (@cocoverdevegan) has been an inspiration for us at Loisa since almost day one, and we're partnering up to offer some vegan Latin creations full of real rich flavor, starting with her take on pica "pollo".
There's nothing we love more than creating warm bowls and soups for this time of the year! This recipe was inspired by one of our old favorites -- pica pollo or Dominican fried chicken. We grew up eating pica pollo and fries and we're so excited to put a vegan spin on it by using tofu. We could also see cauliflower being a delicious substitute as well! It's a simple recipe that you can pair with some rice and beans, fresh greens, or whatever you'd like! - Cecilia
~ Ingredients ~ 
1 block of extra firm tofu

1 cup of cornflakes 

1 cup of vegan mayo 

2 tablespoons of Loisa Adobo

Salt and pepper to taste 
Tofu prep: not a completely necessary step but to improve the texture of the tofu, wrap in a clean towel and press to drain water. Freeze until solid and then defrost and proceed. If running short on time, press the tofu and skip the freezer process. 
~ Instructions ~
Once tofu is pressed and water is drained, break the tofu up organically into pieces. We roughly tried to mimic what chicken tenders might look like. If you prefer, you can cube the tofu or cut into other shapes 

Place the vegan mayo in one bowl. In another bowl, crush the cornflakes and mix with the adobo and salt and pepper. I like to really grind some parts of the cornflakes and leave some chunkier pieces for good texture. Make sure to mix the cornflakes and spices well so that the flavor is evenly dispersed. 

Dredge the tofu through the mayo making sure to coat all sides. Repeat with the corn flake mixture until the piece of tofu is evenly coated. Place on a sheet and repeat with remaining pieces of tofu. 

Once all the pieces have been "breaded", freeze the tofu until the breading layer is firm. You can skip this step but I find that it really helps the breading stay on. 

Next, we used our airfryer. Warming if up to 350 degrees for three minutes and then frying until golden brown (about 10-12 mins checking halfway through). You could alternatively pan fry or deep fry the pieces, again, until golden brown. Or, bake at 350 on a greased pan for 20-25 minutes, or until golden brown, flipping halfway through.