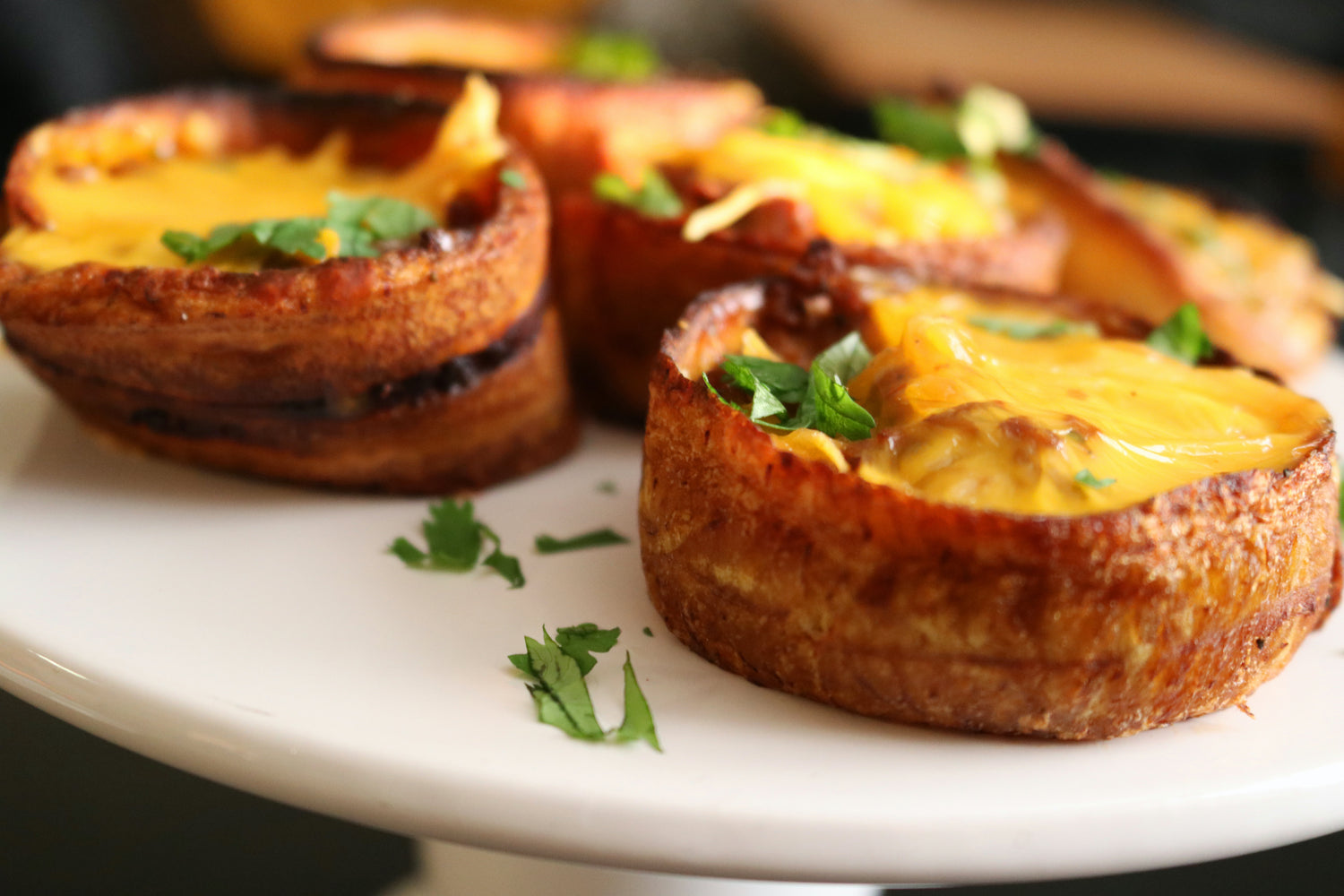 Vegan Piononos (Stuffed Sweet Plantains)
A wholesome classic, made deliciously vegan! Make your own Puerto Rican Piononos with this recipe from the ever-talented Jeremie Serrano (@lacomidadejeremie)!
*Guest post by Jeremie Serrano (@lacomidadejeremie)*
Piononos are a Puerto Rican dish traditionally made up of fried sweet plantain rolls, a seasoned beef filling, and topped with melted cheese... if that doesn't get your mouth watering then I don't know what will! Embracing our African and Caribbean roots, dishes like Piononos do a great job of reminding us where our Ancestors and their ingredients came from and help keep that history alive.
I wanted to share this recipe because it is one of my mom's favorite dishes that brings happiness to anyone that tries it. I hope to bring the same happiness into your life with this Boricua delicacy that I have veganized just for you.
Now let's get cooking! 

~ PART 1: CARNE MOLIDA BORICUA ~
Ingredients:
1 package of veggie grounds (12 oz bag)

1⁄4 cup of tomato sauce (alt: 1/8 cup water + 1/8 cup tomato paste or 1/4  cup stewed tomatoes)

1 tbsp Loisa's Sazon

1 tbsp Loisa's Adobo

1⁄2 tbsp Vegan Butter

1 tbsp of Sofrito

1 tsp oil

1⁄4 cup of water
Instructions:
Heat a skillet over medium-high heat and add your choice of oil–preferably one that is neutral in flavor.
Mix in sofrito, tomato sauce, adobo, sazon, and vegan butter. Cook for 1-2 minutes before adding your veggie meat. Add in water and cook through
Cook everything together for 5-7 minutes. Can be used for pastelillos, lasagnas, piononos, and anything else you add "ground beef" to. 
~ PART 2: PIONONOS BORICUA ~
Ingredients:
1-2 ripened Plantains

1 cup Carne Molida

1 tsp Loisa Adobo

1 cup vegan Cheese

1⁄2 cup vegan egg (Just Egg used in this recipe)

Toothpicks or skewers

Oil for frying
Instructions:
Cut off the two ends of your plantains. Carefully slice down the sides of the plantains' outer layer, trying not to pierce the plantain. Cut plantain once again into thin slices lengthwise, about 1⁄2 inch.
Heat oil in a frying pan over medium heat. Once oil is ready, fry plantain slices on both sides until golden brown. Remove from pan and drain on paper towels.
Preheat oven to 350o F. On a baking tray or cupcake pan assemble your piononos.
Create a circle, cup-like shape with plantain slices. Where ends meet close with a toothpick or skewer to hold in place while cooking.
Inside of each slice create a layer of cheese, carne molida, cheese, and top off with a spoonful of the vegan egg.
Bake in the oven for 20 minutes. *Optional* Broil for a few minutes for added browning to top cheese layer. Enjoy!
A little bit about Jeremie Serrano 
Jeremie Serrano is a self-taught Artist, Chef, and Activist currently living in Memphis, TN who is proud of his Puerto Rican heritage. He spends his time creating content for his brand La Comida de Jeremie and working as the Director of Advocacy & Policy for a Memphis based non-profit.
His main goal is to share content that highlights the communities he is a part of, including LGBTQ+, BIPOC, and those interested in a plant-based lifestyle. He does this by sharing vegan recipes, illustrations with a message, and openly advocating for underrepresented communities.