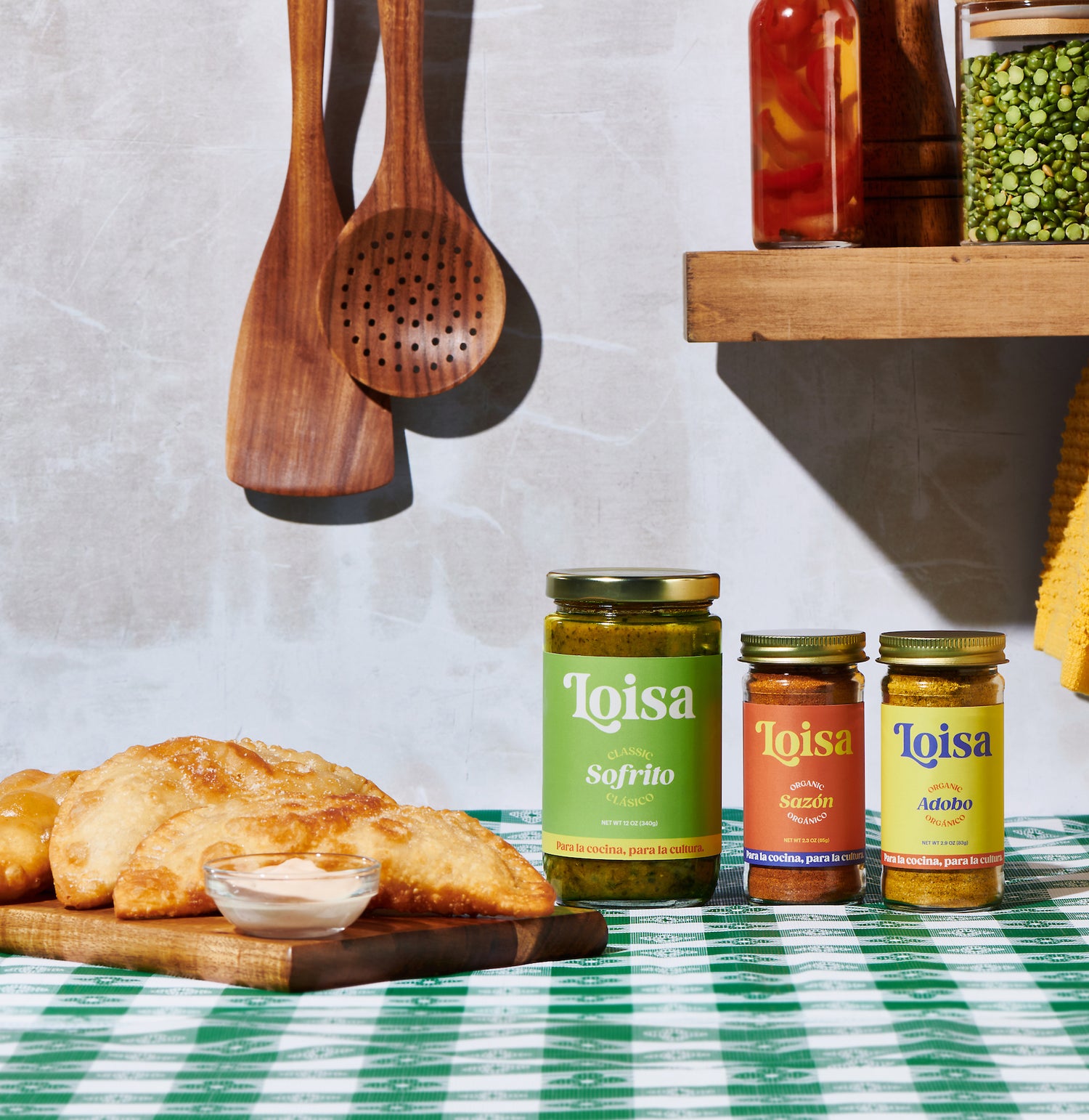 Para la cocina, para la cultura
For the kitchen for the culture. The inspiration behind our rebrand.
written by Sami Abreu, Head of Brand and Partnerships
For la comunidad, by la comunidad.
We've rebranded - and we're so proud to finally share it. Loisa started out of the NYC homes of our co-founders on a mission to make Sazón and Adobo without artificial ingredients and unnecessary fillers so that they could proudly pass our heritage foods onto their children. We launched with our signature Organic Sazón and Adobo, pure versions of the seasonings we grew up with and we gathered around the idea of #feedingtradition. From the beginning, we've been so grateful to receive immense love and support from our comunidad, helping us to grow every day and spread más puro sabor. As we've continued to grow, this incredible support from our comunidad had us thinking – what does Loisa really mean to us all? 
The deeper we thought about it, we felt like there was much more to the story. While we're honoring our roots and our tradiciones that our ancestors built with our Sazón, Adobo, y Sofrito –  we're also working to foster a world for that cultura to be seen, to be celebrated, and to grow. And we saw that our community felt this, too. 
It became apparent that the strong support from our community we are so grateful to have at Loisa is larger than feeding tradition– it's about celebrating and representing our cultura and our comunidad both as we know them and as we see them growing in the present and the future. While each of us are connected to our Latin cultura in different ways, Loisa is a destination for everyone to celebrate that cultura together in one place. So, almost 10 months ago, we set off to realign our brand around this newly defined mission.  
Inspiration to Representation 
When it came to rethinking our look, we sought inspiración from the parts of our culture that bring us all together- music, food, art, and environment. We poured over the pages of the book "¡Cocinando!" by Pablo Yglesias, a compilation of fifty years of Latin album cover art, where we found inspiration in the movement and energy of text forms that inspired our new logo. 
We looked at the world around us in the streets of New York City, the Lower East Side (also known as Loisaida, the barrio our name pays homage to), the Bronx, Brooklyn, and Queens as well as the islands and countries of our origin - Puerto Rico and the Dominican Republic. We looked to the kitchens we grew up in and the foods that nourished us – plátanos, yuca, aguacate, arroz y habichuelas.
We looked to art produced by our comunidad, like the documentary Los Sures by Diego Echeverria, that capture the nuanced experiences and memories that many of us share. In our environment and in this art we felt the beauty in the cultural emblems that tie us together, and this inspiration manifested in our new color palette and the visual elements of our brand. 
Ultimately, representation of our shared memory, comida, music, spaces became the center of our brand. With the help of our comunidad, we created a visual language that is deeply rooted in so many of the wonderful elements of our cultura that connect all of us, no matter how we came to love and care for the culture. While we started as a seasoning company, we know Loisa is and can be much bigger than that– and we can't wait to continue to grow with you all! 
Para la cocina, para la cultura. For the kitchen, for the culture!