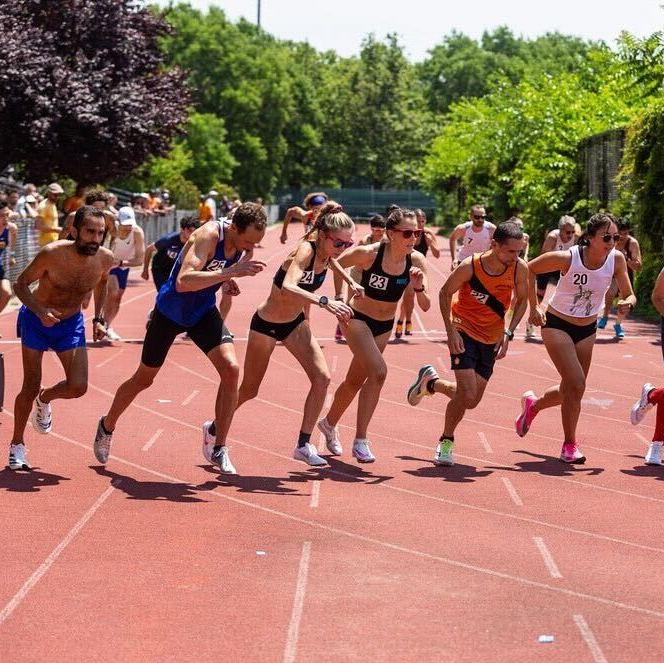 Celebrating Williamsburg's Puerto Rican History with East River 5000
East River 5000 founder David Alm shares with us about his life in NYC and how this foot race came to be.
By: David Alm 
David Alm is New Yorker and a longtime competitive runner, journalist, and professor and founder of the East River 5000 race series. His articles have appeared in Runner's World, GQ, Women's Running, Forbes, and many other publications. Since 2006, he's taught courses in journalism and film at Hunter College of the City University of New York. He launched the East River 5000 series in 2019 as a way to bring the running community together for classic, no-frills races. This year, he's launching the first ever Los Sures 5000 and Coquito Mile, a race inspired by the 1984 documentary of the same name. Loisa is a proud sponsor of the race celebrating this historically Puerto Rican South Williamsburg neighborhood in New York. We welcome David to our blog to tell us about how the Los Sures 5000 came to be. 
---
I moved to New York City in November 1999. I was 24 and had landed an illegal sublet on the Lower East Side of Manhattan in a multi-building complex called the Seward Park Housing Cooperative that dominates the area below Delancey Street. The majority of Seward Park residents were Jewish, but the neighborhood was Puerto Rican–Loisaida Avenue, aka Avenue C, is Spanglish for the Lower East Side. The famed Nuyorican Poets Cafe was a few blocks north of Delancey, just off Loisaida on East 3rd Street. Puerto Rican flags hung from apartment windows; the music of Tito Puente and reggaeton floated through the air. 
My building was at least a little integrated– the apartment across the hall from me, on the 19th floor of 212 East Broadway, was owned by the actor Luis Guzmán(Narcos, Carlito's Way, Boogie Nights). But, most of my exposure to the Puerto Rican community came during walks through the neighborhood, or when I ran over the Williamsburg Bridge to Brooklyn. Little did I know, when I went on those runs to South Williamsburg, I was entering the largest enclave of the Puerto Rican diaspora in the mainland United States–known to the 20,000 Puerto Ricans who lived there as Los Sures, the Southside. Because I was living in Seward Park illegally, I had to keep a low profile. For three years, my neighbors assumed I was part of the Jewish family that owned the apartment. In fact, I was a goy–Yiddish for gentile–from Illinois who had never lived outside of the Midwest. Fearing if I spoke too much I might be found out, and then evicted, I rarely exchanged more than a hello with anyone in the building, including Luis Guzmán and his wife, Angelita, who split their time between New York and Vermont. When they were in town, though, I always knew. The smell of their cooking– arroz con gandules, mofongo, tostones–permeated the halls. It made me long for family– not my small, nuclear family in Illinois, but a concept of family: a big, boisterous group of loved ones, laughing and eating together.
I had never met anyone from Puerto Rico back home, where the island seemed as remote to me as the Maldives. But I'd grown up in the 1980s with an insatiable appetite for New York, and I fed it with movies. My hunger wasn't for Sigourney Weaver's uptown penthouse in Ghostbusters, or the Brooklyn brownstones of Moonstruck, or even the smoky back rooms of The Godfather. It was for the DJ'd house parties of Beat Street, the impromptu breakdance battles of Fast Forward, the punk clubs of Desperately Seeking Susan.
The Lower East Side of the late '90s still had vestiges of the New York those films captured: murals paying tribute to a fallen son, empty lots filled with rubble, bright yellow signs promising cuchifritos and hot coffee. Whenever I wandered through Loisaida, a young gringo from the Midwest, I knew it was not my world. And yet, paradoxically, it felt more like home than any I'd ever known. Movies have that power.
Still from the documentary Los Sures by Diego Echeverría
One film I never got to see as a kid, but would have loved as much as Beat Street, was a raw cinéma vérité documentary called, simply, Los Sures. Shot in 1984 by a young Chilean filmmaker named Diego Echeverría, Los Sures is a 54-minute ethnographic record of the Puerto Rican community that called South Williamsburg home, long before they were displaced by luxury condominiums and artisanal cheese shops. Echeverría focused on just five people; collectively they tell the story of 20,000, their struggles and their spirit. "Los Sures is tough," says a social worker in the film named Evelyn Cardona. "If you can survive Los Sures you can survive anything. Porque Los Sures is love."
I first saw Los Sures in 2016, when the nonprofit organization Union Docs released the film for a brief theatrical run and asked me to review it. Seeing Los Sures felt like a homecoming: Williamsburg in the mid-80s looked more like the Loisaida of the late '90s than the generic opulence that defines both of those neighborhoods today. I could practically smell it. It's the New York I fell in love with, before Michael Bloomberg transformed the city into a magnet for billionaires. It was harsh, but it was beautiful too. Los Sures took me back instantly. In 1999, I felt like an outsider in New York longing to be let in. By 2016, I'd become the kind of New Yorker who pines for a city lost to time.
Clearly, I'm prone to nostalgia– but not to being stuck. I try to channel my nostalgia, to build something with it. These days, I do this through organizing foot races.
East River 5000 founder David Alm at the Hudson Valley Classic. Photo by Zandy Mangold.
In 2019, I launched the East River 5000 series to resurrect some of the simplicity that defined the sport in the 1970s and '80s: little races with quirky t-shirts, no big corporate sponsors, and an emphasis on racing for the sake of racing. I also wanted to celebrate the diverse neighborhoods of New York, their history, and their communities, by staging meets at public tracks around the city. We've held races in Red Hook, East New York, and the Lower East Side, among other locations.
The Los Sures 5000 will take place at McCarren Track in Williamsburg on Sunday, December 12th.
When the idea came up to host a holiday classic at the McCarren track in Williamsburg, I knew I didn't want to celebrate the Williamsburg of today. As much as I might like artisanal cheese, I thought of Los Sures, of my friends who grew up there, and of my own connection– however peripheral it might be–to the Nuyorican community. I knew theirs was the Williamsburg I wanted to honor.
After settling on the name, Los Sures 5000, we had to determine the format. The 5000 is a staple of our meets, so we'd lead with that event. But I wanted to do something unique for the community, too, and also appropriate for a holiday race. I thought of the coquito my friend PJ makes using the family recipe of another friend from the neighborhood, Nelson, and had the idea: Why not a coquito mile? Inspired by the beer mile, runners would drink a 2oz shot of coquito every 400-meter lap of a 1600-meter race, for 8oz total, and pray they can keep it down. It would be our cheeky way of saying feliz navidad, shana tovah, or simply, "cheers."
Herbie Medina with his mentor and the honoree of East River 5000's July race, Sid Howard. Photo by Anthony Randazzo.
Finally, we added the 200, a rare sprint event at an ER5000 meet, and named it for Herbie Medina, a veteran runner who grew up in the heart of Los Sures. Just about everyone in the competitive New York running community knows and loves Herbie. At a meet hosted by North Brooklyn Runners, in 2014, he was named the Godfather of the McCarren Track and received a round of applause. Now 65, he's focusing on sprints and coaching kids. His affection for Los Sures is infectious and abiding, and he embodies its Puerto Rican heritage. He and PJ used to play ball together at McCarren Park. I showed Herbie's photo to Nelson and he said, "Oh yeah, big runner that guy." When Tony Ruiz, a Nuyorican from Brooklyn and the longtime roads coach of Central Park Track Club, Herbie's team in the '90s and my team since 2007, learned about Los Sures 5000, he immediately declared that he wanted to race in honor of his beloved Uncle Bobe, who passed away in November. He signed up for the 5000 and, to celebrate his former teammate, the Herbie Medina 200.
And that, in a nutshell, is what I love about New York–the running community in particular. It might be a hard city to crack, but once you do, the connections just multiply. You might even find yourself part of a big, boisterous family.
Legendary 5000 and Sid Howard 800m. Photo by Adam Barcan. 
In November, Loisa reached out about sponsoring the meet, and I read up on the company's history and ethos, and learned that its name is an abbreviation of Loisaida. I said yes without hesitation. While I remain committed to avoiding big, corporate sponsors with no connection to the sport, I am equally committed to working with communities. I believe that Loisa is doing great things for Latin American cooking, with its organic, modern take on classics like adobo and sazón seasoning, and I'm honored to have their support. I'm even tempted to have a dinner party of my own, and try my hand at arroz con gandules, mofongo, and tostones using Loisa products.
It's been 22 years since I arrived in New York, a goy in a Jewish co-op, a gringo in a Puerto Rican neighborhood. The city's changed a lot since then, and so have I. This is neither good nor bad. It just is. New York is a city without memory. It's constantly vanishing, constantly becoming. We're its glue, its living record. And for me, that's what Los Sures 5000 is all about. Keeping the family together.
Puerto Rican flags in the windows of a South Williamsburg building in June 2021.