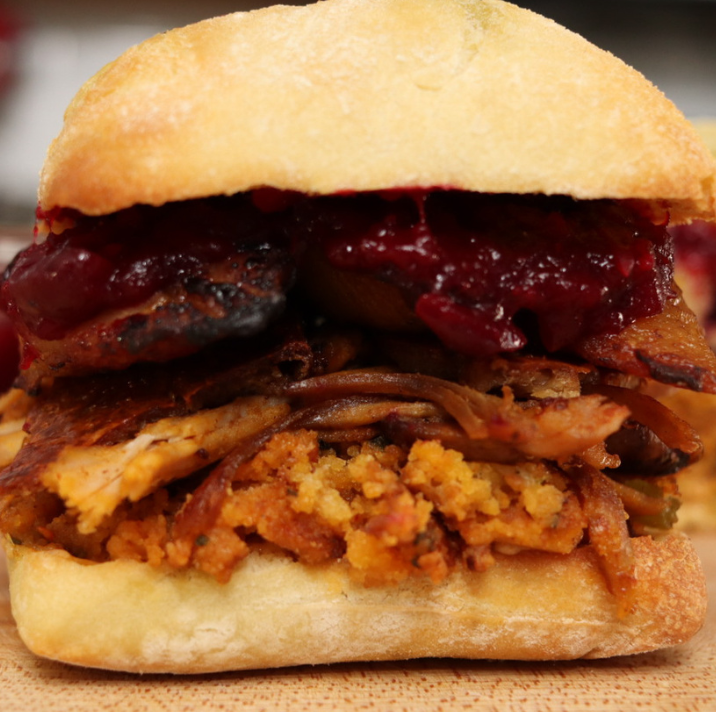 #Adobo
#salt-free
#Sazón
#sofrito
Thanksgiving Leftover Pernil Sandwich
The ultimate leftover sandwich! Leftovers never go to waste here!
By Patrick Baez | @sabrosollc
I have to admit that I'm not a person who particularly enjoys leftovers, except for after Thanksgiving! My favorite is a Thanksgiving leftover sandwich. Although this recipe is an American tradition, this leftover sandwich gets a Latin makeover with the substitution of pernil, roast pork shoulder, for the traditional roast turkey (although you can use either for this recipe). Pernil is a favorite amongst Borinqueños and is the centerpiece of my table every Thanksgiving. This pork shoulder is studded with garlic gloves and massaged with Loisa's Organic Salt-Free Sazón and Adobo and Sofrito, along with other ingredients to give the pernil tons of flavor. 
Since I live in a Latin household, we have amazing leftovers like chorizo cornbead stuffing, spiced cranberry relish, and maduros which I love to add to my sandwich for that real Latin sabor. The best part of the recipe is you can substitute any of the ingredients for what you have leftover from the holidays!
You will need a sturdy piece of bread or roll that can stand up to the weight of this sandwich. I prefer a ciabatta roll, but any sturdy bread or roll will do. Combining one of my favorite food holidays with one of my favorite cuisines is like having the best of both worlds; having your cake and eating it too; a win-win; you get the picture!
¡Buen Provecho!
About Patrick
Growing up in a predominantly Puerto Rican neighborhood, I was influenced heavily by the sights, sounds, smells, and tastes of Puerto Rican cooking and culture that have left an indelible mark on my life. So much so that it was the catalyst for creating a YouTube channel and social media platform that highlights the wonderful world of Latin and Hispanic cuisine.