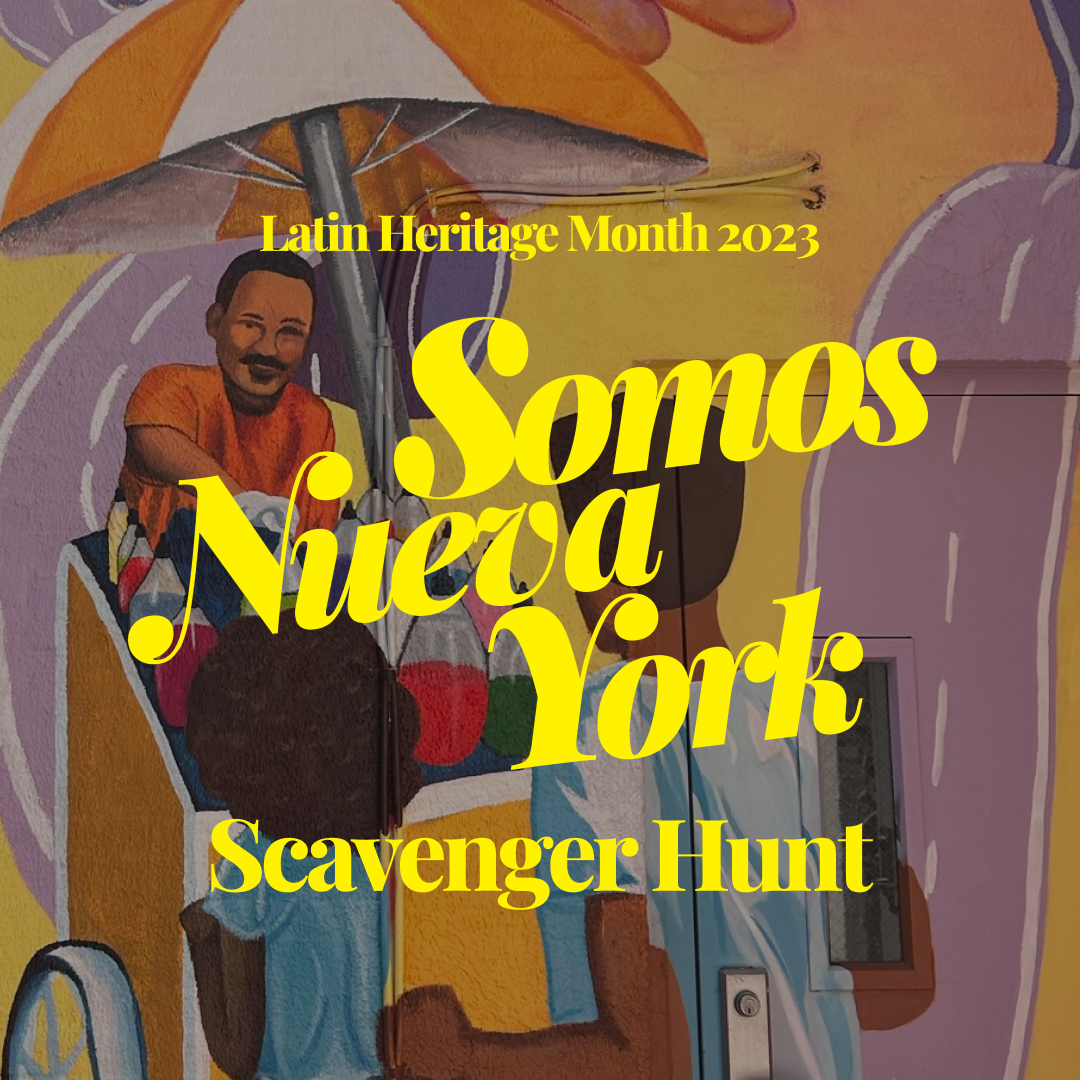 Somos Nueva York Scavenger Hunt
Join us for a scavenger hunt around Nueva York that features some of our favorite spots and activities!
Nueva York is full of Latin influences and culture — within each borough, there's always something new to be discovered. If you're lucky, you may have stumbled upon a few of these spots already. Here is a guide to experiencing our cultura, supporting some amazing Latin-owned businesses throughout NYC, and celebrating Latin Heritage Month all year long! 🌇
1. Visit your local bodega.
In NYC, you can find a convenience store on practically every street corner. They're our favorite spot to grab a quick bite or pick up a lotto ticket. These are commonly referred to by their Spanish translation, "bodegas", due to strong Latin influence in the city.
2. Spot Latin pride in the wild 
If you live in Nueva York, we know you've seen a Puerto Rican flag hanging in a window or a Dominican flag proudly sported on the hood of a car. Spot any flag celebrating Latin cultura and snap a pic!
3. Try a traditional Latin dish of your choice!
Here are some of our favorite spots:
4. Spend a night out doing some Latin dancing
If there's one place you'll find us at a party, it's the dance floor. We love checking out Latin dance nights at some of the local clubs, or you can go to a studio that offers Latin dance classes. Here are some recommendations:
5. Find an impromptu sports game
If you grew up in a Latin neighborhood, it's common to find folks in the barrio enjoying outdoor sports somewhere close by. Bonus points if it's baseball or soccer!
6. Find Latin-inspired street art or murals.
Street art is one way we commemorate people and historic moments in our community. Snap a pic of street art or murals around the city. Here are a few neighborhoods where you'll be sure to happen upon something beautiful:
East Harlem
Bushwick
Lower East Side
Washington Heights
Sunset Park
Williamsburg
7. Visit a Latin bakery
...And check out their array of sweet and savory treats! Here are some of our favorites:
8. Spot a Chimi truck.
A classic Nueva York staple that is beloved for selling Latin-Caribbean foods on the streets, even before food trucks became popular.
Enjoy artistic displays of Latin culture in the Americas — from pre-Columbian to modern times. (*Free admission)
10. Find a block party!
A huge part of our culture in NYC is throwing block parties con todos los vecinos y tanta comida. Whether it's a planned fiesta, or just a few friends chilling on a stoop, get a pic of an outdoor hangout. You're most likely to come across one of these on a nice sunny weekend in neighborhoods like Williamsburg, Bed-Stuy, Washington Heights, and Astoria.
Share your adventures on socials and tag us on Instagram or TikTok @eatloisa! 🤳