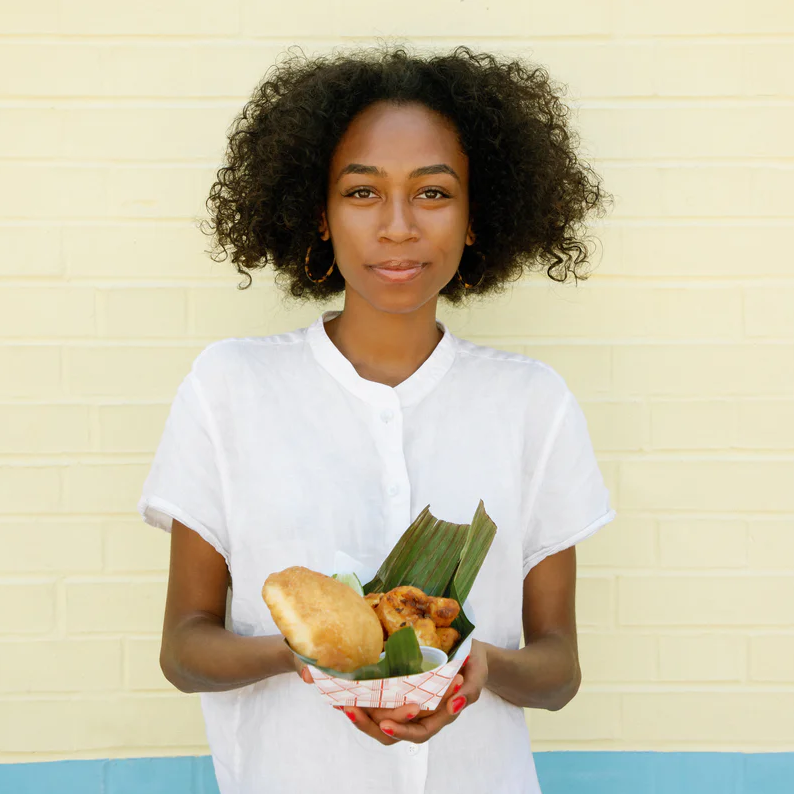 Meet Chef Anya Peters of Kit 'an Kin
Proud to share this story of Chef Anya Peters, a leading voice in Caribbean cuisine.
By: Camilo Flores | Piken.nyc
For the past few years, I've been photographing people eating their traditional foods allowing us to build a "photographer-subject" bond while also sharing meals that we often experience within the frame of a significant memory. The process of making these portraits while we eat helps create a comfortable space where we can share our journeys and homes in a really unique, sometimes funny, and always honest way. 
Working with Loisa and entering the food industry has given me the opportunity to develop these intimate spaces of trust with professional chefs and cooks while they work their magic. I admire how strict and serious professional chefs are when it comes to earning their stripes and how sacred the kitchen is to a family cook. 
As a photographer, I enter their kitchens with a lot of respect and fascination, like a kid walking into Houdini's lab, if Houdini's lab were a kitchen in Rockaway or Mount Vernon. While there are those who eat to remember the past, the one who cooks does it to feed the present and keep the dish alive for the future. 
Today Anya Peters is one of the best Caribbean chefs in New York. With her project Kit an' Kin, she's re-inventing traditions, elevating the ingredients, assuring the continuity of this style of cooking, and reinforcing the Caribbean presence in New York. Anya cooks calmly and with delicacy, all while remaining present and completely focused on the task at hand. Always in control, Anya knows every aspect of every technique she uses, but in her unmistakably Caribbean style, she always makes it all look so easy. 
Before I move forward with the interview, I want to take this opportunity to thank Anya for feeding me all these amazing Trini foods in the Kit an' Kin pop-ups. The taste, the freshness, the aesthetic, and the way in which she brings it all together in her work is incredibly inspiring. Through Kit an' Kin, Anya makes me see the richness of the full Caribbean experience, outside of just one island's borders.
Camilo Flores (CF): In November of 2020 our mutual friend Cooper Libre shared an event flyer by Kit an' Kin on social media. "Lime with us" was the way in which you invited people to come in and check out tasty food under soca music. I love how this phrase sounds and the verb "to lime'' reminds me of how we "lime" chicken, fish, avocado and all types of foods in the Caribbean, cleaning it and adding extra flavor to it. How would you describe "liming'' and how is it connected to what you do in the pop-ups? What's the deal with limes in Trinidad? 
Anya Peters (AP): Limin' or lime in Trinidad is synonymous with hanging out or to gather. It is both verb and noun to gather round with friends, family, and folks to have a good time, listen and dance to music, have a cold drink and eat some amazing food! In Trinidad, I especially love a river lime where we gather by a river and typically cook a nice curry over wood fire all day with a cold stag or carib, and fresh water around to wade in. 
CF: I've seen you work in the kitchen with your family, especially your sister and your father. When did you guys start cooking together? Were they always part of your pop-up series? 
AP: My family is a large part of Kit an' Kin and my process. My sister Ariana is a chef in Florida and my other sister Alana is our creative director and graphic designer. My parents have been an inspiration to us with their Trinidadian and Jamaican roots and love for cooking. We always had a home cooked meal, were taught to embrace our culture, and were always tasked with something to do in the kitchen from young. So I guess it happened naturally that we ended up in creative and culinary fields. When I launched Kit an' Kin in 2017, it was to further explore and honor the relationship between myself, family, and larger Caribbean community and to create a home for us to eat and lime together! 
CF: Tell us how traditions around food come into your work, how are you honoring those from the past, remixing or evolving them for the future? 
AP: Many dishes I make and present in my work are dishes that I have learned from an elder or member in our community first hand. I have learned to make curry chicken and Jamaican black cake from my grandma and escovitch fish from my uncle (who makes it the best!), fry bake from 
Miss Monica and countless other dishes. Each time, I learn more about the person behind the dish, their relationship to food, and record their story. I think it's important, personally and as a first generation Caribbean American, to have that exchange and honor our traditions in an age where the younger generation can be self centered and uninterested in preserving culture. I also remix certain dishes by just being someone born to both Trinidadian and Jamaican parents in New Jersey - my life experience and relation to the Caribbean is just as 'authentic' as let's say, an island born person and my food often reflects that. For example, I have not seen anyone else make Jerk Chicken Doubles and it would probably be blasphemous to a Trini or Jamaican - but it is what makes me and Kit an' Kin unique. 
CF: Today at Rippers we're at the latest Kit an' Kin pop-up, trying the Fish and Bake you made using Loisa Sofrito. This sandwich was so good that I felt self-conscious even trying to describe it because readers might think I'm exaggerating, but it was pure deliciousness, with the perfect proportions of different textures and flavors all mixed together. I've tried bake and shark once before, but that was different from what you made today. The one you made today has lighter bread,* mango, cucumbers, and tamarind*. All these fruits are traditional in the Caribbean, but I rarely see them cooked in hot foods, at least in the "Caribe Hispano". 
Why, when, and how did you start using them?
AP: Fruit in savory applications is used on both Trinidad and Jamaica. My uncles will put fresh fruit in their jerk marinades like pineapple and mango to balance out the fiery hot peppers. In Trinidad, stemming largely from the Indian population that migrated to the island in the early 1800s, we now have chutneys, chows (condiment), and sauces with tropical fruit. In Maracas Bay in Trinidad, on a nice day you will find people lined up for the famous Shark and Bake. It is a fluffy fried bread stuffed with fresh fried shark, cabbage, tomato, pineapple, shado beni sauce, tamarind sauce, peppa sauce, you name it! Our version of this sandwich used locally caught cod, a cucumber mango chow, housemade tamarind chutney and mango peppa sauce. We loved using Loisa Sofrito to season the fish because it was very similar to our green seasoning made from culantro, thyme, parsley, lime, and hot pepper. 
CF: After the Rippers 86 pop up, what's next? 
AP: We have a pop up coming up 8/28 with our friends at Daughter in Crown Heights, Brooklyn and an amazing, black woman owned micro bakery Pelah Kitchen where we will be serving up our signature doubles. We are also rolling out in the coming months a virtual restaurant concept and food delivery so folks can have Kit an' Kin foods every weekend in the tri-state area!
To follow Chef Anya's journey and feast with the family, follow her on Instagram at @kitankin and be on the lookout for their newsletter.