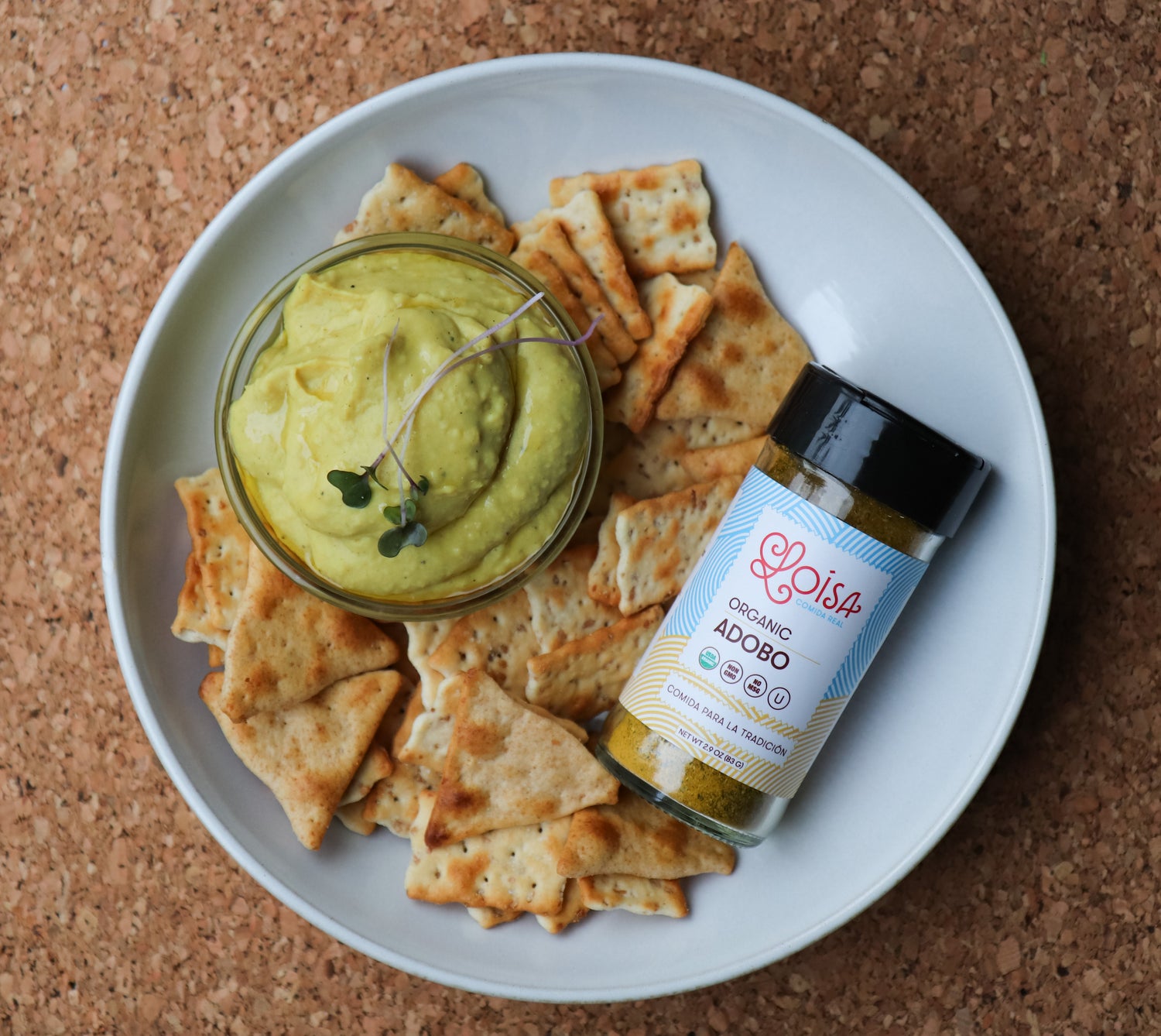 Adobo Hummus
Check out this super easy and purely flavorful twist on the classic snacking dip, Hummus con Loisa Adobo, by the wonderful Aymara Lucero (@concernedcook)!
*Guest post by Aymara Lucero (@concernedcook)*
In Argentina, we don't really eat beans as a main part of our meals like many other South American cultures; however, I recall growing up eating lentils, garbanzos, and many types of beans cooked in different ways. And I love them. I created this recipe for a variety of reasons: It's accessible to many people and affordable during COVID-19, it's very simple to make (even if you just have a fork), it's a pure plant-based protein, it's flavorful, it can be re-created with any other beans in the pantry, AND the ingredients have a good shelf life so they won't contribute to food waste. 
Now, let's get cooking! 
~ HUMMUS CON ADOBO ~
Ingredients:
1 can of cannellini beans (15 oz) (alt: soaked then cooked!)

1 tsp of Loisa Organic Adobo

1/4 cup tahini

1/4 cup lemon juice

1 Tbsp of extra virgin olive oil

2 tsp of minced garlic
Instructions:
In an immersion blender or food processor, place beans, Loisa Organic Adobo, extra virgin olive oil, tahini, lemon juice, and minced garlic.

Blend until smooth and creamy. Add water for a thinner consistency. Serve drizzled with a few drops of extra virgin olive oil and accompanied by vegetables, mariquitas plantain chips, or pita chips.
A little bit about Aymara Lucero
In 2012, Aymara Lucero began Concerned Cook, which teaches simple original recipes, healthy habits, food facts, and sustainability tips. Besides offering marketing support for restaurants & food products, Concerned Cook tells South Florida stories, teaches communities how to support local establishments, and emphasizes culinary cultural education. Aymara is also a corporate restaurant marketing professional and passionate about consumer psychology and the hospitality experience.
You can find Aymara on Instagram at @concernedcook!