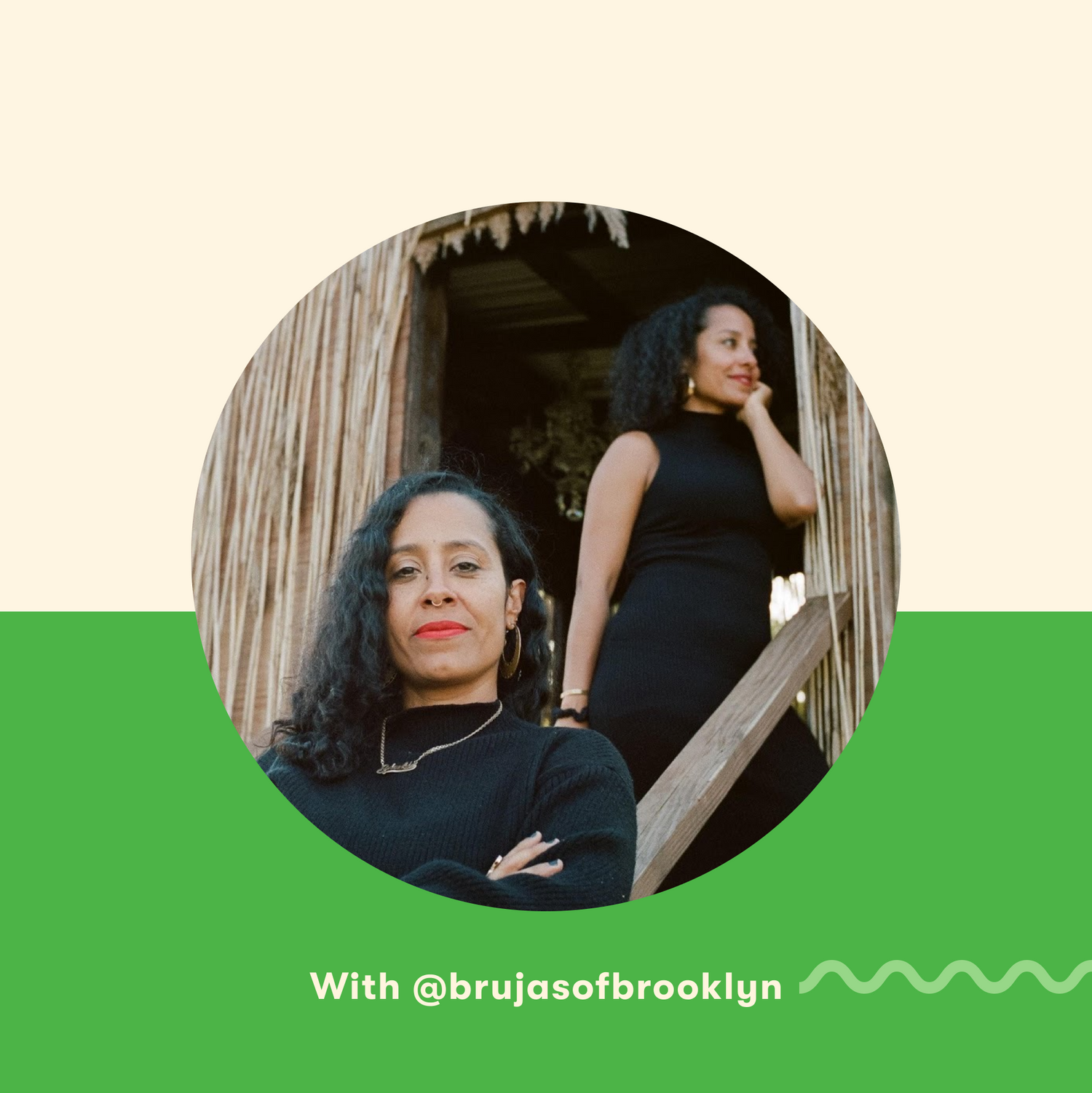 #community
#flavorprofiles
Flavor Profiles with Brujas of Brooklyn #005
Meet the identical twin PhDs and Afro-Dominican Brujas Griselda and Miguelina, who merge ancestral medicine with intellect, as they share their journey and practices with us here!
Through this series, our aim is to share the stories and work of those who inspire us most here at Loisa - those who bring their own pure flavor to this world and elevate our lives by doing so. 
A little bit about Brujas of Brooklyn 
Brujas of Brooklyn are Griselda and Miguelina, identical twin PhDs. Black Dominicanas, these brujas merge the magic of ancestral medicine with sharp intellect. Their platform provides the balm to help folks heal from internalized oppression, particularly women. As certified kundalini and hatha yogis, these sisters design multi-sensory workshops that provide sacred space for women of color to heal from womb imbalances. Both are professors of the Social Sciences within the City College of New York (CUNY). They've both authored academic pieces on the effects of racialized oppression on communities of color, Dominicans in particular. Joy is their ultimate form of resistance.
How did you get into the work you do today?
[Griselda]: We were in a sense born into this. Our parents practiced what in Dominican culture is our version of Afro-Indegnious traditions "21 Divisiones." Before our mother had us, while she carried us, and well into our childhood, we would go see women to get readings and go to spiritual misas (masses). Coming of age though our mother became super catholic naturally moving us away from all of that, so it wasn't until our early twenties where we individually started to dabble in this work. Unknowingly we were reclaiming something that is very old ancestrally and also old in the sense of belonging in our family.
[Miguelina]: It was in 2016 we officially birthed our Instagram page, and that's when Brujas of Brooklyn as the world knows us was born formally. 
What's inspiring you most these days?  
[Griselda]: For me, these uprisings from this summer have been so inspiring. It's incredible to watch the younger generation, Generation Z, doing and talking about things; unpacking and complicating the narrative. It's also just so inspiring because it feels like change is finally beginning to happen, like there seems to finally be a mass awakening. 
Who are you looking to lately for guidance and advice, whether for work or for personal reasons?
[Miguelina]: We keep a spiritual rolodex of sorts, almost like a council of elders that we can call on for different things. We are so grateful to have those people in our life. 
What is a meaningful tradition in your life that revolves around food?
[Griselda]: When I think about the intersection of being Latina, being Afro-Latina, and being Dominican, there are so many things I can think of as meaningful traditions.
[Griselda]: At the beginning of quarantine Miguelina started recording videos of my mother cooking and it became a thing that people started to respond and react toward. It was such a beautiful thing that my sister and mother could come together around food to bond, heal, and be the one to carry the torch. 
[Miguelina]: It wasn't so much about the food of the cooking but the relationship between a Latina mom and a Latina daughter. My mother doesn't have a lot of time left on earth, she's getting old, so one of the best ways to preserve her time on earth is to preserve her cooking.
What are you excited to cook up next?
[Griselda]: Figuratively I'm really excited to see what Miguelina and I cook within Brujas. I feel that we're being led to invest a little bit more in Brujas instead of teaching, turning Brujas from a side gig to our main gig. I'm excited to cook up something the world has never seen before: two Black, Dominican, Latinx, twin women with PhDs. I think we've broken some kind of Guinness world record with all of that already!