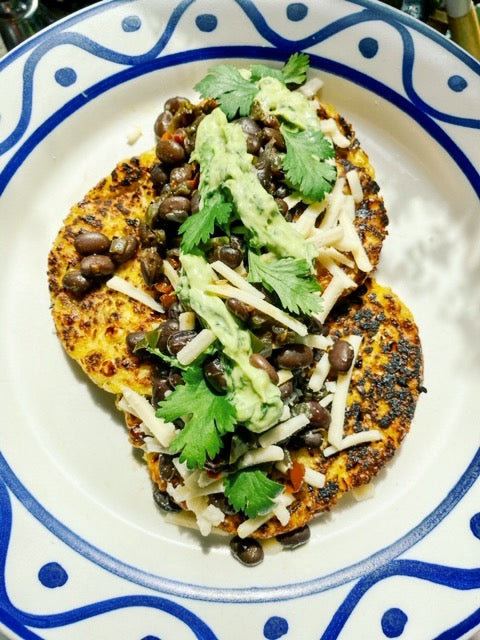 Cachapas con Caraotas Negras
We're loving the sweet & savory flavor of this classic Venezuelan recipe, including a side of salsa de aguacate, from the wonderful Sarah Parejo (@ssarahs_kitchen)
*Guest post by Sarah Parejo (@ssarahs_kitchen)*
Cachapas and caraotas negras is a dish that I grew up eating ever since I can remember. This dish is also a very traditional Venezuelan dish that you will most likely find in any Venezuelan restaurant. The corn pancake is sweet and savory at the same time, and traditionally stuffed and folded over with beans, cheese, and for those non-vegetarian, carne mechada. Corn is a big stable ingredient in Venezuela from ground corn on the cob in almost all soups to corn mash and corn flour. The black beans is something very common in a lot of dishes, simply cooked with a sofrito and spices. The best part of all of this is that I finally found a seasoning that tastes so authentic and truly reminds me of a homemade spice blend, and doesn't have that artificial taste like some other brands. This is a dish that I will make at least twice a month and even my two-year-old toddler loves them, which for mamas out there we know how hard it is to get our toddlers to eat their veggies and legumes. 
~ Black Beans ~
Ingredients:
1 ½ Cup of black beans (Soak the night before)
4 Cups vegetable stock/ or water
1 green bell pepper (small dice)
1 red bell pepper (small dice)
1 yellow bell pepper (small dice)
1 LG onion (small dice)
3 garlic clove (minced)
1 ½ Teaspoons Loisa Adobo
1 Teaspoon Loisa Sazón
Directions:
The night before soak black beans
In a saucepot add your sofrito veggies and sweat down about halfway
Add seasonings, and then pour in black beans with vegetable stock
Let beans cook down until soft, season with salt and pepper at end…if needed
~ Cachapas ~
Ingredients:
12 each

 c

orn on the cob
1Cup cachapa flour 
½ Cup corn flour
2 Tablespoons chia seeds (add 3 Tablespoons of water and let sit - egg substitute)
¼ Cup almond milk
½ Tablespoon salt
½ teaspoon pepper
Directions:
In a large bowl place the corn on the cob onto a small bowl turned upside down to have the corn elevated some, then with a sharp knife cut down the cob and slice off all the corn kernels. Repeat with all of your corn
With an Emersion blender or in a blender, blend up all corn - then pour back into the large bowl
Add all the remaining ingredients and let sit at room temperature for about 15 minutes and let the mixture absorb all the ingredients. If you feel like it might be a little dry, feel free to add more almond milk
On medium/high heat on a plancha, cast iron or nonstick pan, pour with a ladle the size of a pancake cachapa. You want to get dark golden brown on both sides, and you want to make sure it's cooked through
Serve with vegan butter and black beans on top with a sprinkle of your favorite vegan cheese and a dollop of avocado/cilantro/lime sauce
I normally use queso fresco, but for vegans, mozzarella works great!
~ Avocado/Cilantro Cream ~
Ingredients:
1 avocado
½ bunch of cilantro
1 lime
2 Tablespoons of Vegan Mayo
Salt and pepper
Directions:
In a blender or food processor add all ingredients and blend until you've reached a crema consistency
Season as needed
Enjoy enjoy!
A little bit about Sarah Parejo 
My name is Sarah Parejo and I am a 28-year-old Venezuelan. My family decided to leave Venezuela at the age of 2, from that point on until the age of 13 I traveled and lived all around the world. I fell in love with food through the different cultures I was able to experience from Asia to Europe. At the age of 23 after doing a year of architecture decided that I wasn't following my true passion, and decided to enroll in culinary school at The Culinary Institute of America. After graduating I worked in several restaurants in Houston and now am I proud mom and food blogger, until I am ready to open my own little café.
You can find Sarah on Instagram at @ssarahs_kitchen