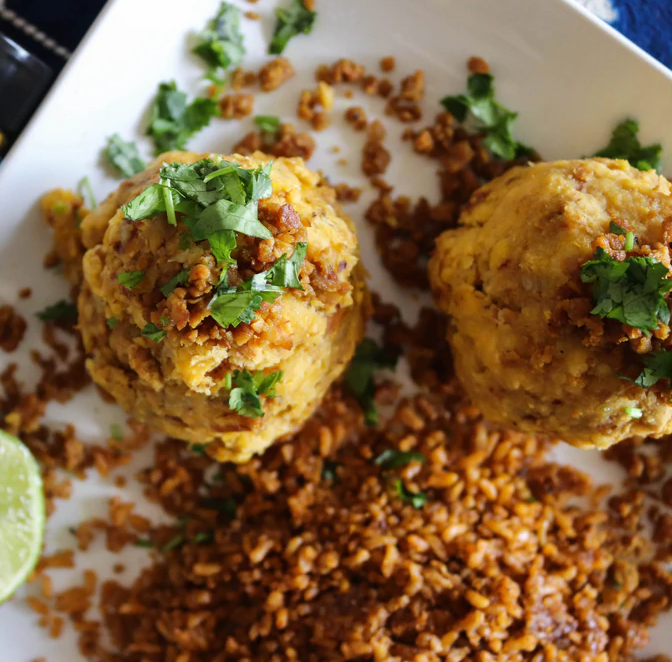 6 Delicious Latin Dishes with Strong African Roots
Highlighting some of our favorite plates to honor the uncredited ways African roots have deeply influenced Latin American culture and cuisine.
By: Johanna Ferreira | (@cup_of_johanna)
The deeply ingrained anti-Black racism that still very much exists in Latin America is the central reason why the African influences that have greatly impacted our cultures still often go ignored. There is even erasure when it comes to the African roots behind many of our staple cuisines. "The Caribbean, Central and South America are vastly influenced by African cuisine," says Dominican-American Chef and Culinary Instructor Irbania Tavares. "This all originated with the European slavery trades, before African-influenced foods became national dishes in the Caribbean and Latin America, such as Sancocho, Mofongo, Tacu Tacu and Feijoada." Everything from West African techniques to spices largely influence our cuisines, which Tavares believes is important to embrace and acknowledge. 
"Understanding where the dishes that we love and enjoy so much come from creates a connection and deeper appreciation to the food we eat," she adds."It's my hope that it also creates a level of respect for the culture that contributed to it. The African Diaspora left an immense influence in Latin America and in any other country they were enslaved."
Unfortunately, there's a gap of knowledge to be filled when it comes to how descendants of enslaved Africans have shaped Latin American cuisine. Our Spanish colonizers really went out of their way to erase African and Indigenous communities from our history, which is why they are often left out of historical contributions altogether. In an effort to honor the uncredited ways that Africa has deeply influenced Latin American culture and cooking, we chose to highlight a few popular Latin American traditional dishes with strong African roots worth taking pride in.
Mangú 
Mangú is a signature dish often associated with Dominican cuisine. The hearty meal that's mostly eaten at breakfast is deeply influenced by African cuisine. "Mangú is one of the food staples of the Dominican Republic. Its origins come from Africa's Congo region, brought to the island during the slavery trade," Tavares says. "The dish is made with boiled green plantains that are mashed with oil and some of the boiling water. A popular plating is called Tres Golpes (three hits) which consists of mangú served with fried egg, fried cheese, fried salami, and topped with marinated red onion. Mangú and green plantains have sustained the Dominican population for centuries. It's a relatively inexpensive meal that offers satisfaction, and most importantly, many nutritional benefits. Green plantains are a great source of resistant starch, carbohydrates, fiber, iron, folate, vitamin C, potassium, and vitamin A."
Mofongo 
Made with fried green plantains that are mashed in a pilón (mortar and pestle) and prepared with fresh garlic and chicharron (pork skin), this Puerto Rican dish is also quite popular in Dominican and Cuban cuisine. "The origins of the dish come from the enslaved peoples of Angola and other regions of Africa," Tavares says. "The mashing and pounding techniques are also influenced by Indigenous people."
Tacu Tacu 
"Tacu Tacu is a Peruvian dish that stems from North African roots," she says. "The dish was created by Africans working in the haciendas during colonial times, using leftovers to make a more complete and sustainable meal. Tacu Tacu is made of a mixture of rice and beans, onions and spices, by itself making it a complete meal." Tavares adds that these days the dish is often served with steak and fried sweet plantain, along with a fried egg. 
Feijoada
Known as Brazil's national dish, this popular stews key ingredients are dried black beans that are soaked overnight. "Enslaved Africans cooked the dish using not sought-after cuts of meat, pig ears, tails, tongue, snout, trotters, and head," Tavares says. "They added aromatic seasonings and beans, and transformed these ingredients into a hearty stew." The dish is also served in African countries like Angola, Mozambique, and Cape Verde. 
Sancocho 
This popular soup is typical in quite a few Latin American countries including Colombia, Ecuador, Panama, Dominican Republic and Puerto Rico. "Sancocho, it's been said, originated in the Spanish Canary Islands (the African version of Spanish Cocido)," says Tavares. "However, it is believed that Africans influenced Spaniards with their stew's ingredients and flavor, both very integral parts of this Latin American dish. The dish is made with different types of meats, tubers, vegetables, corn, and seasonings. It's often served with a side of white rice and avocado."
Mondongo
Mondongo (tripe stew) is especially popular in Caribbean countries like the Dominican Republic and Puerto Rico. The tripe is normally diced in small squares and made with onions, peppers, and other vegetables in a tomato based sauce. While the stew is believed to have been named by the enslaved peoples taken to the Caribbean from West Africa, stewed tripe and tripe soups are popular throughout the continent of Africa, including in Ghana, South African, and Nigeria.
This list is just the start, and while there's still plenty of work that needs to be done when it comes to accreditation of African influence in Latin American cuisine, we hope it inspires you to appreciate this part of our history every time you cook up or enjoy one of these staples.