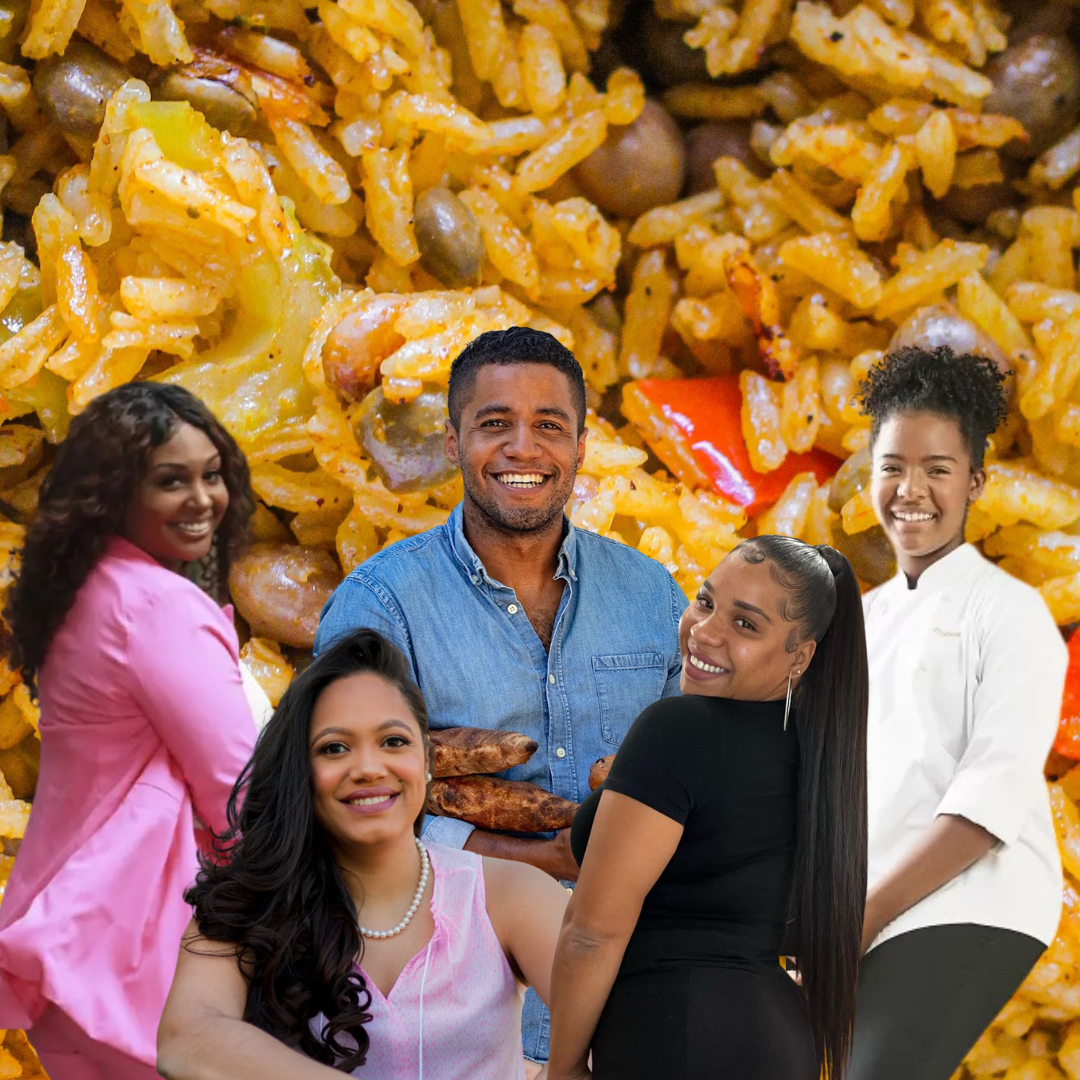 5 Afro-Latine Chefs & Food Creatives You Should Know
These chefs should be on everyone's radar!
In honor of #BHM this month and all year round we're celebrating and elevating these Afro-Latine chefs that should be on everyone's radar!
By Janel Martinez | @janelm
Cuisine played a huge role in my upbringing. Whether it was the way my household gathered over hudutu, a mashed plantain ball served family style in a savory, coconut and seafood stew, or how my abuela made what seemed like an endless supply of kéké — a thick, coconut milk-based cracker (or bread) — for several households, food was both physically and culturally nourishing. It was never just about the food, but the many ways food fostered connection, cross-generational storytelling and unconditional love. 
Naturally, recipes were the thread that brought all of these elements together. As I flipped through the cooking shows of the 90s and 2000s, or the cookbooks on display at Barnes & Noble, it became clear a key ingredient was missing: Black (and Indigenous) Latinx voices. While many industries still remain at a deficit in centering our existence and contributions, the Internet — more specifically, social media — gave Black Latinxs an avenue to create authentically and for nuestra comunidad. In the culinary space, these pioneers have created their own cookbooks, digital destinations, podcasts and television shows, to name a few things. With that, here are five Afro-Latinx culinary artists you should know: 
 Bryan Ford is shaking up the culinary world by zeroing in on breads from across Latin America. The award-winning baker and author of "New World Sourdough" captivated audiences on social media with his bread-baking skills that veered from the typical, French-inspired baked goods. Instead, the Afro-Honduran-American showcases treats from his childhood, such as pan de coco, tortillas de harina and tortillas de maíz, as well as pan de cemita. The former accountant-turned host of "The Artisan's Kitchen" and "Baked in Tradition" is releasing his next book, "New World Baking," in October 2023. 
Who says Puerto Rican cuisine can't be vegan? While some may be shocked to learn the island's classic recipes can have a vegan twist, Lyana Blount birthed Black Rican Vegan, a virtual and pop-up restaurant, to show otherwise. She even has the co-sign of Grammy Award-winning artist Lizzo, who shouted out her fast-growing business on "Hot Ones" and her TikTok account. Blount's vegan journey began in 2016, but the pandemic kick-started her latest entrepreneurial journey that serves up empanadas, jibaritos, pernil y flancocho, to name a few bites. From Smorgasburg and Uptown Night Market to New York Times' Food Festival, the Bronx native's next stop is on your bookshelves with her cookbook debuting in July 2023.  
Known as @_cookingwitd on TikTok, Myrna Dahianna Gomez started documenting her passion for cooking in short videos at the start of the pandemic. Sharing helpful how-tos on how to peel a plátano and properly defrost carne, the Dominican-American food creator has racked up millions of views on her mouth-watering recipes for pollo frito, pollo guisado and pernil. Not to mention, hundreds of thousands of views on mangu con tres golpes, locrio de salami and bistec encebollado, among other recetas. The Washington Heights native's food breakdowns keep followers coming back for more. 
The teen chef is no stranger to competing under pressure, or cooking in some of the world's top restaurants. At 13, Rahanna Bisseret Martinez competed in the beloved "Top Chef" spinoff, "Top Chef Junior," winning several challenges and making it to the finale. Martinez's palate-pleasing recetas, like her pecan sweet potato pie with thyme ice cream, cajeta, and black pepper crust, wowed the judges and highlighted her Creole, Haitian and Mexican roots.  Since gracing our TV screens, the Oakland native has amassed opportunities at Chez Panisse in Berkeley, Compère Lapin in New Orleans, the James Beard House in New York City, Mister Jiu's in San Francisco and Wolfgang Puck at Hotel Bel-Air in Los Angeles, among others. Now, the Cornell University undergrad is serving up her debut cookbook "Flavor+Us," which will be released on May 16, 2023. 
Xenia Zee, widely-known as Chef Zee, keeps the memory of her maternal grandmother alive through her recipes. The grandma-certified chef uses the digital space to archive her late abuela's recetas and her own on Chef Zee Cooks, a destination that celebrates Cuban and Dominican sabor. Whether you're a newbie en la cocina or have your apron ready at a moment's notice, the producer and private chef has a YouTube video, Instagram Reel or TikTok for you. From Latin flavor mainstays, like sofrito and salsa verde, to savory meals — think: sancocho, picadillo and moro de gandules — the native New Yorker has done the work of perfecting hundreds of recipes para la cultura.