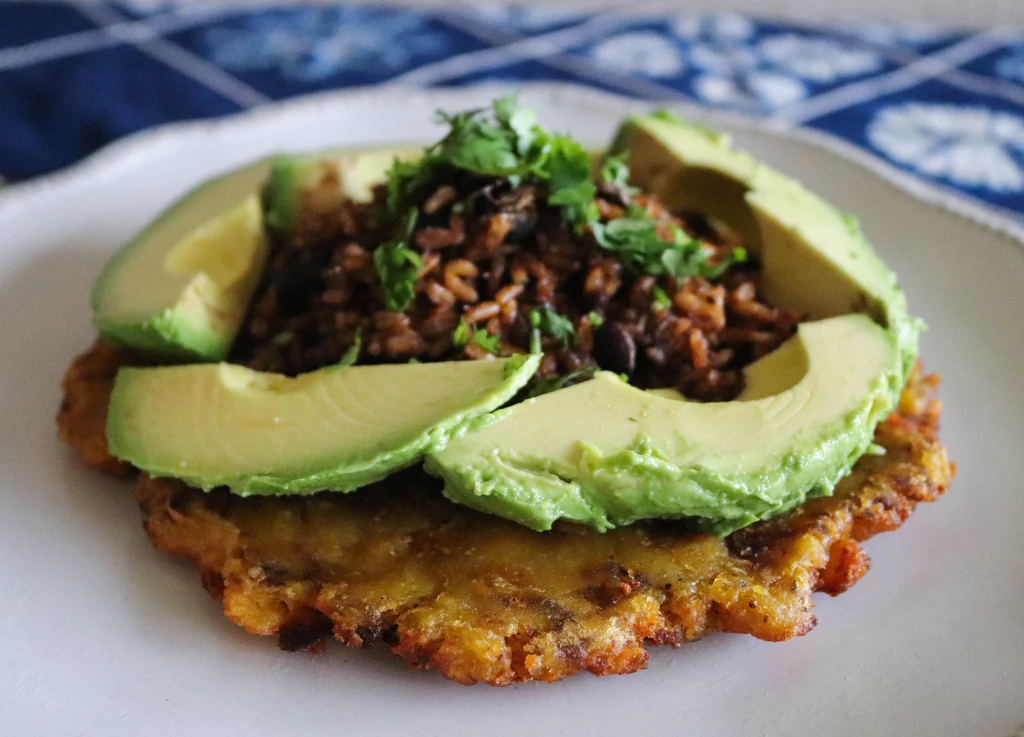 3 Classic Ways to Eat Plantains
The plantain is truly a favorite ingredient here at Loisa. We're so happy to share another recipe post by Jessica Piñeros (@yesikitaaa) with some wonderful, traditional, flavorful, and easy ways to cook with them.
Plantains, green bananas, or plátanos as I call them are a staple food in many African countries, Southeast Asia, and Latin America. They are a larger and starchier cousin of the classic banana and are eaten either ripe or unripe, but usually cooked. Whether they are fried, boiled, or baked, plantains make a delicious side dish or even main course! Here are three of my favorite plátano-heavy recipes inspired by my Latin American experience.
#1 PASTELÓN
Growing up in South Florida many of my friends, or extended family are of Carribean ethnicities and so one of my favorite Puerto-Rican / Dominican dishes I have always enjoyed is Pastelón. Pastelón is basically a layered casserole or plantain-based lasagna, with the other two main ingredients being meat and cheese. As usual with Latinos, different families make it differently, but it is traditionally made with ground beef. I myself am vegan, so I have altered the recipe with vegan cheese and a ground beef substitute.

Ingredients (4-6 servings)
2-3 ripe plantains
2 cups beefy grounds (meat substitute)
¼ cup red bell pepper, chopped
¼ cup green bell pepper, chopped
¼ cup onions, chopped (I used green, but you can use any onion)
1 tbsp Loisa Adobo
1 tbsp Loisa Sazón
1 tsp salt
½ cup veggie broth or water
3 tbsp vegan butter
1 ½ cups vegan cheese
Instructions
Peel plantains and place in a pot of boiling water. Depending on how ripe they are you will allow them to boil until they are soft and can be cut through easily. For reference, the plantains I used (pictured above) were still pretty yellow and not as ripe as I prefer. This just means I had to let them boil for way longer than usual, about 30 minutes.
While those boil you can start making your beefy filling. Begin by sauteing onions on medium heat until they start turning a translucent color. Add the beefy grounds and some broth so they cook through nicely without drying out. Add Loisa Adobo and Sazón, and mix thoroughly so everything is seasoned evenly. Add peppers, the rest of the broth or water, and salt. Mix evenly and let simmer on medium heat for 5-7 minutes or before it dries out completely. Make sure to stir every few minutes so it cooks on all sides. Set aside.
Preheat oven to 375 ̊F
Once plantains fully cook through, transfer them to a mixing bowl. Add the butter and mix and mash it all together thoroughly using a fork or potato masher.
To assemble pastelón, start by greasing your 8"x8" (or medium-sized) baking dish with butter or oil. Add half of the mashed plantains as the first layer and spread across the bottom of the dish evenly. Add half of the beefy picadillo mixture as the second layer. Lastly, add half of the cheese as the third layer. Now repeat all three layers with the cheese being the final top layer.
Cover dish with aluminum so that the cheese does not burn and bake for 30 minutes. Remove from oven and let cool for 5 minutes. Cut pastelón into individual sized portions and enjoy with family and friends!
#2 MOFONGO
Another one of my favorite PR / DR dishes using plátano is Mofongo! This time we will use the super green unripe plantains and pair the dish with Loisa's Organic Sazón Brown Rice & Quinoa for the perfect flavor combination. Mofongo is traditionally made with bacon or beef as well, so again I will be using a ground beef substitute to mix in with the plantains although not necessary if not available. I love making mofongo because its made using a pestle and mortar or, pilon which gives it that authentic touch.

Ingredients (2 servings)
2 large green (unripe) plantains
1 cup frying oil (I use canola or sunflower oil)
1 cup beefy grounds
1 tbsp Loisa Adobo
1 cup veggie broth
4 large garlic cloves, minced
1 lime
2 tsp salt
Handful of cilantro
Instructions
Sauté beefy grounds over medium-high heat. Add Loisa Adobo and a splash of the veggie broth to keep it from drying out. Mix evenly and allow to cook for about 5-7 minutes. Set aside.
Peel plantains and cut into 2-inch slices or chunks. Place large saucepan over medium-high heat and pour oil into pan. Once the oil has heated up, drop plantain slices into oil and allow to fry until golden brown. Flip and continue frying until all sides are evenly golden brown. Make sure your stove top is not at full high heat because slices may brown on the outside but still be hard and raw on the inside. Place slices in a paper towel lined bowl to soak up excess oil. Set aside.
Add half of the minced garlic and juice from half of the lime into the pilón. Start mashing it even more to create almost a paste-like texture. Add a quarter of the plantain slices and 1 tsp of salt into the pilón and start pressing together with the garlic. Add a few splashes of veggie broth to soften and add flavor while pressing. As you go, make sure to add half the amount of beefy grounds and another quarter of the fried plantains. Keep pressing and adding broth as needed until everything is mixed evenly and you are able to scoop it out and shape it into a mofongo ball onto the serving plate.
Repeat step three with the remaining half of garlic, lime, salt, plantains, beefy grounds and veggie broth. Scoop and serve. Garnish with cilantro.
To make it a full and balanced meal, heat up some Loisa Brown Rice & Quinoa with Sazón following quick and easy instructions on the pouch. Share this meal with someone, or double and triple the recipe to share with many more!
#3 PATACON PISAO (TOSTONES)
Colombians love plantains too, and our specialty is patacones, or as others call it, tostones. At most Colombian restaurants tostones will be on the menu as a side, but here we are making one giant tostón, or patacon pisao that we can have as a main course topped with a few other Latin favorites like rice, beans, avocado and cilantro!
Ingredients (2 servings)
2 green, unripe plantains
1 cup frying oil (I use canola or sunflower oil)
2 green onions, minced (white part only)
½ tomato, minced (not too ripe, hard enough to cut easily)
1 ripe Hass avocado, sliced
Handful of cilantro, chopped
Salt to taste
Instructions
Peel plantains and drop them into hot frying oil over medium heat. Allow them to fry for a few minutes until they turn a nice golden color. You don't want to over-fry them at this time since you will be frying once more. Remove whole plantains from pan and place them on a paper towel lined plate to soak up excess oil. 
Usually tostones are pressed with a tostonera, but I do not own one so I place the fried plantain between two medium or large wooden cutting boards. I put my hands on each side of the top board and press down until i see that the plantain has been flattened. Make sure to carefully remove the top board as the plantain becomes very fragile at this point. Using a large spatula lift it from the bottom cutting board and place it back in the heated, frying oil until even more golden brown. Repeat process with second plantain. Once they are fried and sturdy enough, remove them from the oil and place aside on a paper towel lined plate again to soak up the oil.
In a separate large saucepan, add a dash of oil and sauté the tomatoes, onions and a pinch of salt over medium heat until the onions become a bit translucent and you start smelling the aroma. This little combination is considered a simple hogao in Colombia. Now you are going to add Loisa's Brown Rice and Black Beans with Sazón to the pan and combine with the hogao evenly. Stir for a few minutes or until well heated and ready to serve.
To plate you are going to have the patacon or tostón as the base, and top it with the rice/bean/hogao combination along with slices of avocado and garnished with cilantro.