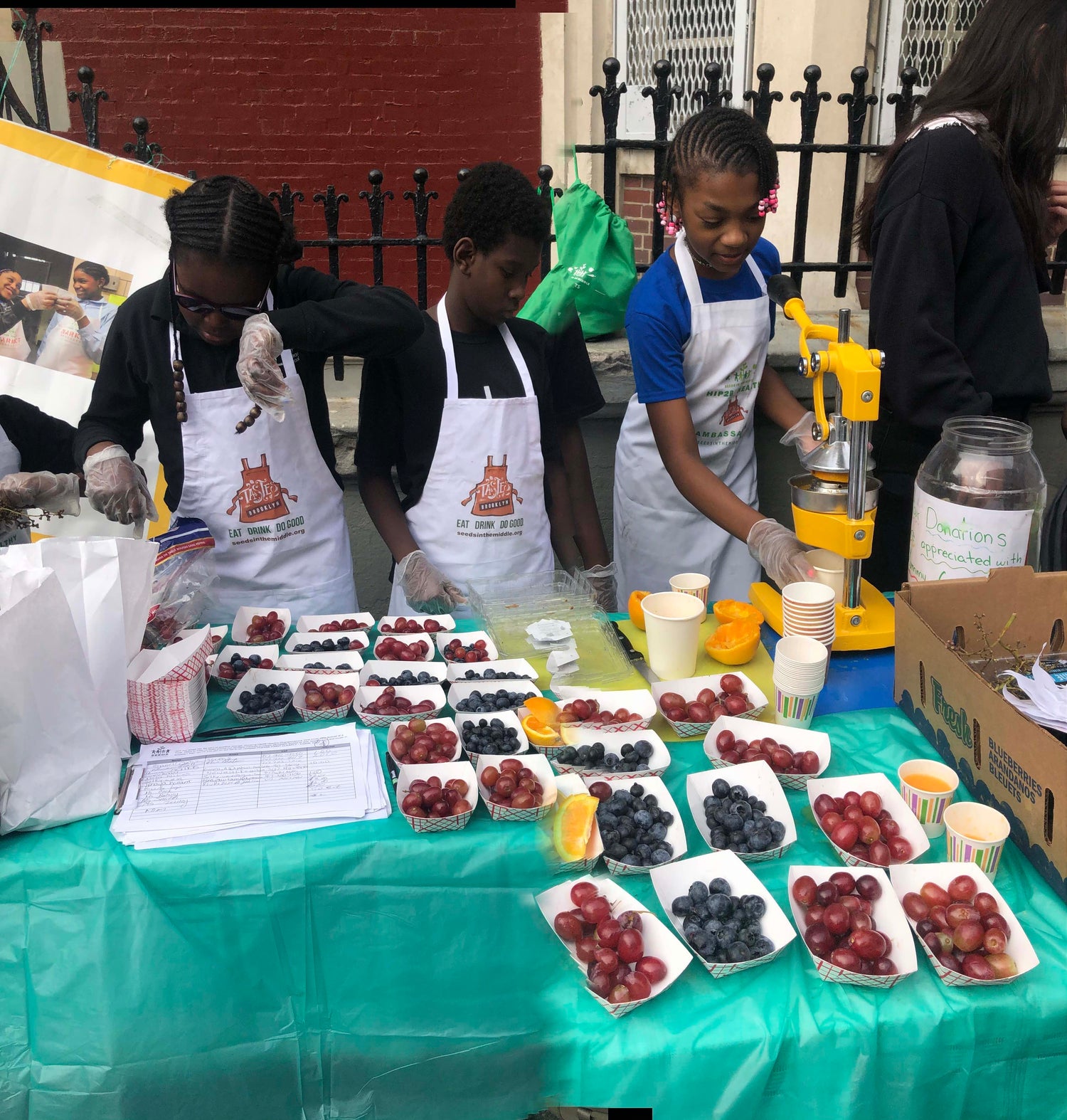 2% for Seeds in the Middle
Fighting for equal access to fresh food for children and families everywhere.
As part of our ongoing commitment to community, Loisa donates 2% of sales each month to a social or food justice organization. For the month of August, we have chosen to support Seeds in the Middle, a non-profit fighting for equal access to fresh food for children and families in central Brooklyn.
With school going back in session, it's important to remember that not every kid may have money for lunch or a meal to come home to after a long school day. Especially in New York City, access to fresh, nutritious food isn't a given for everyone. However, one organization has taken root in the heart of the city, working tirelessly to ensure that every child and community member has the opportunity to thrive through healthier choices. Seeds in the Middle, a non-profit organization founded in 2010, is on a mission to combat food inequity and promote holistic well-being in underserved neighborhoods, starting with schools in central Brooklyn.
Seeds in the Middle, named by 4th graders, is a dynamic organization committed to sowing the seeds of change by empowering parents, educators, students, and communities to take charge of their health. The organization's innovative strategy targets schools as the catalyst for transformation, recognizing that sustainable solutions to inequity begin with education and accessible resources.
Working primarily in central Brooklyn, their pilot "Hip2B Healthy" schools are a testament to the organization's dedication to making a difference where it's needed the most. Central Brooklyn has some of NYC's highest obesity, heart disease, and premature death rates. Through initiatives like community and student-run farm markets, gardens, and sports programs, Seeds in the Middle is cultivating change at the grassroots level.
One of the organization's standout programs is their Edible Gardens initiative. By creating both indoor and outdoor gardens, Seeds in the Middle educates children about the origins of their food, while also integrating lessons in math, literacy, and science. The hands-on experience of planting pizza gardens, salsa gardens, and growing herbs and salads not only instills nutritional knowledge but also helps children engage with their education in a more immersive way.


Another compelling program is the Hip2B Healthy Market, a school-run stand that sells affordable, nutritious snacks and fresh produce to compete with less healthy alternatives. This helps teach kids business skills, and also addresses the lack of access to nutritious food in low-income neighborhoods. Seeds in the Middle partners with Whole Foods Market, Y Water, and Dr. Kracker to make this initiative possible, creating a ripple effect that reaches beyond the schoolyard.
The impact of Seeds in the Middle is evident in the success stories that have emerged from their efforts. Fourth-grade test scores surpassing citywide averages, the establishment of Hip2B Healthy Cafes, and the transformation of unused spaces into vibrant green oases are just a few examples of how this organization is making lasting change. Their collaborations with professionals from diverse fields ensure a well-rounded approach that touches every aspect of a child's development.
The urgency of Seeds in the Middle's work is underscored by the sobering facts of the food landscape in NYC. High rates of childhood obesity, diabetes, and heart disease disproportionately affect underserved communities, exacerbated by limited access to fresh produce and nutritional education. Seeds in the Middle's commitment to turning gray into green is a beacon of hope in a city where healthy options can seem out of reach.
As the organization continues to evolve, its impact will surely extend beyond its current reach. In a world where access to fresh food is a civil right, Seeds in the Middle is leading the way toward a more nourished and empowered society.
Donate 
Make a donation to support Seeds in the Middle here.
Get Involved
Learn more about volunteering and getting involved here.
Contact
Get in touch with the Seeds in the Middle team here.