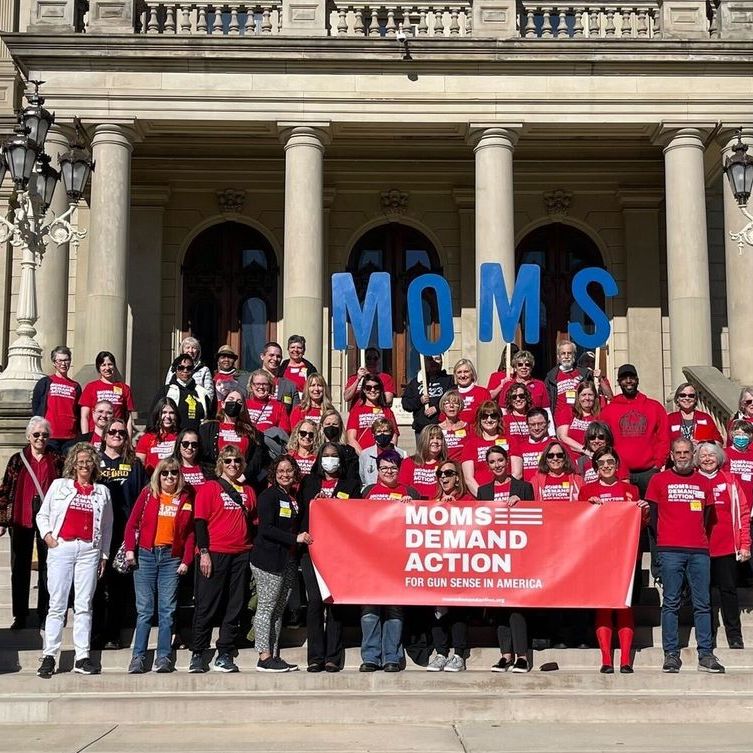 2% for Moms Demand Action
Moms Demand Action is a grassroots org committed fighting for public safety measures to end gun violence.
There have been over 200 mass shootings in 2022.1 Firearms are the leading cause of death for children and teens in America.2 As mamás, papás, tias y más, the topic of gun violence hits hard for many of us. We are in pain. This community is in pain. We at Loisa believe that everyone should feel safe at school, at the grocery store, at the movies, in the subway, or anywhere else.
In light of recent tragedies, and because change is long overdue, our 2% for Justice commitment for the month of June will support Moms Demand Action– a grassroots volunteer organization committed to fighting for public safety measures to prevent gun violence. 
Moms Demand Action was founded by Shannon Watts, a mother of five children. Shannon started a Facebook group after the Sandy Hook Tragedy to create a dialogue about what Americans could do to reduce gun violence. Those online conversations turned into a movement, and ultimately evolved into the national organization it is today. Since then, Moms Demand Action has grown to have a volunteer chapter in every state and became a part of Everytown for Gun Safety, the largest gun violence prevention organization in the U.S.
Here are 4 key ways Moms Demand Action invokes change:
They raise awareness about gun violence through campaigns and local events.

They educate the public about common-sense gun laws and responsible gun ownership.

They amplify the voices of survivors of gun violence.

They mobilize grassroots supporters to put pressure on policymakers to improve gun laws.
WANT TO VOLUNTEER?
Moms Demand Action has volunteer chapters in every state and even smaller local groups within each chapter that you can get involved with. If you're unable to volunteer in person, you can also help from home! Download their app and join your state's local Facebook group for more ways to get involved! 
WANT TO CONTRIBUTE?
Moms Demand Action encourages donations of $25 or more to help fund their grassroots efforts. You can donate directly to their organization here.
WANT TO SPREAD THE WORD? 
To stay up to date on their latest news, follow Moms Demand Action on Facebook, Instagram, or Twitter. 
References
"There Have Been Over 200 Mass Shootings so Far in 2022", Washington Post, (2022).

CDC Fatal Injury Report, (2020).