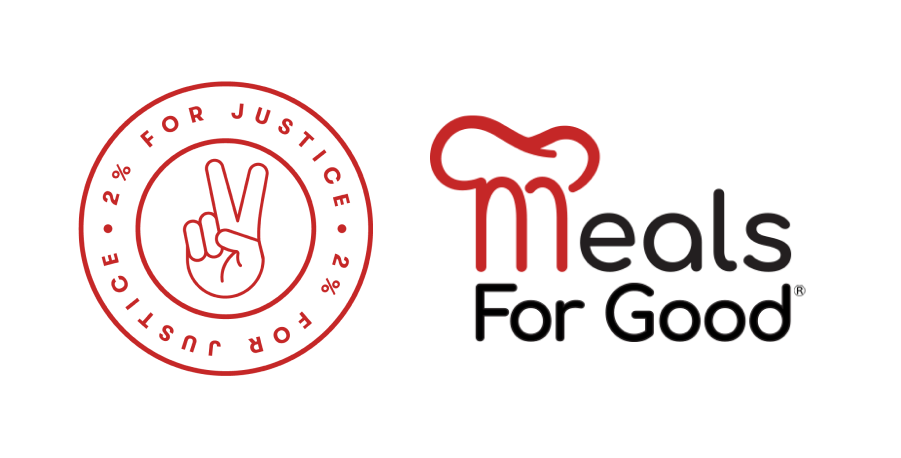 2% for Meals for Good
Our next 2% for Justice commitment goes to Meals for Good, and we chatted with founder Cathy Nonas about their work with local farms and food pantries to alleviate food insecurity in New York City!
For the month of November, our 2% for Justice commitment will support Meals for Good, an organization working with local farms and food pantries to alleviate food insecurity in New York City.
–––––––––––––––––––––––––––––––––––––––––––––––––––––––––
In our home of New York City, more than 1.4 million people experience food insecurity on average–including one in every five children. Recently, we explored the truth behind food apartheid and food insecurity in predominantly Brown and Black neighborhoods. In these communities, fresh and healthy foods are not only hard to come by, but even when available, they're usually relatively expensive.
This is the problem that Meals for Good Founder Cathy Nonas works to solve every day. By supporting local organizations and their communities with the resources they need to increase access and availability to fresh food and healthy choices, Meals for Good bridges the gap between the city, its businesses, food justice organizations, and those in need.
We caught up with Cathy to learn more about Meals for Good, how the organization works with its community, and what their experiences have been since the start of the COVID-19 pandemic, and the best way to aid in the fight for food justice.
How did you become involved in food justice?
During my time working at the New York City Department of Health, my two areas of focus were obesity and whether certain neighborhoods were missing opportunities to get fruits and vegetables. There's a misconception that obesity is the product of a lack of desire to eat healthy. Through our research, we found that the issue facing many communities is not that people do not want fruits and vegetables - it's that fruits and vegetables were either too expensive or they just weren't available. So, we worked to increase accessibility to fresh fruits and vegetables.
One main way we did this was going to city council to get special licenses for what we call "green carts" for fresh produce to serve lower income areas. I think there are probably a little over 300 green carts now. We did a lot to try to increase accessibility and availability in order to level the playing field between low-income and higher-income communities.
What led you to create Meals for Good?
I left the Department of Health when I realized that the Mayor's office really stopped being concerned about food, but I didn't want to completely retire. My son had the idea for Meals for Good. His idea, pre-COVID, was that I work with restaurants to add anywhere between $0.25 to $1 to a food item on their menu in order to donate the difference to my organization. Then, I could work with the city to determine which food pantries in each restaurant's community were the most in need and give them the grant to buy any fruits and vegetables they wanted from Grow NYC, which works only with local and regional family farmers. So it was like a win-win. The restaurant community was helping their neighbors and the pantries were helping their local farmers.
How did your approach change once COVID hit, given the increased need?
During COVID, I had to get donations from individuals since many restaurants were struggling. I don't love relying on individual donations, but people were incredibly generous, and that's really when things started to take off. I didn't want to be duplicative. I wanted to find the places that were hardest hit that people were forgetting about. I felt that people were really missing groceries because families were at home for more meals and they couldn't necessarily afford it.
I began asking NYCHA tenant associations and local community groups about people's wants and needs. I mean, they always want fresh produce, and if they can get it, they always want fresh meat or chicken. At one point, I gave out 60 pounds of tofu! And everybody wants eggs, coffee– so basic, but expensive. So, I began to make lists and find services that would deliver to the various groups. We also used closed restaurants to do pantries for restaurant workers. A church gave us room to make 800 boxes of fresh fruits and vegetables for people, as well. Then, I realized that I didn't have to be a pantry but that other groups could organize it for their communities. So, that's what they did.
In March, I got a grant from Robinhood. I created my own food vouchers and worked with two supermarkets in East Harlem and community groups to give out the vouchers to families in the community. Now, we're working with Hunter College's Food Policy Center to analyze what people bought in order to really begin to understand what people want and need.
Some people also received WIC, so they wouldn't get eggs or milk from me because they would get it from their WIC checks. But they would get, you know, meat or products or something.
What are some of your takeaways from the work you're doing?
There's an opportunity, I think, to share what we all know. I still work with the city and we learn from each other. They will sometimes connect me with another group in need. Through this I found out, actually, how wonderful people truly are. There are so many groups doing amazing work. It touches me that things like this are happening in the world. You know, people's hearts are so big!
Likewise, I don't need to own any part of it. For example, now that the vouchers have been so successful, I've actually been reaching out to other groups to see if they're interested in doing that. I'm happy to give them the legal letters that we send to supermarkets and all of the information to get started so that they don't have to reinvent the wheel. Finally, that the community groups know their community in terms of who needs what and who doesn't. I'm not one to decide that. I am just trying to find spaces where other people are not going, such as where people don't get SNAP or where the city is not delivering meals, and support them in accessing fresh foods.
It sounds like Meals for Good is facilitating relationships between the city, community organizations, and fresh food providers like local farms and supermarkets. What challenges have you faced in this middle-man sort of role?
We are the middle-man to a certain extent! I'm not making decisions for the community groups I'm working with. They're making those decisions, or the people they serve are making those decisions. I struggled with this issue in regards to healthy food. With the vouchers, I let people buy whatever they wanted, similar to the SNAP rules. They could buy soda and stuff like that. We know that people buy soda, partially because they like it, but also because they don't trust the tap water in their buildings. So, I think about what would happen if I did the vouchers again and limited purchases to meat and produce (which were the biggest two areas of need)? Or whether that would be Big Brother-ish by limiting people to what's healthy. You know, I struggle with that piece.
With the increased demand for food assistance and food access, do you find many families with children seeking food?
In communities like Harlem, it is Black and Brown families most in need. The thing about food insecurity, in general, is that parents tend to deal without food themselves, rather than have their children go hungry. Getting food that is both healthy and affordable is extremely hard for families. People who are food insecure sometimes get enough food, but not necessarily the healthiest food. And waiting in a pantry line is a full-time job. For many, many pantries, you can only go once a month and you may end up waiting for hours. Additionally, many pantries distribute pre-packaged bags of food, particularly during COVID, so there aren't many choices depending on your family's needs. As a result, families may need to go to different pantries a couple of times a week in order to get enough – and that's just not the way people should have to get their food. They should have easier access to fresh, healthy food for their family– especially food that is familiar to them.
How can people support Meals for Good and other food justice organizations?
The best way is to donate money. There is no overhead cost at Meals for Good, so 100% of donations go to community organizations. Supporting community-based organizations this way helps to ensure that their communities are getting the healthy culturally-specific foods that every family deserves.
~ Join us in supporting Meals for Good by donating here ~
Other Stories You Might Like
2% for Justice: Our Pledge to Pay It Forward