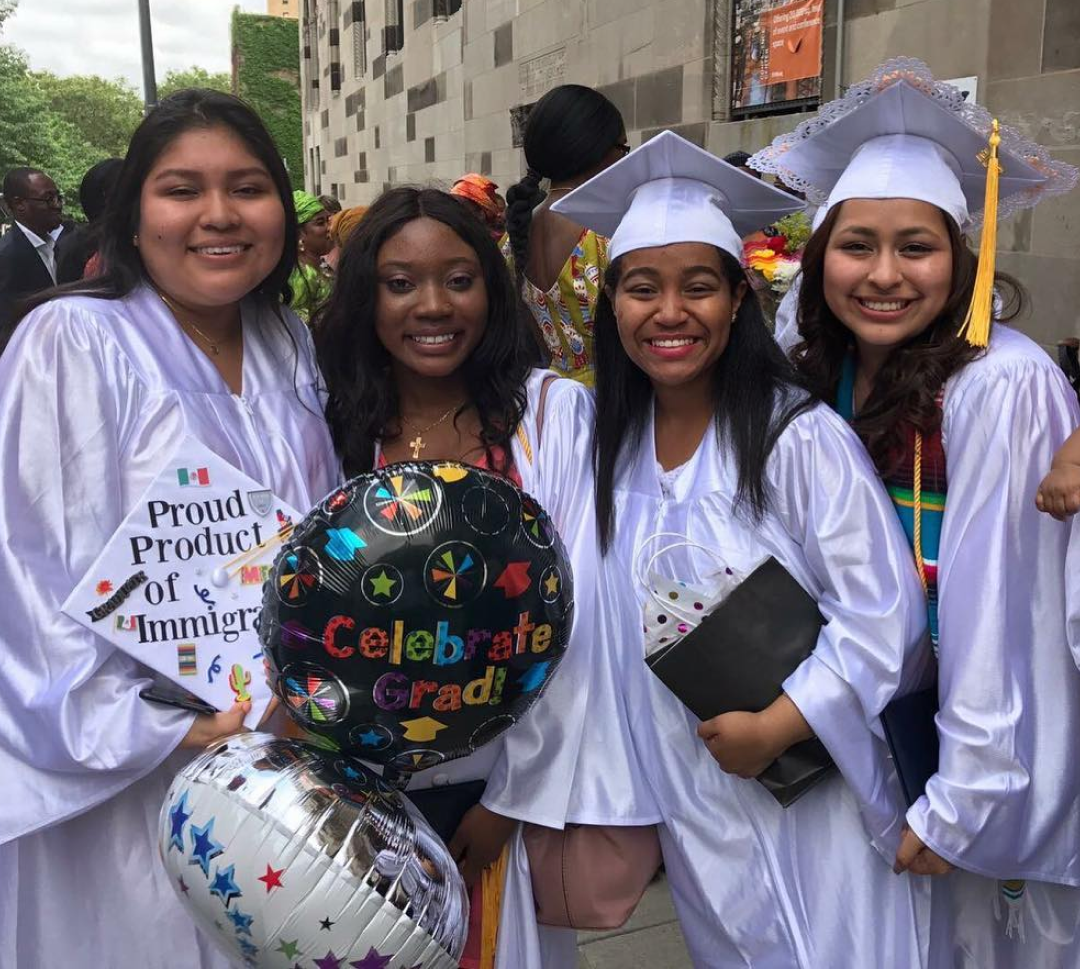 2% for Latinas on the Verge of Excellence
In honor of Women's History Month we're supporting the L.O.V.E. Mentoring Program!
In celebration of Women's History this month and every month, our 2% for Justice commitment for March will support Latinas on the Verge of Excellence (L.O.V.E.), a youth mentoring program based in NYC focused on empowering young women, specifically Latinas, in all aspects of life, while providing them with the tools to finish school and pursue a higher education. 
The L.O.V.E. Mentoring Program recruits women who are attending university to volunteer and mentor young Latinas in NYC high schools. L.O.V.E.'s mentoring activities focus on personal empowerment, study skills, and overall college readiness. The founder, Claudia Espinosa, started L.O.V.E. as an answer to some of the inequalities faced by marginalized populations, such as Latinas. 
"Many young girls may feel that it can be too hard to accomplish goals such as graduating from high school or getting into college. The idea here is to show them that it is not. Many of our mentors are Latinas who come from local colleges, we want them to see if we can do it they can too."
Programs like L.O.V.E. are crucial because they provide safe spaces for Latinas to to strive personally and academically. We were very excited, this month, to engage with the L.O.V.E. team to learn more about their impact and mission. 
How did the vision for the L.O.V.E. organization come about?
Claudia Espinosa founded the Latinas On the Verge of Excellence Mentoring Program, in 2012, after being inspired while working for a suicide prevention program where she counseled Latina adolescents with depression and suicidal ideations. Upon discovering the staggering discrepancies between the rates of suicide, teen pregnancy, and high school dropouts for young Latinas and their non-Latina peers, Claudia recognized a distinct need for the development of enhanced support and empowerment systems' such as those that may be provided through building a close relationship with a positive role model. 
In the quest to honor and empower young women, specifically Latinas, can you speak to the importance of the work your organization is doing?
The L.O.V.E. Mentoring Program addresses the specific challenges that adolescent Latinas face nationwide but are more prevalent in NYC. Issues with self-esteem, mental health, and school retention harshly affect young Latinas, their development into women, and their larger Hispanic community at greater rates than other racial or ethnic groups. 
L.O.V.E. is an organization made for and by Latinas. L.O.V.E. was developed to counteract the unfortunate and very real roles that gender, and ethnicity play for women and girls in creating stark and steep socioeconomic inequalities. Our organization is based on the empowerment of young women, particularly young Latinas through the powers of mentoring. 
Each L.O.V.E. program is rooted in our overarching mission to provide a support system to empower young Latinas and all young women to succeed in all areas of life. L.O.V.E. works to break generational struggles that affect young women and their communities. With every young woman who achieves a strong sense of empowerment and self-sufficiency, the community is gradually promised a brighter future as that success flows back into struggling communities. These women will act as role models and examples for other young girls. As more young women achieve their full potential, we want to create a systemic change that will radically alter the cycle of poverty that young Latinas and other young women experience not only in New York but Nationwide.
How do you measure the impact that L.O.V.E. has on Latinas here in our city?
Since its launch, L.O.V.E. has successfully supported young Latinas and young women in general with challenges related to mental and reproductive health as well as low academic performance. Over the past ten years, L.O.V.E. has received countless feedback from our students where they reflect on the impact L.O.V.E. has had on their lives, both academically and professionally. The surveys indicate that many young women who join the program value the education that is provided and the bonds created with the mentors during the sessions. L.O.V.E. provides a judgment-free and safe space for young women to engage in empowering conversations. 
Through our partnership with our partner schools, L.O.V.E. also ensures that all of our mentees have either been promoted to the next grade level or have graduated from high school and enrolled in college. 
What are the best ways for people to get involved and support L.O.V.E.?
We encourage people to support L.O.V.E. and our mission by following us on social media or making a donation. Follow us on Instagram @lovementoring and Facebook @lovementoringprogram. If you would like to make a donation, please click here. 
L.O.V.E. would also like to invite university female students and recent graduates to serve as mentors in our L.O.V.E. Mentoring programs. If you are interested, please visit www.lovementoring.org for more information.