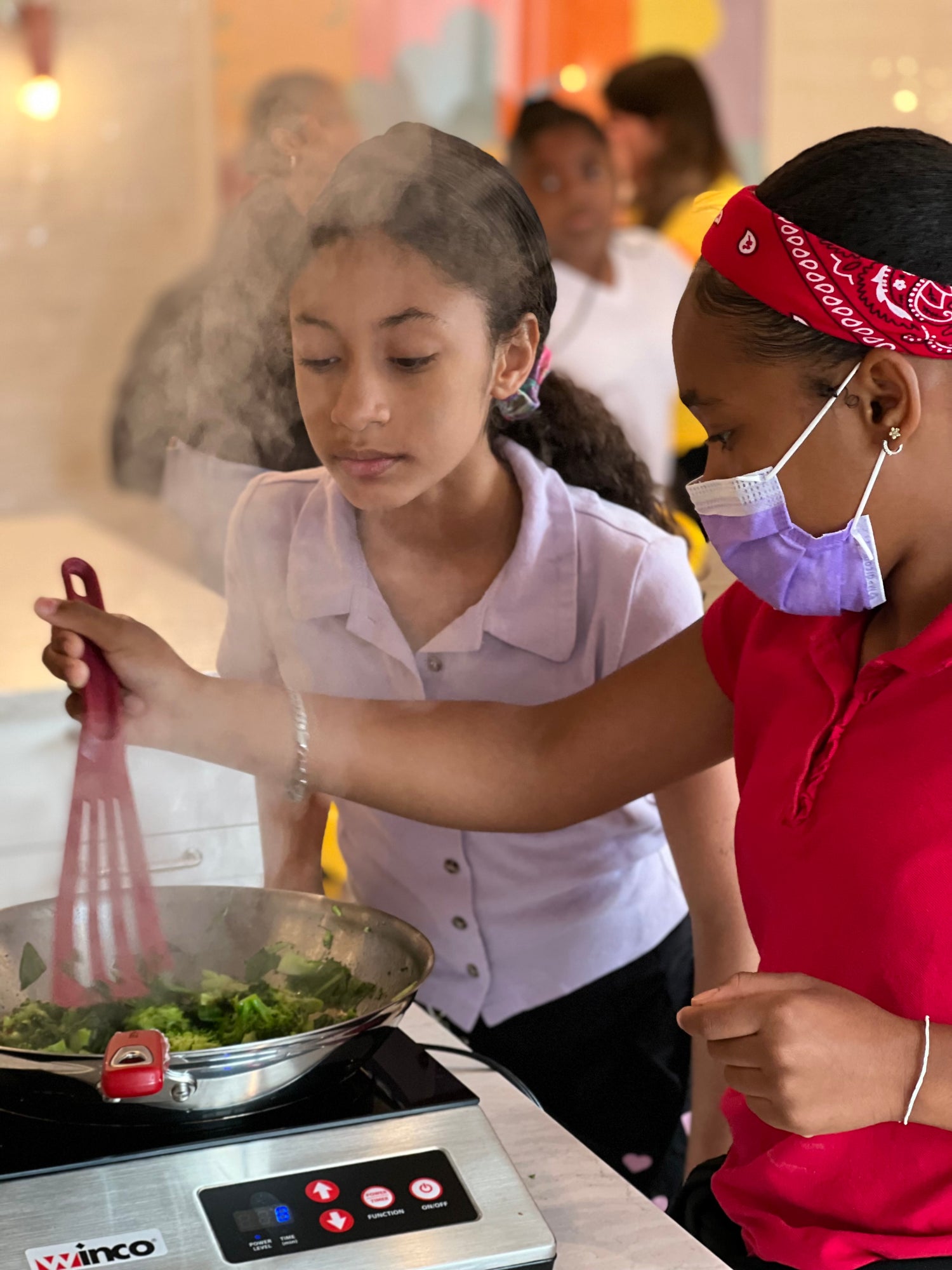 2% for Kips Bay Boys & Girls Club
Non-profit offering youth development programs in STEAM, culinary skills, and more in the Bronx.
As part of our ongoing commitment to social justice, Loisa donates 2% of our sales each month to a social justice or food organization. For the month of April, we have chosen to support Kips Bay Boys and Girls Club, a New York-based youth organization with club locations around the NYC area. Their programs are designed to help young people from disadvantaged or disenfranchised backgrounds realize and achieve their potential through educational and developmental programs. In addition to our 2% commitment this month, Loisa is also proud to support Kips Bay's culinary education program with a donation of our organic spices, seasonings, and kitchen tools. We had the opportunity to speak with Kips Bay and learn more about the incredible work they do.
Tell us about the Kips Bay Boys & Girls Club! 
Kips Bay Boys & Girls Club has directly met disadvantaged Bronx youth for over 50 years. Founded in 1915 to provide recreational activities and mentoring services to young boys living in the Kips Bay neighborhood of Manhattan. In 1969, the Club relocated to the Southeast Bronx to serve a growing population of youth in need of our services. Today, we provide high-quality youth development programming to over 10,000 children in the Bronx each year. We exist to assist young people in realizing and achieving their potential for growth and development by utilizing our state-of-the-art facilities, trained and motivated staff, and nationally renowned programs to produce positive contributors to society. 
Our mission is to enhance the lives of disadvantaged youth ages 6-18 through educational and developmental programs. Our teams operate two Clubhouses with state-of-the-art recreational and athletic facilities, the Bronx's only ice-skating rink, three school-based programs, two NYCHA-based community centers, and two shelter-based H.E.L.P sites that serve children from homeless families. Our programs offer sports, arts, education, career development, health, leadership skills, and hot meals. At each of our program sites, we meet Club Members with opportunities they otherwise would not have access to.
What programs does Kips Bay have to offer the community? 
Sports and recreation programming aims to promote and develop our youths' physical fitness, reduce their stress, and promote positive use of leisure time. Sports and recreation offerings include activities, practices, clinics, and tournaments relating to basketball, baseball & softball, boxing workouts, flag football, ice skating and hockey, floor hockey, and aquatics.
Our arts programs, provide youth with lifelong passions for various creative disciplines. This programming is designed to foster creativity in young people and give them outlets for self-expression. Currently, Kips Bay operates visual arts programming, digital arts offering music and podcast production, a choir program, dance programming, and four competitive dance teams.
Education and career development are key aspects of Kips Bay's offerings, and through our various other opportunities, all participants are exposed to our educational support. During after-school programming, all youth participate in Power Hour, a dedicated hour during which participants work on their homework and receive tutoring and extra help. Our staff also encourages literacy and free reading, using our Book Nooks, and provides various STEAM-related activities during the school year and our full-day summer programming. To assist our youth in their pursuit of higher education institutions and career development, they are met with resume assistance, mock interviews, various employment programs, campus visits, college, financial aid application assistance, a college signing day event, and scholarship programs. 
Through our health and wellness initiatives, the organization offers nutrition and culinary education, utilizing our state-of-the-art Culinary Learning Kitchen. Additionally, Kips Bay offered food distributions throughout the pandemic and is working with local NYC food bank organizations to continue to carry out these efforts. The organization has also initiated an internal counseling department, run by a school psychologist, to interweave emotional well-being services into all existing programming.      
What impact have these initiatives had on the NYC community? 
Increased graduation rates and higher education acceptance rates for our program participants.
Emotional support outside of classroom issues.
High success rates in the Boys & Girls Club of America's National Youth Outcomes Initiative, including 90% abstaining from substance use, 95% performing at or above grade level, and 95% expecting to graduate high school on time.
We are also proud of the fact that many alums of Kips Bay programming, from support staff all the way up to our Executive Director, have returned to the organization to mentor the next generation of Bronx youth. 
We help contribute to the individual growth and positive social development of the youth in our programs by creating safe and supportive environments.
Additionally, Kips Bay carries out various community special events throughout the year. While continually seeking new ways of meeting our population with services to meet their ever-changing needs.
In the quest to honor and empower our youth, can you speak to the importance of the work your organization is doing? 
Kips Bay Boys & Girls Club's mission has always been to enrich and enhance the quality of life for young people by providing educational and developmental programs to youth from disadvantaged or disenfranchised backgrounds. This was born of the philosophy that providing youth with a safe and empowering environment where they can engage with opportunities and socialize prevents our population from engaging in risky behaviors.
By providing a fun environment that youth want to attend during evenings, summers, and select weekends regularly, they are exposed to substance dependency prevention, financial literacy education, and leadership skills. Additionally, our programs occur during the hours of the day, during which youth are most likely to engage in or become victims of risky behaviors. This is invaluable to our population while the Bronx is experiencing elevated levels of violence and gun-related activity and continuing to recover from the effects of the pandemic.
Why address food injustice and sustainability issues in our communities year-round, making it the norm instead of the exception, as we approach Earth Day?
Our organization does its part to provide our population with nutrition education, which includes information about building healthy diets when residing in a food desert and balanced nutritional diets, and the basic skills needed to prepare food for oneself. This is especially important for our population as many of the youth we serve reside in low-income communities that lack access to affordable healthy food options. By ensuring that our youth are educated and provided with the necessary culinary skills, they are empowered to improve their own nutritional well-being.
 Kips Bay realizes this is only half the battle and strives to further assist our population through food distributions whenever possible. Additionally, our youth are met with programming and education relating to environmentalism and sustainability during the various STEAM activities offered. Kips Bay is continually fundraising for capital improvements to our facilities, including more environmentally friendly systems. 
What are the best ways for people to get involved and support Kips Bay? 
Kips Bay Boys & Girls Club offers after-school programming from September to June, full-day summer programming from July to August and special events throughout the year.
Our team welcomes community involvement and participation in our programming and events through:
Equipment and monetary donations
Job-placement partnerships for our employment programs
Career-path speakers for our evening teen program
Volunteering & participation in any of our other various programs
Any interested parties should visit our website (https://www.kipsbay.org/) or contact the Grants Manager directly (Brian.Egan@kipsbay.org) for further information. We are continually looking to expand both the quality and quantity of our program offerings, and we are always open to hearing about new ideas and ways.
WANT TO CONTRIBUTE?
Kips Bay Club encourages donations of $25 or more to help their community efforts. You can donate directly to their organization here.
WANT TO SPREAD THE WORD? 
To stay up to date on their latest news, follow Kips Bay Boys & Girls Club on Facebook, Instagram, or Twitter.